7 Signs You're Micro-Cheating On Your Partner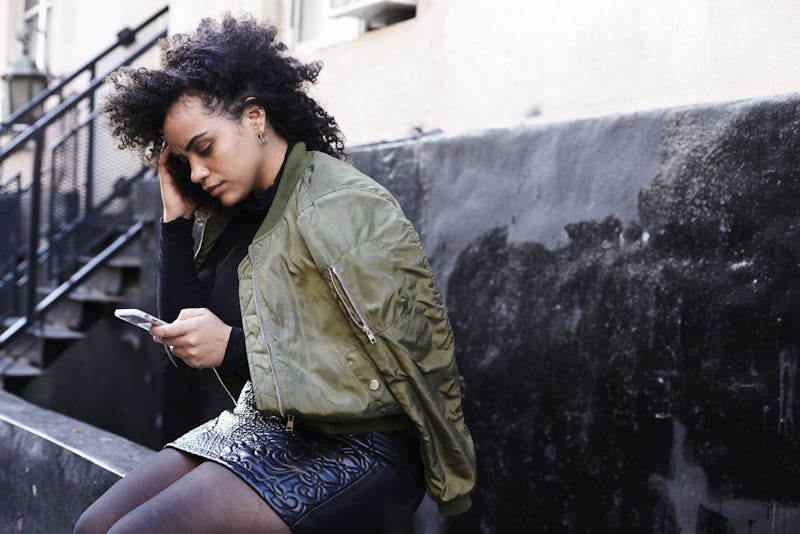 Hannah Burton for Bustle
No one likes to be cheated on, whether it's physically or emotionally. However, with the latest dating phenomenon, "micro-cheating", you may be unfaithful without even realizing it. Of course, only you and your partner can decide what you two consider to be cheating, but micro-cheating switches things up even more when it comes to defining infidelity.
Melanie Schilling, dating expert, spoke to HuffPost Australia about it. "Micro-cheating is a series of seemingly small actions that indicate a person is emotionally or physically focused on someone outside their relationship," she said. "You might be engaging in micro-cheating if you secretly connect with another [person] on social media; if you share private jokes; if you downplay the seriousness of your relationship to another [person]; or if you enter their name under a code in your phone."
While you may think these little actions will not impact your primary romantic relationship, the more you become closer to someone who's not your partner, the less close you'll probably be to your partner as time goes on. "The first step is, it is vital that a couple each express and define what 'loyalty' and 'disloyalty' means to them — whether we're talking about physical, emotional, or micro-cheating," Shlomo Zalman Bregman, Rabbi, matchmaker, and relationship expert, tells Bustle. "I've observed that many couples badly hurt one another accidentally, by saying or doing things that violate the other party's sense of fidelity, because each one is operating with a different definition of what 'cheating' or 'loyalty' is about."
I could not agree with Rabbi Bregman more — so many couples, at least ones I know, have conflicts due to unclear definitions, whether they're cheating-related definitions or not. I'm sure you can think back to your own romantic relationships, too, and see where some things were not as well-defined as others.
So here are signs you may be micro-cheating on your partner. Knowingly or not, it's good to be aware you're doing it, then decide what to do about it.