7 Tattoo Mistakes You're More Likely To Make If You Have A Lot Of Them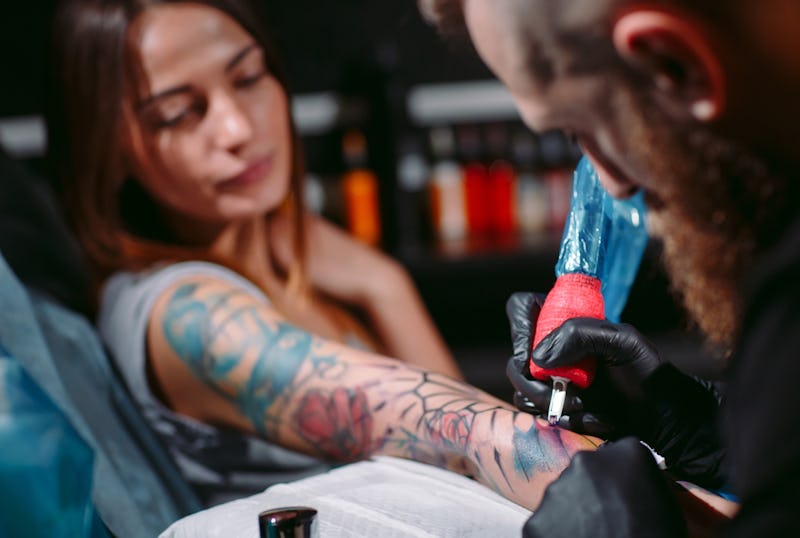 David Tadevosian/Shutterstock
While everyone's different when it comes to how well they care for their tattoos, if you have a lot of tattoos or have plans to add more to your collection, you'll definitely want to steer clear of developing any bad habits. You won't, for example, want to become too relaxed with the post-tattoo care process, possibly to the point you stop taking proper care of your skin. So consider this your friendly reminder to keep up your skincare game, just like you did with your very first tattoo.
"Taking your tattoo for granted is a big issue," Rose Marie Beauchemin-Verzella, founder of Beau Institute, tells Bustle. "While tattoos are permanent, they can fade and change color over time. Not protecting a tattoo with sunscreen is a major issue and will cause fading," among other problems.
In the name of keeping your ink fresh for years to come, you'll want to apply sunscreen every day. But tattoo-related skincare mistakes can go beyond the cosmetic. It's not uncommon for some folks with lots of tattoos to drop the ball, and develop a few bad habits that can put them at risk for infection or other health issues, especially as they get used to the process.
With your health and safety in mind, read on for a few mistakes to avoid making as you get more tattoos, according to experts.