What People Get So Wrong About 'Real Housewives' Fans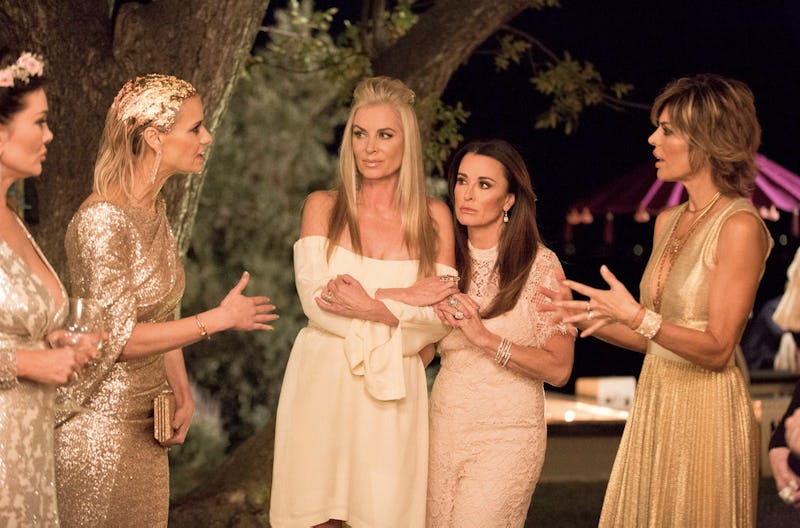 Isabella Vosmikova/Bravo
It's the franchise many love and others love to hate. Regardless, Bravo's Real Housewives is the pop culture gift that keeps on giving. I mean, where would society be without the Countess' witty quip, "Be cool. Don't be all... like, uncool" or Kenya Moore's signature phrase, "I'm Gone with The Wind fabulous." It's far too easy to throw shade at an RH fanatic who's caught up in the lifestyles of the rich and sort-of famous. (But look, even the rich and famous can't get enough of the Housewives!) However, a strong argument can be made for what critics misunderstand about Real Housewives fans.
Yes, living vicariously through the lives of wealthy socialites who casually sip chardonnay in ball gowns together for a paycheck while discussing everything from their latest Birkin bag to their no-good husbands is vapid. But hey, some audiences just want to escape and probably relish the fact that their lives are hardly as dramatic as the women from Atlanta, Beverly Hills, Dallas, New Jersey, New York City, Orange County, and Potomac.
In fact, Psychology Today lists six reasons why people can't get enough of the Real Housewives: "voyeurism and envy," "six degrees of separation from celebrities," "sex and scandal," "over the top indulgence," "social hierarchy shifts," and "revenge and redemption." In short, lights, camera, and action has been and always will be alluring, and there's no shame in getting caught up on a weekly basis. So grab a glass of rosé like Lisa Vanderpump, and let's explore exactly what haters get wrong about Real Housewives fans.
1. Fans Take The Show Too Seriously
Come on, this is a show on Bravo not the History Channel. Real Housewives fans simply want to laugh, gawk, and scoff at these wild and crazy ladies. So let us watch Teresa flip a table in peace!
2. Fans Lose Braincells Watching The Fights
The way these women throw jabs with their words should be an Olympic sport. Every so often they come to physical blows, but for the most part, the worst you're going to see is the women dishing insults.
3. Fans Aspire To Be Gold Diggers
More like goal diggers! Although the title would suggest that the women on Real Housewives just married rich, many of the women are successful entrepreneurs and a lot of them aren't even married.. Bethenny Frankel has a low-calorie drink company called Skinnygirl cocktails, Kandi Burress was already a Grammy Award-winning songwriter before coming on the show, and Lisa Vanderpump is a restauranteur with her own hit Bravo spinoff. So twirl on that!
4. Fans Are Nosy
It's never enough to just live-tweet an episode of Real Housewives. You have to tune into Watch What Happens Live, the reunions, the wedding specials, and all the spinoffs to keep up with the ladies. That's not being nosy. That's called being loyal!
5. Fans Only Watch Reality TV
I doubt it. You can be a fan of reality TV and still watch beloved dramas and tune into the news to stay informed. And even if someone only watches reality TV — so what? Haters gonna hate!
6. Fans Don't Care About Real Issues
Actually, critics of the show can learn a thing or two about philanthropy from the Real Housewives. The women have hosted pop-up shops and private parties to raise money for everything from the victims of the Flint, Michigan water crisis to the American Humane Association. Moreover, many of the women have discussed their issues with alcoholism, drug abuse, and domestic violence.
7. Fans Are Superficial
There's no shame in liking the finer things in life — especially if you have the bank account to back it up. But watching other women go on extravagant trips around the world and dress to the nines is just all in good fun.
Whether you're an OG fan or a skeptical newbie, there is definitely a series in the Real Housewives franchise waiting for you. If anyone gives you flak for flaunting your knowledge of fine wines, haute couture, heartwarming charities and soul-crushing insults blame it on the Housewives.