7 Unexpected Mannerisms Body Language Experts Say Can Make People Feel Uncomfortable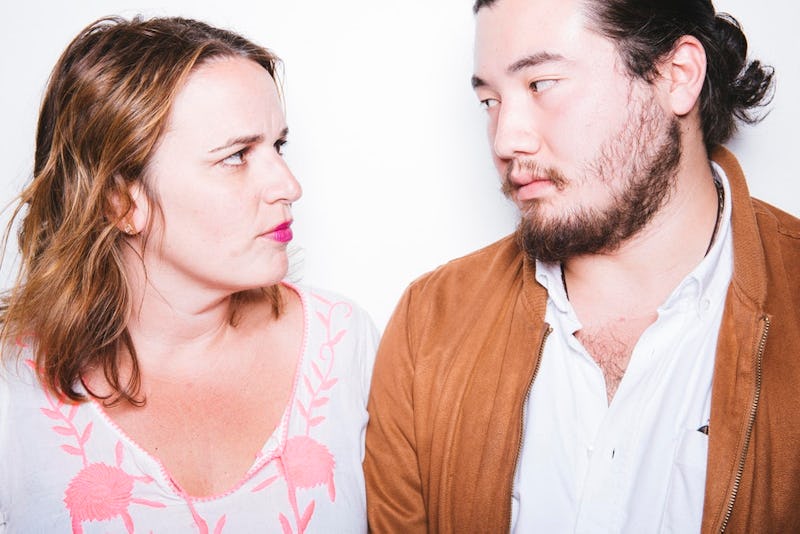 BDG Media, Inc.
A person's body language can give a lot way. For instance, a person can hype themselves up to be the most confident person in the room. But if they're constantly fidgeting to the point where they seem unrelaxed, you know they're probably bluffing. While a person's mannerisms will sometimes give them away, other times, it can make them come off a certain way without them realizing. According to experts, there are some pretty common body language cues and mannerisms that can make people feel uncomfortable, given the person and the context.
"Many of us know to pay close attention to the words we choose, but we pay little or no attention to how we're delivering our messages," Denise M. Dudley, Ph.D., author and behavioral psychologist, tells Bustle. More often than not, though, Dudley says when people received mixed signals from someone else, they will read more into body language cues than what they hear. In other words, how someone looks while they're communicating something is probably more important than their words.
Having the ability to make others feel uncomfortable isn't something most people do consciously. Often times, people don't even realize that the things they do or say are actually turning people off.
There are many body mannerisms that can unintentionally make other people feel uncomfortable, GinaMarie Guarino, LMHC, a licensed mental health counselor who specializes in social anxiety, tells Bustle. "But more often than not, these mannerisms are just the results of insecurity." Think of these common gestures as nervous habits, Guarino says. It's just small things people tend to do without ever realizing it.
And it's important to always note the context of these gestures — while some people may be made uncomfortable by certain mannerisms, others may not be as bothered. Usually if someone realizes they are sending out the wrong signals, a simple apology or discussion of the mix up is enough to move past any awkward moment.
So here are some unexpected mannerisms that can mistakenly make people feel uncomfortable, according to experts.