7 Unexpected Signs Of Lyme Disease Experts Want You To Know About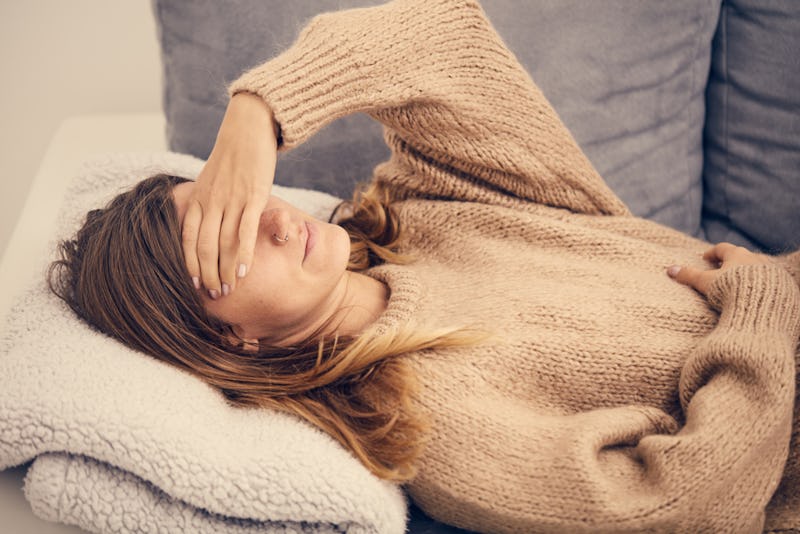 AstroStar/Shutterstock
There is no disease in the world like Lyme Disease. Few other illnesses have so many varied manifestations, are so difficult to test for, or take over your entire body like Lyme does. Many people with Lyme go undiagnosed because the symptoms of Lyme Disease can vary from person to person and overlap with symptoms of other illnesses. However, Lyme has a few hallmark symptom patterns that distinguish it from other conditions.
Early-stage cases of Lyme are more uniform: You may notice a rash resembling a bull's eye at the site of the infection, as well as joint pain, fatigue, fever, chills, headaches, and/or swollen lymph nodes. It's when the illness becomes chronic that it starts showing up in all sorts of weird ways. The many symptoms it can cause include neurological issues like twitching, tingling, and tremors; psychological ones like anxiety, depression, and rage; abnormal heart rhythms; overactive or painful bladder; and sleep disturbances. And those are just a few.
"Lyme disease patients can mimic another chronic disease such as Fibromyalgia, Chronic Fatigue, and a mood disturbance," Daniel Cameron, MD, MPH, an internist and epidemiologist who specializes in treating Lyme, tells Bustle. "The worst symptoms of Lyme disease may be severe fatigue, disrupted sleep, poor concentration, mood disturbance, headaches, lightheadedness, and joint pain. Individuals with Lyme disease are frustrated by severe flare-ups, unbearable symptoms, and flare-ups with antibiotics, refined sugars, stress, and alcohol. It can be frustrating for patients when the doctor overlooks Lyme disease as the big picture."
Most doctors are not trained to look out for signs of chronic Lyme, and the standard ELISA and Western Blot tests produce many false negatives, Kristin Reihman, MD, family medicine doctor and author of Life After Lyme, tells Bustle. Therefore, the International Lyme and Associated Diseases Society recommends making "a clinical diagnosis based on the history and physical findings, and supported by appropriate laboratory tests when they are indicated."
If you think you might have Lyme, filling out the Horowitz Lyme-MSIDS Questionnaire is a good place to start figuring it out. In addition, here are some symptom patterns that sometimes point toward Lyme.