Here's How Experts Prevent & Heal Windburn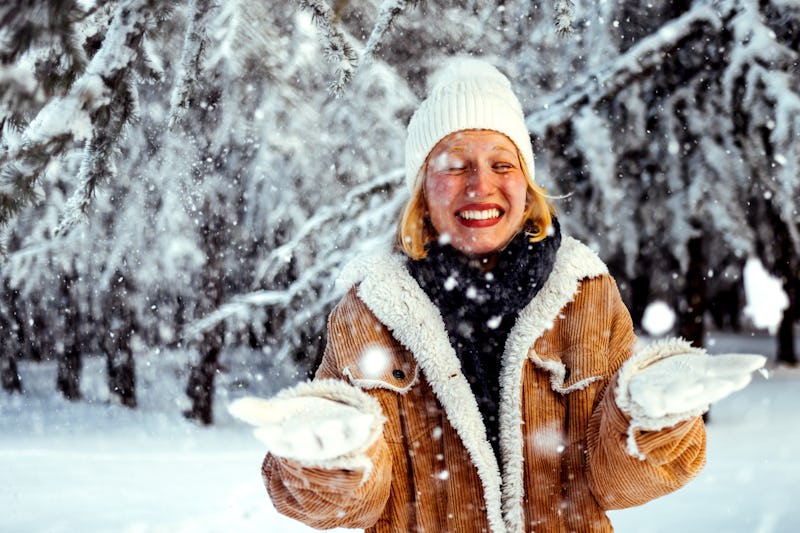 ljubaphoto/E+/Getty Images
When it comes to the effects that winter weather can have on your skin, windburn is easily one of the worst. Dryness, itchiness, and irritation all at once? No thanks. So whether you like to spend your time skiing or even just have to walk a couple blocks to school or work, it's helpful to know ways to prevent windburn. Of course, you should also be aware of ways to heal it just in case the wind gets the better of you anyway.
To find out some of the best ways to shield and save your skin, I emailed with a few experts. Mary Delgado, Operations Manager for artnaturals, let me know that the reason your skin becomes red and raw in the wind is because it depletes skin of its' natural oils. Dr. Elizabeth Tanzi, founder and director of Capital Laser & Skin Care and Assistant Clinical Professor for the Department of Dermatology at the George Washington University Medical Center, adds that windburn also "causes a lot of inflammation and the skin reacts by thickening the top, dead layer leading to dull, lifeless skin." And if you already have ruddy, sensitive, or rosacea-prone skin, you should be especially alert toward the damage that wind can cause. So you don't exacerbate or develop skin sensitivity, here are seven things experts recommend you do to prevent and heal windburn:
1. Cover Your Face
According to Dr. Tanzi and Delgado, one of the best things you can do to prevent windburn is simply keep your face covered. Both suggest using whatever you need be it hats, scarves, ear muffs, or sunglasses to keep as much of your skin as possible protected.
Vaseline Original Petroleum Jelly, $4, Amazon
If you enjoy outdoor sports in the winter, Dr. Tanzi stresses the importance of using occlusive products that wind damage can't penetrate. Try applying a petroleum jelly on any areas that can be particularly sensitive like your lips, nose, and cheeks.
COOLA Classic Face SPF 30, $32, Amazon
"Just as shielding your skin from the sun is important, protecting against cloudy and windy conditions is equally critical," says Tyler Porteous, Vice President of Marketing & Business Development for COOLA Suncare. He and Delgado both recommend using a moisturizing sunscreen to help defend against irritation and damage from both the sun and wind.
Drunk Elephant Lippe, $22, Amazon
Lips can easily become cracked and painful in winter weather. To make sure your pout doesn't suffer, Delgado and Porteous suggest always swiping on a moisturizing lip balm before venturing out.
Pure Enrichment Ultrasonic Cool Mist Humidifier, $40, Amazon
In addition to the direct effects of winter, even the heat indoors can dry out your skin. To help keep your skin healthy and better equipped to handle the wind and cold, Dr. Clarissa Shetler and Dr. Christine Falsetti, founders of C2 California Clean, recommend using a humidifier. They explain, "using a humidifier or vaporizer will help increase hydration and healing internally and externally in the body."
Artnaturals Aloe Vera Gel, $14, Amazon
If you've found that the wind got the better of you anyway, one way to treat it is with hydrating and healing products. Delgado recommends applying a moisturizing oil like coconut oil every few hours to help lock in moisture. She adds that aloe vera can help soothe burnt, dry, and irritated skin. Try applying a gel or the contents of one to two leaves from an aloe plant wherever your skin feels raw.
Aveeno Active Naturals 1% Hydrocortisone Anti-Itch Cream, $10, Amazon
If your skin is really irritated and itchy from windburn though, Dr. Tanzi says to try using a thick moisturizer along with an OTC hydrocortisone as this combo will help hydrate, calm, and heal your skin.
And you deserve to start spring with healthy skin.
Images: Getty Images (2)