7 Ways To Tell If Your Sleep Troubles May Be Sleep Anxiety & Not A Hormonal Problem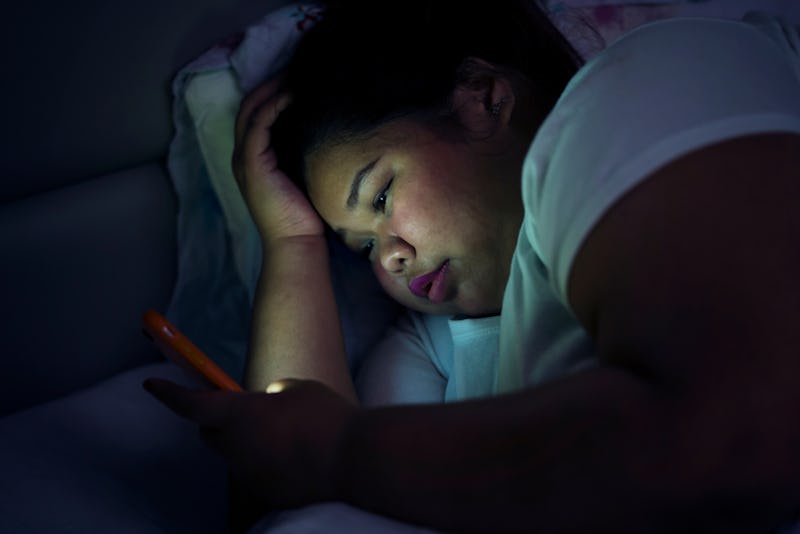 Creative Images/Shutterstock
There are so many sleep-promoting habits that seem good. For example, a warm mug of chamomile tea sounds like a delicious way to calm your body down, and soothing ocean sounds are the perfect way to try to trick yourself into believing you're relaxing on the beach. But sometimes simple sleep hacks don't lull you into a deep slumber, and something more serious is keeping you from getting the rest you need. It can be hard to tell whether anxiety is keeping you from sleeping well, or if you have a physical hormonal problem that's disrupting things, but according to sleep experts, there are some major signs that can help you differentiate between the two.
"Anxiety activates the amygdala, the part of the brain that regulates the fight or flight response as well as [...] emotions such as fear and anger," Rose MacDowell, chief research officer at Sleepopolis, tells Bustle. "Activation of the amygdala can delay or prevent sleep, while sleep deprivation can stimulate the amygdala even further, leading to a vicious circle of more anxiety and emotional reactivity." If you're experiencing anxiety at bedtime again and again over a period of time, it can lead to the kind of negative psychological conditioning behind almost all cases of chronic insomnia, she says.
Here are some signs that your sleep problems are anxiety-related and not hormone-related, so that you can know whether your body or your mind needs some extra help.