7 Ways To Wear Hearts In Your Hair For VDay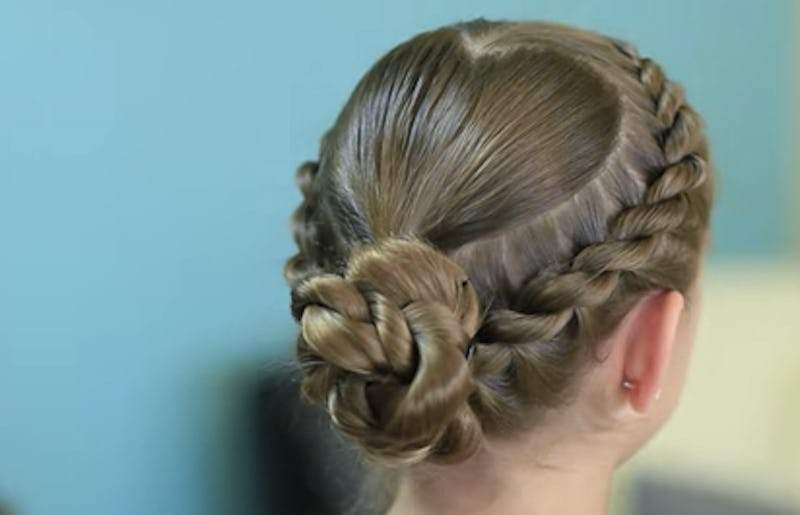 For most people, Valentine's day is about chocolate, flowers and (I guess) love. But for us beauty lovers? It's all about the #lewk. From red lipstick to flavored body lotion to teeny-tiny heart tattoos, it's one of those holidays that we can use as an excuse to decked out and wear theme makeup. And this year? It's all about heart braids.
Sure, sure — it may seem like these are for little girls (partly because all of the video tutorials on Youtube and pictures on Instagram are of children under the age of 10), but why should they get to have all the fun? IMHO, this look is fully appropriate for a grownup, and would actually look really cool with a pair of kick-ass earrings and a date night dress. Plus, what could be more intimate than teaching your *~*Special Someone*~* to braid your hair? (I'm kidding! Don't ask anyone to do that!) If there were ever a time to test it out, Feb. 14 is definitely it.
Here are five totally different ways you can get a heart braid this Valentines Day. Because why tell someone you love them with candy or a card when you can do it with your hair?
1. Open Hearted
After this, regular old braid-tails are going to feel so, so boring.
2. Heart Part
If a full heart-shaped braid isn't your thing, try showing your <3 with your part, instead. Just make sure you have the right comb, and someone with a lot of dexterity to help you use it.
3. Cross My Heart
Two braids are always better than one.
4. Secret Lover
Looking for something a little more subtle? Try this itty-bitty heart on the side of your head!
5. Double Heart
This is definitely, definitely the cutest way to keep your hair out of your face during valentines day dinner.
6. Twisted Heart
If you don't have someone else to brush and braid your hair for you, try for a twist instead. (If you do have someone though… LMK where you found them and if they're for hire)
7. Full Hearts
This is what childhood dreams are made of. And adult ones, too.