These Cute Winter Boots On Amazon Will Elevate Any Outfit — & Keep You Toasty Warm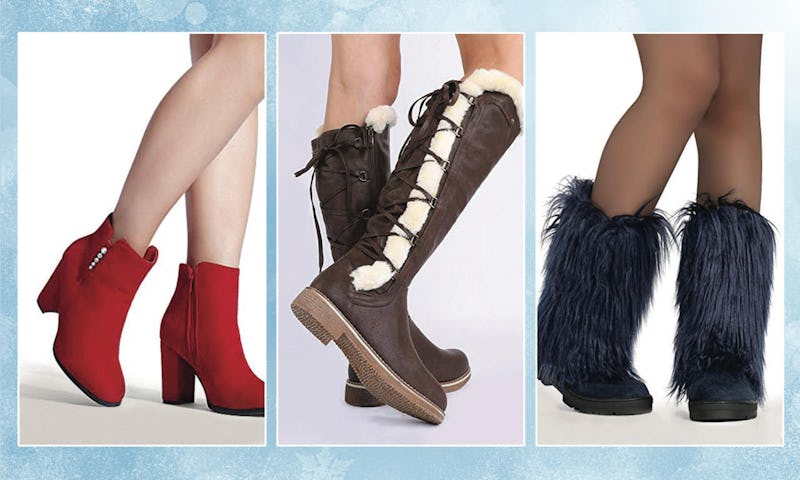 Amazon / Bustle
Many of the things that make shoes interesting — open toes, whisper-thin straps, mesh, and lace — becomes an invitation for frostbite and sprained ankles in the colder months, especially if you live in an area that sees a lot of snow. But life doesn't stop when the mercury plummets, and you can't expect yourself to live in a pair of Moon Boots until the ground thaws. The best cute winter boots toe the line between function and fashion, harnessing weather-friendly features but with elevated design details, like shiny hardware, fur trim, or a knock-em-dead color. These thoughtful additions are what lifts this largely overlooked shoe into something a cut above the ordinary.
Soles, Decoded
Of course, there are some considerations to keep in mind when you're dressing for warmth. Wet feet equals cold feet, so it's important to seek out materials that are at least weather-resistant (if not outright waterproof) to help keep your feet warm and dry. A lot of winter boots feature rubber soles — rubber is naturally waterproof, and is often molded into another design feature you'll want to look out for: lug soles. Lug sole boots have extra-thick soles with deep grooves cut in for better traction, so they're a good pick for snow and ice. TPR — or thermoplastic rubber — has properties of both rubber and plastic, and it's another commonly used material for making anti-slip shoe soles.
Bonus Features
If you want to wear extra thick socks, it's nice to be able to go one half-size up so there's plenty of wiggle room. For that reason, shoes that are available in half-sizes are a blessing. And, of course, a good lining — especially comfy faux fur — is luxurious on frigid days.
I curated a selection of cute winter boots that check the boxes when it comes to the above material criteria, but also combine utility and design in the best possible ways.