Why Uggs Are Never Going Away, Whether You Like Them Or Not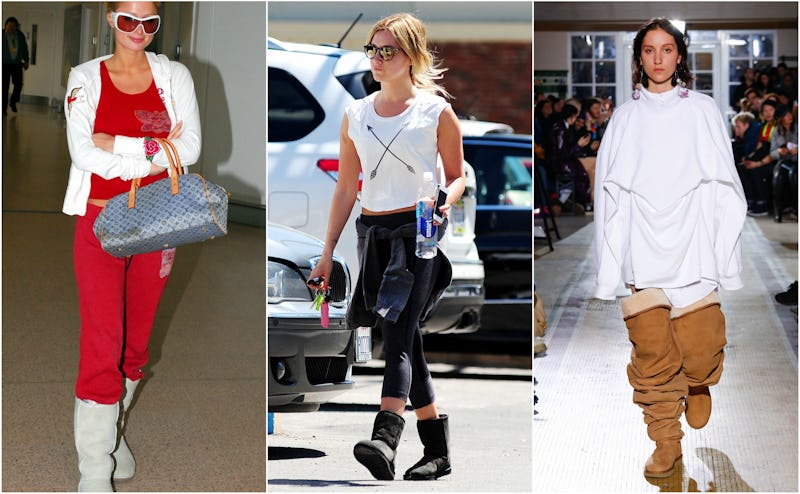 Dennis Stone/REX/; Pixelformula/SIPA/REX; Broadimage/REX/Shutterstock
Uggs. The word alone can conjure up memories of teenage years, regrettable outfits, and undeniable comfort. But if, like me, you thought that you've already said goodbye to those fleece-lined tan boots, you can think again. It seems fashion has adopted the Ugg boot into its loving family for good.
During the 2018 men's fashion shows in Paris, buzzy brand Y/Project swapped last winter's Napoleon scarves for thigh-high Uggs. Creative director Glenn Martens collaborated with the official Ugg label to design several boot styles for both men and women. Japanese brand Sacai also debuted an Ugg collab for men, offering a slightly shorter style than the classic $160 design in brown and gray options.
With debatably no shoe more polarizing than Uggs (except maybe Teva sandals or Crocs), people had opinions of the brand's resurgence almost immediately. While some questioned how the shoes that so many of us once loved (but ultimately discarded to the bargain bin) revived themselves, others saw the trendy possibilities immediately. One of those people ahead of the curve? Rihanna, who was seen flaunting her airport Uggs just a few days after the Y/Project show, and therefore signaling that this is one trend set to blossom in 2018. But, celebrity-endorsed trendiness aside, how exactly Uggs are still here can only be explained by looking at the fascinating cultural history of the original boots.
Many may not know that, although trademarked by one company now, the term 'ugg' has been around in Australia and New Zealand for decades. As BBC reported, thought to have first been manufactured in the 1930s, the unisex sheepskin boots (simply nicknamed 'ugg boots') were worn by surfers to keep their feet warm in cold weather and cool in the heat. It sounds like magic, maybe, but it's all down to the insulative effect that sheepskin gives, allowing air to circulate in the shoes and keeping the wearer's feet at optimum body temperature.
Ugg boots became super popular in Australia in the '60s, but it had nothing to do with the aesthetic of the shoes themselves. Aussie beach fanatics praised them for function rather than fashion. Around the same time, movie theaters in Australia's capital, Sydney, decided to ban the footwear style, leading to uggs becoming a sign of rebellion for the country's youth, according to Reader's Digest.
By 1986, annual sales of Uggs across America had surpassed $1 million...
Noticing the rising popularity of the style, two men saw a business opportunity. In the 1970s, Australian surfer Brian Smith and friend Doug Jensen applied to be US distributors for one of Australia's leading ugg boot manufacturers, Country Leather. They were appointed the title and set off for America with a bag of the sheepskin shoes.
Smith and Jensen chose California as their first stop in 1978, realizing that the state had the same relaxed lifestyle as their homeland and hoping for an equal amount of enthusiasm for uggs. But, according to Smith's book, The Birth of a Brand, the pair weren't happy with Country Leather's quality so decided to start their own company, turning the common ugg into Ugg with a capital u.
Jensen left the company shortly after in 1979, just as Uggs were adopted by Cali's surfing community. With all eyes on the feet of professional surfers, who were only too eager to don the boots, Uggs began to be sold in surf shops across beach cities including San Diego and Santa Cruz. The real momentum came, though, when Uggs began to leave the beach and enter the wardrobes of non-wave riders.
And it wasn't just the warmer climate locations that professed a love for Ugg boots. The cozy style was also stocked in ski stores, catering for the winter vacationers. By 1986, annual sales of Uggs across America had surpassed $1 million with the shoes being sold in small boutique stores as well as huge shopping malls.
In 1994, the world began to take notice after the US Olympic team donned the boots for that year's Winter Olympics in Norway. That same year also saw a picture published of Baywatch star Pamela Anderson wearing a pair of the tall style with her famous red swimsuit. A year later, Ugg was acquired by California-based Deckers Outdoor Corporation as a sister (and more winter-appropriate) brand to the similarly divisive Teva sandals.
Smith's Ugg was now at the crucial moment where any company could easily fall by the wayside, forced to decide if he wanted his footwear to be anything but utilitarian. His boots were solely being used for practical reasons, but in order for the business to grow he needed them to be a real fashion statement. And there's no better group of individuals to help create a trend than bonafide celebrities.
So at the start of the 2000s, Smith decided to utilize stylists, sending pairs upon pairs of Uggs to people who worked on TV shows and films as well as for A-listers personally. And it worked. In 2000, Oprah featured the boots on Oprah's Favorite Things, buying over 350 pairs for her staff as well as the entire audience. Soon, boots were on the feet of people like Cameron Diaz, Beyoncé, Kate Moss, and Leonardo DiCaprio. And that was just the beginning.
Socialite Paris Hilton convinced the public that Ugg boots could be worn with anything from a velour Juicy Couture tracksuit to a denim miniskirt. Sarah Jessica Parker AKA Carrie Bradshaw was so enamored with the footwear that she asked Ugg to create her a one-off color (spoiler: it was red) to wear on Sex and the City. Kate Hudson impressed producers of 2004 film Raising Helen so much with her off-duty style that they asked her to wear Uggs in the movie poster. And the ultimate It girls of the 2000s, Gossip Girl's Blake Lively and Leighton Meester, were routinely spotted between takes in Ugg's classic design.
With new colorways (including pink and baby blue) and countless magazine spreads showcasing influential women wearing Uggs in the comfort of their own homes, the brand had finally been accepted by the fashion world. In 2006, Ugg opened its first ever store in New York, introducing slippers, clogs and sandals as well as several variations of its calf-length style.
Despite its growing success, the company wasn't without controversy. In 2007, former Ugg lover Pamela Anderson abandoned the brand for using sheepskin. That coupled with an overflooding of Uggs in the mid-noughties market transformed the boots into the go-to uniform of the dreaded 'basic bitch.' But Ugg kept trying, pushing against the 'when will Uggs die' articles to collaborate with Jimmy Choo, Swarovski and Disney, and launch a men's campaign with everyone's favorite NFL star Tom Brady in 2011. Sales were still pretty high, now exceeding $1 billion every year.
By 2013, the infamous fashion cycle had repeated itself, eliminating any sense of cool from the Ugg brand. Like low-rise jeans and gypsy skirts before them, the shoes were now a reminder of a wardrobe that you'd rather forget. Uggs had become truly ugly.
Disney x Ugg, $174.85, eBay
And then something miraculous occurred. In the summer of 2014, the ugly shoe movement really began. Birkenstocks were back on the catwalks and on the feet of famous people and wannabe famous people alike. Clunky flatform trainers, Teva sandals and Crocs soon followed. Fashion couldn't get enough of ugly-cool.
It was inevitable that Uggs would soon follow. By 2015, Uggs were back. The new It girls (Kendall, Kylie and Gigi) were all spotted out and about in the classic style. Ugg collaborated with real life fashion designers Phillip Lim and Jeremy Scott in 2017 with Scott choosing classic cool kids Lil Yachty and Jasmine 'Golden Barbie' Sanders to star in the flame-filled campaign.
And then came the aforementioned Y/Project show that continued fashion's current obsession with co-opting the uniform of the working class. We are currently in an era where comfort is not only key, but cool. It only makes sense that Ugg would make the most of the trend.
The brand is revamping once again into a truly luxe (but still casual and comfortable) lifestyle brand, appealing to several generations of consumers. The label's outdoorsy campaigns speak to millennials who favor street-cast models over agency stereotypes and are yearning for a relaxed tech-free way of living. Its product offering has moved on too, swapping its focus on feet for homeware, handbags, and clothing. Even if not everyone is sure of the mega brand's comeback, one thing is for sure: Ugg knows exactly what its doing.
It's easy to stick an 'outdated' label on a formerly-trendy (and, now, trendy again) fashion item like Uggs and forget the history that has slowly, but surely influenced exactly why (and how) you are wearing them today. When you slipped the boots on this morning, was it for function? To keep your feet warm in the snow? Or for fashion? To make a statement?
In any case, you can thank the Australian surfers who continue to watch the fashion world with a sense of bemusement, just waiting for the next Ugg revival, knowing it will come along again.