8 Documentaries Coming Out This Fall That You Need To Have On Your Radar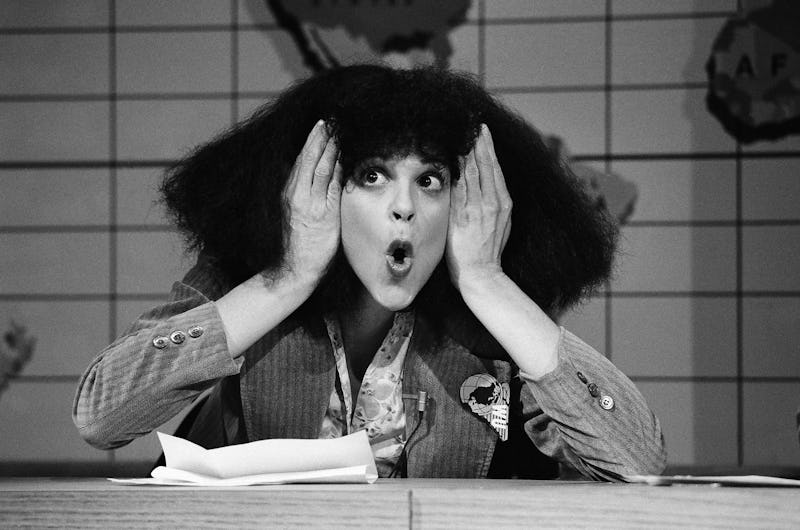 Magnolia Pictures
Everyone knows movie season really revs up in fall, especially when it comes to awards season films. And if you're a nonfiction person there are plenty of upcoming movies for you, too. The documentaries coming out in fall 2018 are political, musical, and comedic, so there's probably at least one you'll be interested in — especially if you like biographies.
Of course, there have already been some notable documentary releases this year so far that are worth checking out, as well. The Mister Rogers documentary Won't You Be My Neighbor? came out in summer. Robin Williams: Come Inside My Mind aired on HBO in June. And RBG, about Supreme Court Justice Ruth Bader Ginsberg, hit theaters in spring.
But if you're looking for even more documentaries, there are plenty coming out as temperatures cool down. Most of these will be in theaters on either a limited or wide release, but there is one that's a Netflix Original, so you'll only be able to watch it from home. Fall is from September 22 to December 21, but a bit of wiggle room was allowed when it comes to the films below, so you don't miss out. (And, hey, even if a movie comes out on September 5, you can still watch it when it actually is fall, so it still counts.)
1. Bisbee '17 — September 5
Bisbee '17 combines a nonfiction story with dramatized scenes. It tells the story of the 1917 deportation of 1,200 immigrant miners to the desert where they were ousted and told they couldn't return to the town. This timely documentary shows locals talking about the violent event, along with reenacted scenes featuring the current residents. It got great reviews when it showed at Sundance in January.
2. Hal — September 14
This documentary is about director Hal Ashby, who helmed films including Harold and Maude, Coming Home, and Shampoo. It features interviews from Judd Apatow, Jeff Bridges, and others who worked with Ashby or were inspired by his work. Hal showed at Sundance in January and while some reviews noted that it lacked a super deep dive into his personal life, they said that it did shine a welcome light on his career.
3. Love, Gilda — September 21
Love, Gilda is about the life of comedian Gilda Radner, and includes pieces of writing from Radner to guide the story. There's a lot of focus on her time on Saturday Night Live, but also on her personal life, including her marriage to Gene Wilder and her cancer diagnosis. The film got positive reviews after it premiered at the Tribeca Film Festival earlier this year.
4. Bad Reputation — September 28
This doc about Joan Jett features interviews with the woman herself, as she tells her own story of becoming one of the biggest women in rock and roll, from her days in The Runaways to her massive success with Joan Jett & the Blackhearts. There are also interviews from other musicians spliced in, including Iggy Pop and Billie Joe Armstrong.
5. Matangi/Maya/M.I.A. — September 28
Another documentary about a standout woman in music, Matangi/Maya/M.I.A. also includes new footage from its subject, some of which she shot herself. The film is about the artist's whole life, with a focus on the fact that she's an immigrant, as well as on her father being the founder of the Tamil resistance in Sri Lanka. It won the World Cinema Documentary Special Jury Award at Sundance earlier this year.
6. The Last Race — November 16
If you're not into the biographical documentary thing, then maybe The Last Race will be a better fit. It takes a look at a Long Island town with a stock car racing track that is being threatened by developers who want to buy the land. It shows the dangers of racing, but also takes a look at commercialism and how that can affect locals and their passion.
7. Quincy — September 21
And now, yet another biographical doc about a musician. This Netflix documentary, if you couldn't tell, is about Quincy Jones. It's co-directed by his daughter Rashida Jones, along with Alan Hicks.
8. Fahrenheit 11/9 — September 21
Michael Moore's latest film is all about Donald Trump and the title reflects the day he became president-elect. (It's also a play on his most well-known film, Fahrenheit 9/11.) In June, Moore debuted a short clip on The Late Show with Stephen Colbert, seen above.
Whether you want music, politics, race car driving, or history, you won't have to wait long now for your chance to check out one — or more — of these documentaries.