8 'Star Wars' Movies & Shows That Connect To 'The Mandalorian'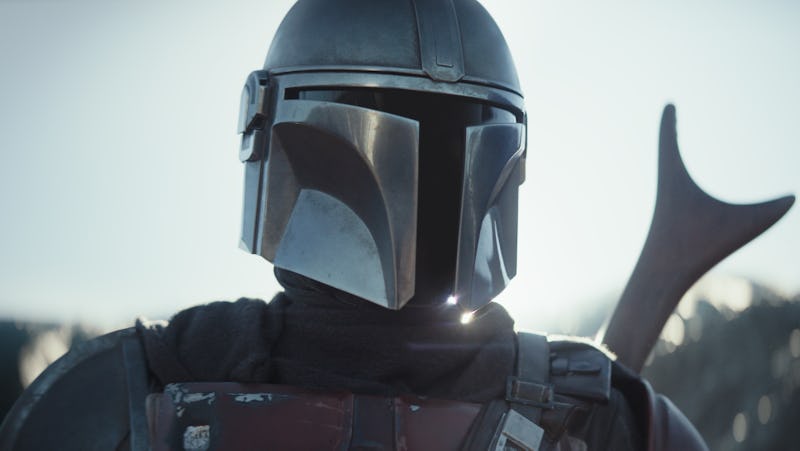 Lucasfilm Ltd. Copyright
Now that The Mandalorian is finally streaming on Disney+, Star Wars diehards may want to dive right in to the new addition to the expansive saga. But since it is part of a larger story, fans may want to watch the movies and TV shows connected to The Mandalorian first, to get the whole narrative overview.
The series takes place five years after Star Wars Episode VI: Return of the Jedi, per the official Star Wars site, and 25 years before J.J. Abrams's Episode VII: The Force Awakens, so those movies should take priority. However, since the Disney+ series revolves around Mandalorians, audiences may want to revisit the two most famous bounty hunters who have already been featured in the Star Wars series: Jango and Boba Fett.
Boba Fett was first canonically introduced in Episode IV: A New Hope, per Starwars.com, where he appeared as one of Jabba the Hutt's mercenaries. However, he played a more substantial part in the two following films — The Empire Strikes Back and Return of the Jedi. The bounty hunter was played by Mark Anthony Austin in the first film and Jeremy Bulloch in the following two, while Jason Wingreen voiced Boba Fett. According to the Star Wars site, Bulloch got the part simply because he fit the costume. "[The armor] is not comfortable but you had to make it look as though it were, I suppose, using a bit of acting," Bulloch told the site. "It was ripping your skin apart, but you know the character. He's a bounty hunter and he's not going to say, 'I want a soft cushion.'"
But while the Mandalorian armor may not have been comfortable, it contributed to his reputation as a swashbuckling mercenary with a devil-may-care attitude. Here's everything to watch before diving into the Disney+ show, which includes plenty of Boba Fett.