8 YouTube Stars Releasing New Products In 2017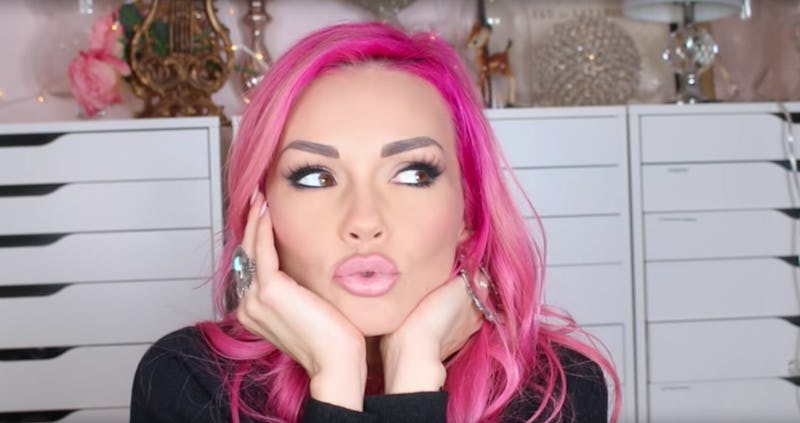 New year, who dis? If you're looking to spruce up your makeup collection in 2017, you're in for a treat. We learned just how powerful YouTube vloggers x big beauty brand collaborations can be last year (hello, Champagne Pop) and it looks like the trend isn't slowing down. Here are 8 YouTube stars releasing new products in 2017.
Back in the day, you learned how to do your makeup from your friend, mom, or aunt. And chances are you used whatever brand of makeup they used. Those days are long gone thanks to YouTube beauty vloggers. Now you can watch tutorials, product reviews, and follow along with every trend and product launch. And in 2017, it gets better: you can buy more products designed by YouTube makeup artists than ever before.
I love that we can shop products created by people we already trust. YouTube personalities have direct communication with their fans, so they know exactly what people are loving, hating, and dying to be created. This group of influences is already so inventive, I can't wait to see what they create.
Here are eight YouTube vloggers releasing new products this year. Get ready, fam!
1. Jaclyn Hill
Jaclyn Hill dropped major hints about an upcoming eyeshadow palette in 2017. In her latest YouTube video, a best of beauty roundup for 2016, she tells fans that she's been working on eyeshadows and testing products for two years now. Fans went crazy, so the glam guru took to Twitter to quickly explain that it's a collab and she's not releasing her own makeup line...yet.
But could a collab take two whole years to produce? It doesn't sound likely. While we know Jaclyn is a total #boss and very hands on during all collaborations, it sounds like the two year-long project could really be her very own line.
While she's collaborated with plenty of beauty brands like Makeup Geek, Becca Cosmetics, and Morphe, she has yet to release a single product under her own name. But let's be real — this diva definitely has some plans up her sleeve. Let's hope 2017 is the year for Jaclyn Hill Cosmetics.
2. Nikkia Joy
YouTube makeup star and pro makeup artist Nikkia Joy, along with 9 other influencers, are the first group of YouTube stars to team up with MAC Cosmetics to create products. Each star is creating a lipstick shade, and it looks like Nikkia is testing pinkish nudes in the lab.
The MAC collaboration will launch in April 2017.
I can't wait to see what she creates!
3. Carli Bybel
The limited edition BH Cosmetics Carli Bybel Palette was a huge success this year, and it sounds like the YouTube star is creating another product with the brand. But, we have no idea what it is. Carli asked her fans awhile back which Carli Bybel Palette highlighters are their favorites, then she sneaked a pic of never before seen marble packaging. She's been mum since.
Could it be another eyeshadow palette, or maybe a highlighter palette? A series of highlighters? The product may be launching in late 2017, since she's keeping it under wraps.
4. Kandee Johnson
Kandee and Too Faced Cosmetics go way back. Remember that adorbs, mermaid-themed promotional video she did for Too Faced's Better Than Sex Waterproof Mascara? Now it looks like the YouTuber and brand are joining forces in 2017 to create a new product. But what could it be!?
Too Faced co-founder and chief creative officer Jarrod Blandino dropped a major hint on his Instagram account. The behind-the-scenes snap looks like Kandee's in a photoshoot, with her signature bubblegum pink hair, a sequined top, and are those heart earrings? Could it be a hint? Too Faced's eyeshadow palettes usually feature heart elements in the designs. HMM! They're staying secretive, so we'll have to wait and see.
5. Iris Beilin
Iris is a fun-loving YouTube beauty expert, and her new lip palette totally reflects her playfulness and professionalism. These colors are universal, wearable, and beautiful. And since its an e.l.f. product, it's right on budget.
This beauty launches at the end of the month!
6. Patrick Starr
YouTube makeup artist Patrick Starr and Claudia Soare, daughter of Anastasia of Anastasia Beverly Hills, have been looking pretty cozy across the 'net. Both have released snaps from a photoshoot featuring Patrick, along with hints about an upcoming collaboration or product launch.
These two makeup looks are so different, I can't possibly begin to guess what these two are up to. But based on Norvina's tweets, it's going to be legendary.
We'll be (impatiently) waiting.
7. Nicole Guerriero
ABH is on a roll. Not only are they working with Patrick Starr in 2017, but they're also collaborating with Nicole.
Rumors are flying that the two have an entire collection on the way, but neither party has confirmed.
No matter what she's creating, it's a guaranteed hit. Nicole and ABH have a combined 14 million followers on Instagram.
8. Jeffree Star
MySpace rocker-turned-beauty brand Jeffree Star is releasing a follow-up to his 2016 Beauty Killer palette. The new palette, Androgyny, will be available online at jeffreestarcosmetics.com on March 10.
Jeffree describes the 10 shades as a "neutral palette but with a twist." Sneak peeks have been promised, and his four million Instagram followers can't wait.