9 Activists Share What They Wish They'd Known Before Their First Pride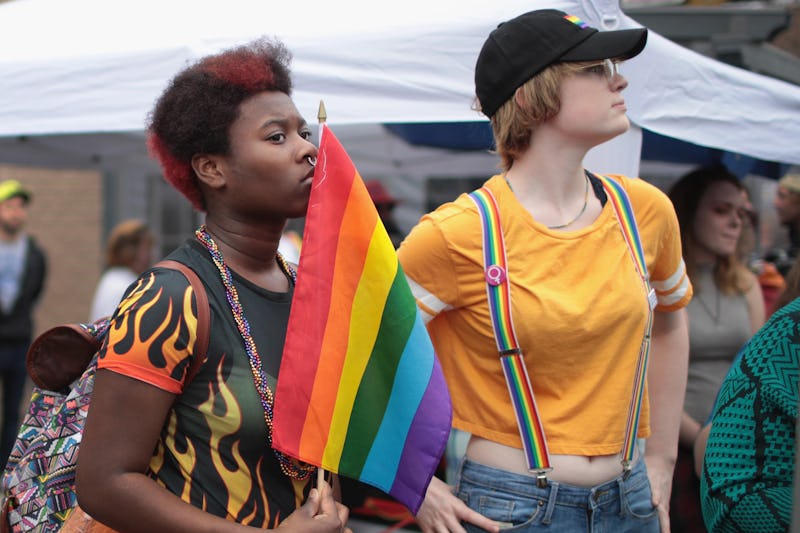 Scott Olson/Getty Images News/Getty Images
When most people think of Pride, they think of rainbow flags. Floats with scantily dressed men bouncing around. Rainbow clothing. Rainbow pins. Rainbow sunglasses. Basically, rainbow everything. And they're not wrong — most Pride parades these days are decked out with a lot of rainbows. But Pride isn't just about rainbows and partying.
The first pride parade was held in Central Park in New York City on June 28, 1970. It was the one-year anniversary of the Stonewall Riots, which was an uprising at a gay bar in the West Village. The raid on the Stonewall Inn led to six days of riots in the Village. The LGBTQ community was fed up with police harassment, raids, and arrests — and they decided to do something about it. Stonewall is often hailed as the beginning of the gay liberation movement, although the Compton Cafeteria Riot, led by trans women sex workers of color and drag queens, actually took place three years earlier, in the Tenderloin district of San Francisco.
"I stayed at the head of the march the entire way, and at one point, I climbed onto the base of a light pole and looked back," organizer Fred Sargeant wrote in a 2010 first person account of the New York march in the Village Voice. "I was astonished; we stretched out as far as I could see, thousands of us. There were no floats, no music, no boys in briefs. The cops turned their backs on us to convey their disdain, but the masses of people kept carrying signs and banners, chanting and waving to surprised onlookers."
Since that first march (which, by the way, was called the "Christopher Street Liberation Day March"), Pride has been a combination of politics and celebration. Some years are more political, while some are more about "boys in brief," but it's important to remember where the movement started — and the queer activists who came before us. That's the one thing that a few of the following, contemporary activists said they wish they'd known more about before their first Pride. Find out what else they wish they'd known below.