9 Adorable Photos Of Young Justin Trudeau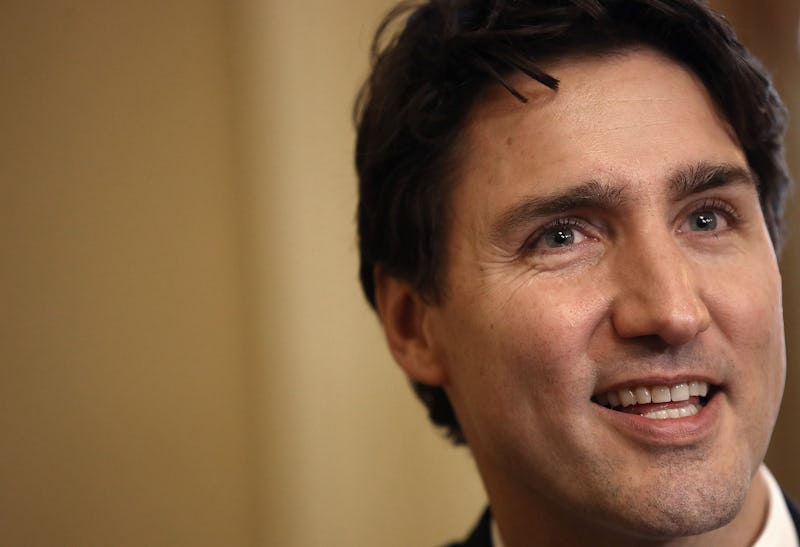 Win McNamee/Getty Images News/Getty Images
As if Americans needed any more reason to look wistfully north, the recent publication of resurfaced photos of Canadian Prime Minister Justin Trudeau reminded us that Canada's handsome young PM has always been a babe. With his tousled brown curls and chiseled jawline even more striking in his younger days, these new-old photos have been fun to fangirl over. But as many Canadians know (but perhaps few Americans), Trudeau was also the son of former PM Pierre Trudeau, and these photos of younger Trudeau that you haven't seen show that he was camera-ready as a kid and a heartthrob as an young(er) adult.
Although there have been sets of father-son presidents in Asia, Africa, and the U.S., the Trudeaus are the first set of father-son prime ministers in Canadian history. Looking at photos of the current Trudeau as a child is reminiscent of photos of John F. Kennedy, Jr., who could have quite likely become president had he not died in 1999. Luckily, the Trudeau family seems to be marred with comparatively less tragedy than their American counterparts. Below are some adorable photos of Trudeau from his childhood, many of which came from the time when he occupied 24 Sussex (the Canadian answer to the White House or 10 Downing Street) as a kid.
Look At Those Cheeks!
This photo of an infant Trudeau with his mother Margaret is too cute, and shows just how stylish his '70s icon mother really was. Trudeau remains close with his mother, who became a mental health advocate after revealing that she has bipolar disorder.
He Was Clearly Destined To Be PM
This famous photo of the elder and younger Trudeaus was captured by a now-retired photographer Rod MacIvor who saw renewed interest in his images chronicling the Trudeau family after the younger was elected PM in 2015. He told the Ottawa Citizen that he was "like a 'White House photographer' but in Ottawa."
He Wasn't Thrilled At His Dad's Swearing-In
The current Trudeau PM, pictured on the left in this photos with his brothers Michel (middle) and Sacha (right), was clearly fairly bored at his dad's swearing-in in 1980. I guess the children of leaders get bored on both sides of the Canadian border.
He Rocked A Canadian Tuxedo As A Toddler
Who'd have thought that the current Canadian PM actually wore a Canadian tuxedo (denim jacket with denim jeans) as a kid and as an adult?
He Still Has The Same Face
He outgrew his blonde locks and grew into the face that launched a thousand fangirls.
He Clearly Loved His Dad
Pictured on the left, the younger PM Trudeau embraces his dad.
He Did The Cool 80's Nerd Thing
What I wouldn't give to be able to rock that pair of glasses.
He Apparently Was An Amateur Sasquatch Hunter
Between being Canada's First Son and heading their Parliament, Trudeau apparently moonlighted as a Sasquatch hunter, beer stein-holder, and pleated pants-wearer.
He Was So Stylish At His Wedding
Trudeau made sure to match his wife, journalist and feminist Sophie Grégoire Trudeau, at their wedding in 2005.
America might have had its fair share of good-looking leaders, but Trudeau is clearly paving the way with his treasure trove of awesome photos from before he became the second Trudeau to lead Canada.