Trump's Anti-Feminist Stances Are Already Telling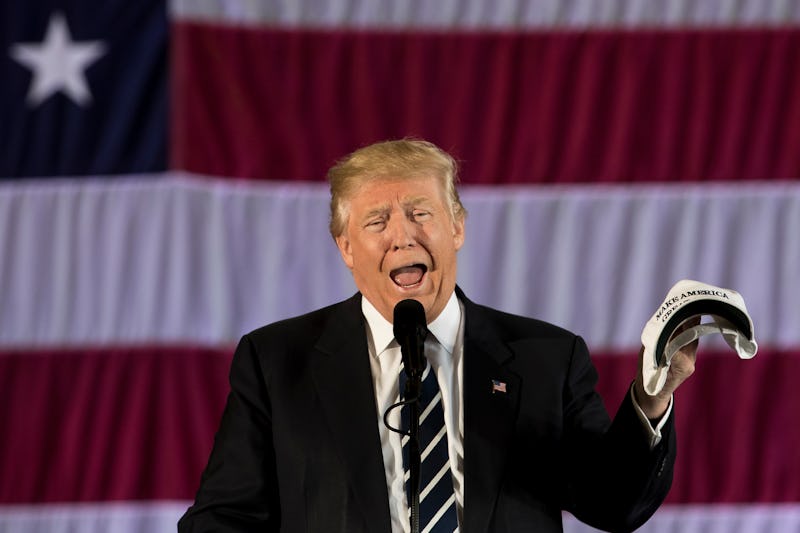 Drew Angerer/Getty Images News/Getty Images
In just days, Donald Trump will be sworn-in as the 45th president of the United States. And if you're a Democratic voter, a progressive, or somebody who cares about the rights of women and LGBTQ Americans, then there are already more than a few reasons to be concerned about the incoming administration. Though 2016 was no breeze of a year, 2017 will require just as much, if not greater grit and determination. Suffice to say, even beyond the slew of his publicly delivered attacks, there are already a lot of anti-feminist and anti-LGBTQ stands Trump has taken, all before even becoming president. Prepare to become an activist this year and next, because it could make a world of difference.
It's a concerning scene whether you look at policies he's voiced support for before and after his campaign, whether you observe the people he's installed in various positions, or whether you consider the practical implications of some of the countless promises he's made. Needless to say, there's a lot in the Trump campaign and Trump transition to cause some teeth-gnashing for feminists and pro-LGBTQ rights advocates. Here are nine such examples, because it's worth being prepared for what could be a very long four-to-eight years.
1. Appointing An Anti-Reproductive Rights HHS Secretary
Trump's pick for secretary of Health and Human Services is, simply put, worrisome for anybody who cares about reproductive rights. Georgia Rep. Tom Price is on-the-record as opposing abortion rights, and once co-sponsored and supported a bill which would have banned it under all circumstances, including incidents of rape and incest. He also once co-sponsored a bill which would've declared human life as beginning at the moment of conception, and has been a staunch opponent of enabling easier birth control access.
2. Not Speaking Out Against The Push To Defund Planned Parenthood
Despite the fact that Trump admitted Planned Parenthood provides essential health care throughout his campaign — something that none of his Republican primary opponents came close to touching — Republicans could ultimately defund the organization after he takes office. And, sad to say, Paul Ryan agrees with the idea.
3. Appointing An Overwhelmingly Male Presidential Line Of Succession
Obviously, it's everyone's hope that nothing ever happens that forces the U.S. to look down the presidential line of succession to find a new commander-in-chief. But if you take a brief glimpse at the list right now, it's overwhelmingly white and male for a while. In fact, you have to go 14 slots down the list before reaching a woman ― incoming transportation secretary nominee Elaine Chao.
4. Picking Mike Pence For Vice President
Mike Pence could be the most socially conservative vice president the United States has seen in a generation, as illustrated by a number of controversial stands on gay rights. For example, he supported a "religious freedom" bill in Indiana that enabled legal discrimination against LGBT residents on faith-based grounds (Pence later caved to calls to amend the law). And don't forget his early-career support for diverting federal funding for AIDS patients to "institutions which provide assistance to those seeking to change their sexual behavior." Pence's critics have interpreted this as referring to gay conversion therapy, although Pence denies this.
5. Picking An Attorney General Who Opposes Equal Pay
There's no shortage of progressive criticisms of Sessions, including his alleged hostility towards the civil rights movement and his enthusiastic support for the war on drugs, particularly on marijuana. But it shouldn't be overlooked that he opposed the Lilly Ledbetter Fair Pay Act, as well ― a relevant fact, considering he could be America's top law enforcement official before too long. The Lilly Ledbetter Act reformed the statute of limitations, allowing women to sue for wage discrimination within 180 days of their last paycheck affected by said discrimination, rather than that window beginning with the first affected paycheck.
6. Pledging To Pick A "Pro-Life" Justice Who Could Overturn Roe v. Wade
Despite stating he's fine with the Supreme Court's ruling on same-sex marriage, deeming it "settled," Trump does not seem to believe abortion rights are similarly settled. To the contrary, he has promised to appoint a "pro life" Supreme Court justice, a decision which could tip the court towards the potential overturning of Roe v. Wade.
7. Making The Former CEO Of Breitbart His Chief Strategist
While many criticisms have been made of Breitbart, the far-right website previously helmed by Trump chief strategist Steve Bannon, Trump's decision to not publicly denounce the publication isn't a good sign. In particular, one of its most popular and publicly visible writers tours colleges to insist that "feminism is cancer," and last month publicly targeted and taunted a trans woman attending the University of Wisconsin, Milwaukee, spurring her departure from the school.
8. Claiming A Sexual Assault Accuser Wasn't Attractive Enough
In the final weeks of his campaign, Trump was hit with more than a dozen allegations of sexual assault, many of them sounding a lot like what Trump himself claimed he could do in that infamous 2005 Access Hollywood tape. He angrily denied all the allegations, referring to the women as "horrible liars" at a campaign rally, and even further, suggesting that one of them was not attractive enough for him to have assaulted her. He made a similar remark about former People writer Natasha Stoynoff, who claims Trump kissed her without consent in 2005.
9. Overlooking Domestic Violence Allegations
Trump's early picks for his administration have included more than one man accused of domestic violence: Labor secretary nominee Andrew Puzder, and aforementioned chief strategist Steve Bannon, both of whom have denied the claims.
In short, there are definitely some troubling indications here, whether about matters of policy, or simply about the kinds of people and philosophies Trump is comfortable espousing or being around. Of course, there's no way to know just yet how many of Trump's appointments will make it through Senate confirmation hearings ― the ones who require them, at least ― so it's still possible that a groundswell of public reaction could affect things.