The 9 Best Wellness Trips To Help You Recharge After A Burnout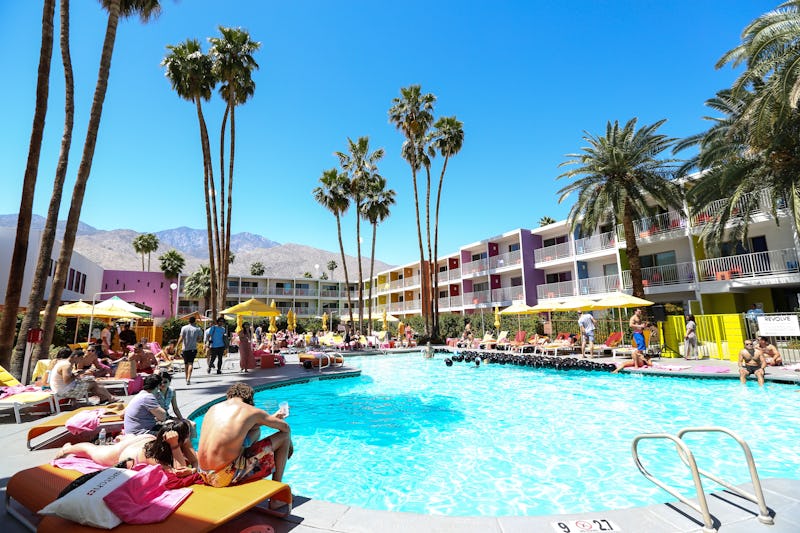 Chelsea Lauren/Getty Images Entertainment/Getty Images
As much as I'd like to believe that I could be the kind of person who embraces mindfulness and goes to yoga regularly, at 31 it's time to admit that I'm just not. Sure, I'm decent at "self care," but that more often than not looks like taking on a massive embroidery project while simultaneously watching The Office for the tenth time. Not exactly peaceful. Or mind-clearing. Plus, I'm a writer, so I'm usually juggling 15 different jobs at the same time. And so, burnout is a part of my life, showing up cyclically and crushing me down every six months or so. When I'm able, I'll take a break to recharge. And if I have the time and money, nothing beats a trip away for making me feel human and excited about work again.
But before we get further into burnout, let's define exactly what we're talking about. According to University of California at Berkeley researchers:
"Burnout is a psychological syndrome emerging as a prolonged response to chronic interpersonal stressors on the job. The three key dimensions of this response are an overwhelming exhaustion, feelings of cynicism and detachment from the job, and a sense of ineffectiveness and lack of accomplishment."
Basically, burnout is your body and brain's response to too much work-related stress. It includes feeling exhausted, detached from your work, like you're not good at anything, and like you're unable to celebrate your wins. I can so relate. And I'm not alone in this. According to the authors of The Happiness Project, 50 percent of people from a range of professions are burned out. And according to the General Social Survey of 2016, that's a 32 percent increase from the rates that were observed 20 years ago. Whether it's because we have the feeling of being on 24/7 as a result of technology, the gig economy, the lack of job security, or the increased price of everything — is hard to say. But the only thing I've found that truly gets me out of burnout is stepping away from everything — my jobs, my computer, my home, everything — and taking a trip.
The last time I did this, I spent a week at a yoga retreat in Guatemala with two of my best girlfriends and no wifi. I specifically didn't buy a Guatemala SIM for my phone, so I couldn't even access the internet. I did yoga twice a day, ate great vegetarian food, embroidered while looking at the spectacular view, and had deep conversations with my friends. With no internet and only solar-powered light at night, I was able to calm the whirlwind in my brain enough that when I got home, I felt ready to take on my hectic life again.
But look, not everyone can — or wants to — spend a week in rural Guatemala, right? So with that in mind, here are nine of the top wellness spots in the United States, as well as the best places to stay and eat, as determined by the travel experts at TripAdvisor. Next time you feel burnout coming on, why not pick one and schedule a trip? Your body and brain (and boss) will thank you.