Bravo Spinoff Shows That Need To Happen ASAP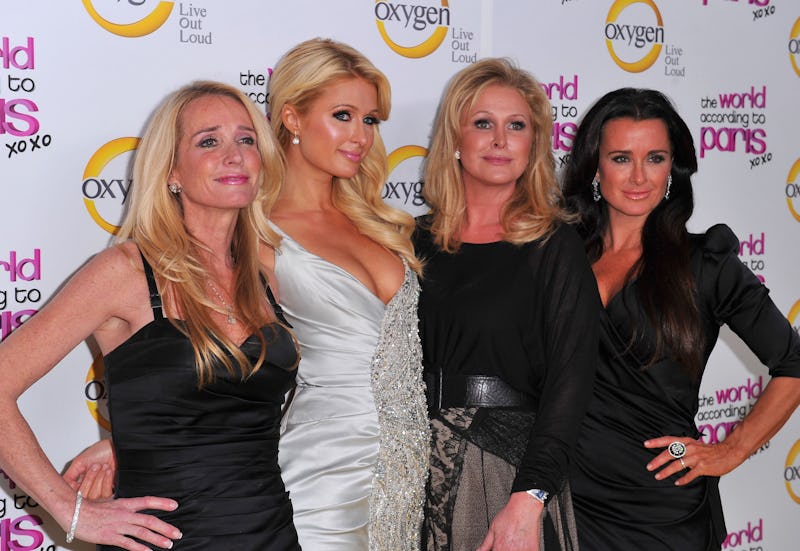 Alberto E. Rodriguez/Getty Images Entertainment/Getty Images
It's impossible to have too many Bravo shows. In fact, the network actually needs more. There's no need to reinvent the wheel, though. There are plenty of great ideas tied to the series we are are already blessed with. That's why I came up with a list of Bravo spinoff shows that need to happen.
Andy Cohen, if you're reading this, bookmark this post and thank me later. These ideas are gold. There are already so many amazing shows and lovable characters on this network, so it makes perfect sense to expand on them. Bravoholics need more shows and we need them now.
Most Bravo shows have ensemble casts, which means that we don't get nearly enough of our favorite people. The time has to be split fairly to cover all of the characters and all of the story lines, so fans just need more of the most-loved cast members. At this point it might actually be a good idea to have a second Bravo network just so the fandom can enjoy even more reality TV shows.
These are the spinoffs that just need to happen. Seriously, though, Andy, check out this list for some inspiring suggestions for the network.
1. Tom Tom
When Lisa Vanderpump asked Tom Sandoval and Tom Schwartz to partner with her to open up a bar called Tom Tom, the first thought that came to my mind was "spinoff." It would be nice to have a double dose of Tom without the relationship drama that consumes Pump Rules. The show would be hilarious, and I'm sure the other cast members would make cameo appearances here and there.
2. Real Housewives: All Stars
Fans have been pulling for this concept for years. It just needs to happen. The best Housewives from all the shows coming together for a big vacation would be absolutely epic. From the one-liners to the tension over who's on top, it would be guaranteed entertainment.
3. Seeking Sonja
Although fans do get a tiny taste of Sonja Morgan's dating life on Real Housewives of New York City, there is clearly a lot more entertainment there. A show focused on Sonja's dating life would be so hilarious. She could even have Bachelor-style elimination ceremonies where she gives out a spare key to her infamous townhouse.
4. Life Of Milania
Milania Giudice steals every single scene that she's in on RHONJ. She's definitely the most intriguing member of her family, and a show focused on her life would be adorable and hilarious. It's the lighthearted show that viewers need to escape for the harsh realities of real life. Considering that Milania just graduated fifth grade, she's a little young to headline her own show at this moment, but this definitely a good idea for the future.
5. Housewife Swap
Sure, this is a total rip-off of Wife Swap, but most TV and movie ideas aren't completely original these days. A show with Housewives switching places and living each other's lives for a week would be so interesting.
6. Real Models Of Bravo
Tons of the Real Housewives' kids have modeling careers at this point. Gigi, Bella, and Anwar Hadid, Kairo Whitfield, Deliliah and Amelia Hamlin, Noelle Robinson, and Mason Grammer are all models, so it just makes sense. A look behind-the-scenes of what it's like to come from a famous family and make it as a model could be compelling.
7. Real Housewives Of The Richards Family
A unscripted show about Kyle Richards, Kathy Hilton, Kim Richards is something I've been wanting for years. Really, I just want Kathy on Real Housewives of Beverly Hills, but if that's not going to happen and Kim isn't even a cast member anymore, a show focused on this family would be great. Plus, Paris and Nicky Hilton could round out the cast.
8. Below Deck: Between Charters
What are the Below Deck crew members like when they're not on a boat? Do they have homes? Do they Airbnb until the next charter? Couch surf? Do they hang out when they're not working together? How do they maintain romantic relationships? There are so many questions that need to be answered.
9. Real Tour Of America
So many Housewives have songs. It would be amazing for Erika Jayne, Kandi Burruss, Luann de Lesseps, Kim Zolciak, Melissa Gorga, Kenya Moore, and whoever else enjoys singing to travel in a bus for a multi-city concert tour. The diva antics, auto-tune, and tension of travel would make for great TV.
Obviously, these are all just tentative titles, but the ideas need to become a reality.