A Tom Tom 'Pump Rules' Spinoff Needs To Happen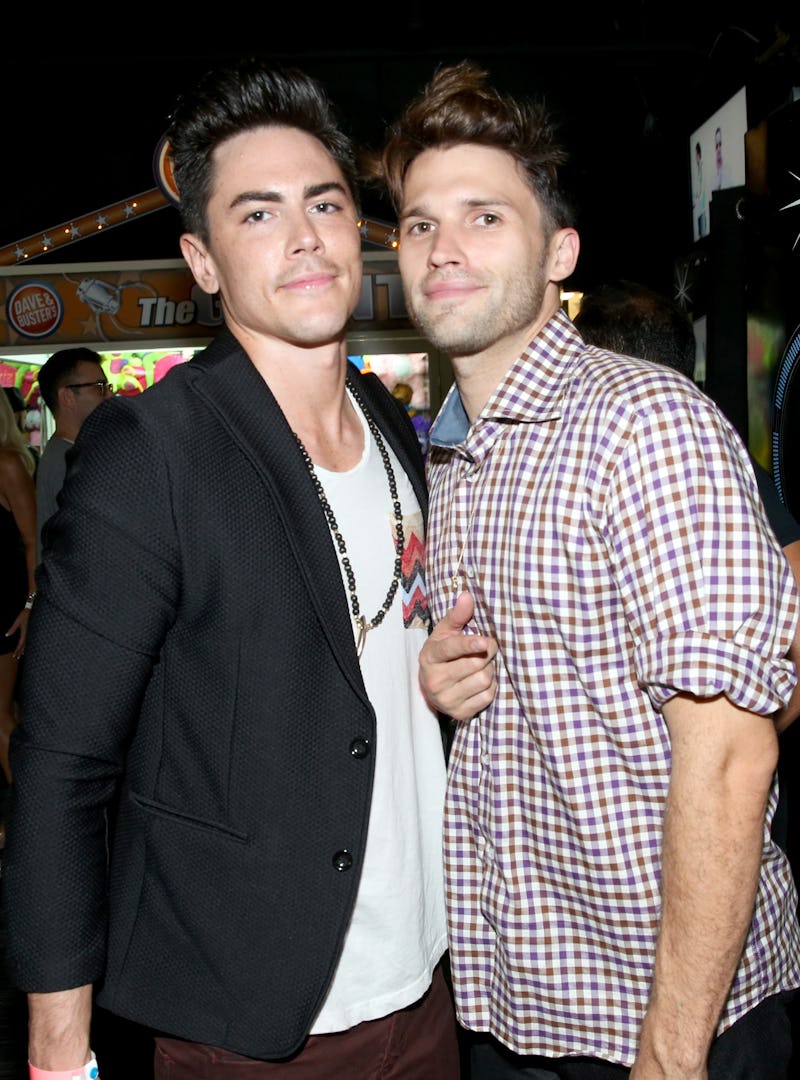 Mark Davis/Getty Images Entertainment/Getty Images
I know that the season of finale of Vanderpump Rules was focused on Tom Schwartz and Katie Maloney's wedding — I even cried during the vows — but the part of the episode that sticks with me the most was when Lisa Vanderpump said that she wanted to start another bar, called Tom Tom, with Tom Sandoval and Tom Schwartz. Once again, I was moved with emotion about people I've never met, but after my vicarious happiness subsided, I got to thinking about how there need to be a Tom Tom spinoff show with Schwartz and Sandoval.
If Jax Taylor and Brittany Cartwright are getting a spinoff while they visit her family in Kentucky, I don't see why Tom and Tom wouldn't get one too. It'd be way more natural to film them doing things they would already be doing unlike Jax doing farm chores and being way out of his element.
Plus, Bravo is on a streak. The Real Housewives franchise birthed Real Housewives of Beverly Hills that brought us Vanderpump Rules, and a crossover episode of that led to Summer House. I think Tom Tom is the next logical step.
I mean, come on. Who doesn't want to see more of the Tom Tom bromance? It's my favorite love story on the show, and I'm sure that I am not the only one who feels this way. Andy Cohen, can you hear me? This is a solid idea and I'll tell you why.
1. The Friendship
The best part about this proposed spinoff show is the relationship between Tom and Tom. We've seen them laugh, cry, and get tattoos together. They would be an absolute joy to watch. There's no denying that.
2. The Lack Of Clique Drama
I hate to say this, but I need a break from the clique versus clique drama on Vanderpump Rules. Tom and Tom get along, but they aren't boring. It would be refreshing to just see the Toms figuring out the bar business together.
3. The Opportunity To Introduce New Characters
Obviously, there would be other people on staff aside from the Toms. It would actually be really cool if they only hired people named Tom, but that seems pretty difficult. Anyway, the new staff members would give us new characters to love and make fun of.
4. The Obvious Promotion For The Bar
I'm sure that SUR got a big boost from being the backdrop on Vanderpump Rules, so I think it would a good move for Tom Tom to get its start on a reality TV show.
5. The Comedy
Schwartz says the most hilarious things, without ever being mean to anyone. And Sandoval is just so unusual from the hair extensions, to crying on dogs, to the braid specialist. He would just provide laughs without even trying.
6. The Chance At Redemption For TomKat
That last Pump Rules season was a tough one for Schwartz and Katie Maloney's relationship. They need a chance to show people that they are more than the rage texts and drunk fights.
7. The Spotlight Can Be On Tom & Ariana
Sandoval and Ariana Madix get along so well that they've only had one real fight on camera, which was about writing a cocktail book, and they decided to do it together, so that all worked out. Other than that, they just disagree about Sandoval wanting to get married and Ariana not being into it. Unfortunately, they have such a good relationship that they don't get as much air time as the rest of the drama on Vanderpump Rules.
8. The Nuggets Of Wisdom From Lisa
Of course, there would be some Lisa Vanderpump cameos on the show with her being the one backing this bar. I love her interaction with the Toms. I'm sure she would provide hilarious and inspirational commentary.
The Tom Tom spinoff show needs to happen.