9 Creepy Myths About Solar Eclipses That Hopefully Won't Come True On Monday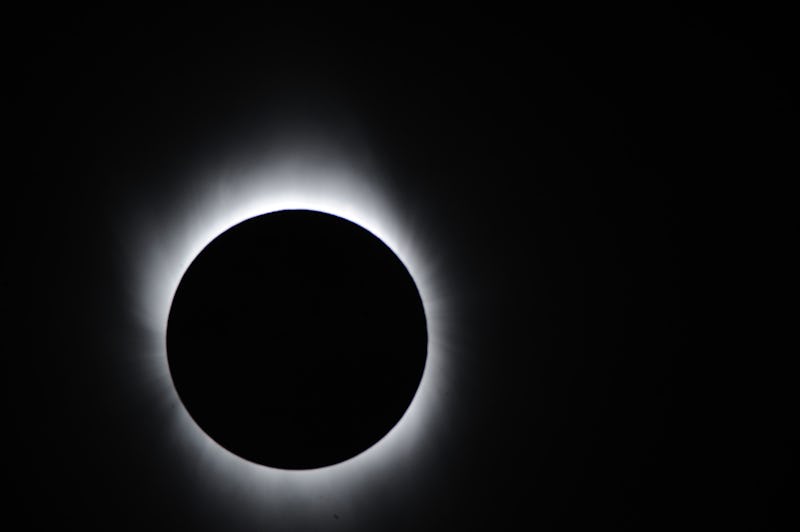 Handout/Getty Images News/Getty Images
There's nothing like an astonishing celestial event to strike fear and awe into the hearts of human beings everywhere — so it should be no surprise that a huge number of creepy myths and superstitions about solar eclipses exists. And, to be fair, the upcoming total solar eclipse on Aug. 21 is certainly going to be an event to remember; we haven't seen a total solar eclipse take place in the contiguous United States since 1979, and the last time one was visible coast to coast was in 1918. So, in honor of this momentous occasion, let's take a look at a few particularly spooky solar eclipse old wives' tales, shall we?
Interestingly, a lot of solar eclipse superstitions seem to center around the "eclipse's rays" — but honestly, that's bunkum. While it's true that looking directly at an eclipse without eye protection does damage your eyes — as pediatric ophthalmologist Vike Vicente explained to the Washington Post, "You can stare at the sun during an eclipse for 10 minutes, and it doesn't hurt. You can just look at it, and it's really cool to look at it, but that whole time you're literally burning the cells off your retina. And once they're burned, there's no repair, there's no fix for it" — your eyes are also the only thing an eclipse can damage. It can't harm a pregnancy, or the food you're eating, or anything else, so rest easy — and don't feel like you have to sequester yourself inside to escape these dreaded rays, either.
Then again, maybe it's not entirely surprising that we'd put such stock in such a weird idea ("Oh no! Eclipse rays! RUN!"); when humans don't understand something, we often try to come up with an explanation so as to avoid falling into the limbo of uncertainty. We're not always right — and, in fact, we're often wrong — but maybe we can be forgiven for our flights of fancy… as long as we're willing to learn from our mistakes. Science is a wonderful thing.