9 Documentaries You Need To See In 2017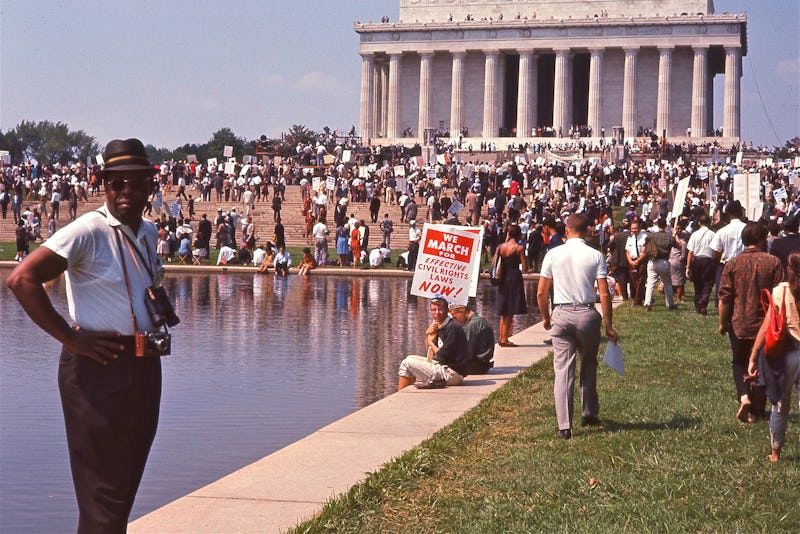 Magnolia Pictures
For an average moviegoer, it can be hard to see documentaries. Often times, they fail to get wide releases, and it can be tricky for fans who go to the movies specifically to escape to find solace in a documentary. Documentaries are, by definition, meant to bring a viewer closer to the reality depicted, not farther away. But, docs also bring viewers stories they wouldn't otherwise be exposed to, or closer to stories they wish they new more about. In 2017, documentaries will bring you closer to your favorite icons, take you inside the fight between Hulk Hogan and Gawker, and might make it a little harder for you to sleep at night. These are the nine documentaries you need to see in 2017.
The docs set to be released in 2017 range from civil rights films (I Am Not Your Negro), to intimate celebrity portraits (Bright Lights), to true crime investigations (Mommy Dead and Dearest), to a journey into the underground world of tickling (Tickled). So far, the year is on track to be a pretty good year for documentaries, but with so many docs coming out, it can be tough to know which ones are really worth your time (not to mention, your money). So, if you're trying to decide on what to see, these are the ones not to miss this year.
1. Bright Lights — Out Now, HBO
The HBO documentary Bright Lights: Starring Carrie Fisher and Debbie Reynolds premiered early following the tragic deaths of both Reynolds and Fisher at the end of 2016. The documentary is currently available via HBO, but it's worth putting on the list anyways. As we mourn Fisher and Reynolds, it's nice to be given the opportunity to see them up close and personal as mother and daughter, not Hollywood icons.
2. Beware The Slenderman — January, HBO
This creepy doc explores the myth of the Slenderman, a figure who inspired two 12-year-old girls to try to kill their friend in the woods with a knife in 2014. The victim survived, and the two girls, now 15, are currently being tried as adults. Expect this one to keep you up at night.
3. I Am Not Your Negro — Feb. 3
I Am Not Your Negro is a new documentary that takes a look at race relations in America through the lens of the writings of James Baldwin. Using material from Baldwin's unfinished manuscript, Remember This House, about Malcolm X, Martin Luther King Jr., and Medgar Evers, the film paints a picture of the legacy of racism against African Americans, and hopes to introduce activism, and Baldwin, to a new generation.
4. Solitary: Inside Red Onion State Prison — Feb. 6, HBO
Another HBO documentary, Solitary: Inside Red Onion State Prison takes you inside the life of prisoners held in solitary confinement. Considered torture by many, solitary confinement is a cruel, dehumanizing punishment often used in American prisons across the country. In Solitary, filmmakers focused on Red Onion State Prison, a supermax prison in Virginia, and the experience of inmates kept there, as well as the experience of the guards that keep them imprisoned.
6. Casting JonBenét — January, Netflix
2016 marked the 20th anniversary of the murder of the child beauty queen JonBenét Ramsey, which prompted more than a few docuseries on the case, as well as new television specials and documentaries, like The Killing of JonBenét: The Truth Uncovered on A&E, or CBS' The Case Of: JonBenét Ramsey. In Casting JonBenét, filmmaker Kitty Green turns the camera on those docuseries. The new documentary focuses on the casting of one such docudrama, and features interviews with many actors speaking on the case, their personal opinions on who did it, and the general spectacle. It's a documentary that forces us to ask ourselves why we are so obsessed with the story of JonBenét and the docuseries phenomenon.
7. Nobody Speak: Hulk Hogan, Gawker And The Trials Of A Free Press — TBD, Netflix
Curious as to how the huge lawsuit that put Gawker out of business affects your life? Nobody Speak: Hulk Hogan, Gawker and the Trials of a Free Press draws a direct line from the Hogan sex tape to freedom of the press and the most recent presidential election. The movie, which just premiered at Sundance, has been acquired by Netflix and should premiere sometime this year.
8. Joshua: Teenager Vs. Superpower — TBD, Netflix
Looking for a more uplifting documentary? Joshua: Teenager vs. Superpower tells the story of Hong Kong teen, Joshua Wong, who organized a massive student protest against the Chinese Communist Party.
Bonus: Tickled, Feb. 27, HBO
Tickled technically came out in 2016, but the much buzzed-about documentary is finally getting a wide release, premiering on HBO on Feb. 27. The documentary delves into the lives of competitive endurance ticklers, and the strange community of fans that watch online videos of alleged professional tickling. Yeah, it's pretty much just as weird as you think it is.
No doubt more docs will be announced as we get further into 2017, but these nine documentaries are a pretty great place to start.