The Slenderman Trial Will Likely Start Soon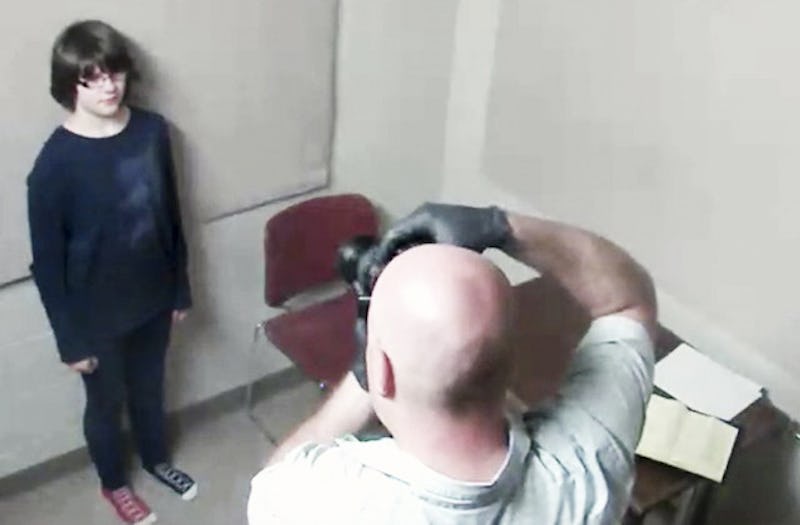 HBO
It seems like the plot of a fictional horror film, but unfortunately, HBO's Beware The Slenderman is a documentary about something that really happened. As shown in the documentary through videos of police interviews, in May 2014, two 12 year-old girls lured their friend into the woods, stabbed her 19 times, and left her for dead, which they now claim was done in an attempt to please the Slenderman, a fantasy character bred from the dark corners of internet forums. The victim survived the attack and now, Anissa Weier and Morgan Geyser are awaiting trial for attempted first-degree homicide and have both pleaded not guilty by reason of mental disease or defect, as reported by The Associated Press.
As of now, there hasn't been a trial date officially set. However, in October 2016, the Associated Press also reported that the girls' attorneys asked for separate trials and both are expected to start in March or April 2017. Before that, Geier will likely have another hearing, as the Chicago Tribune reported that her attorney wants her confession thrown out on the basis that she didn't understand her Miranda rights and a judge will rule on that in February 2017.
But that won't mark her first time in the courtroom, as Weier and Geyser have already been through a handful of hearings to determine whether they should be tried as adults. In Wisconsin, anyone over the age of 10 charged with attempted first-degree intentional homicide is tried as an adult. It's a big difference, because if Weier and Geyser were tried in juvenile court, they could possibly be released at age 18 from a juvenile detention center. As adults, they face up to 65 years in a prison. The girls' attorneys appealed the decision to try them as adults, but the verdict was upheld in July 2016, as reported by NBC News.
When it premieres on Jan. 23, HBO's documentary will chronicle the events leading up to the crime and the legal aspects that have followed. As the documentary shows through footage of the girls' conversations with police and interviews with their parents, they claim that they attacked their friend to please the Slenderman, an online urban legend.
If you weren't familiar with this tale, Slenderman is a character visually created by Eric Knudsen in 2009, though with a different name, in a thread about paranormal illustrations on SomethingAwful.com. The internet, especially Creepypasta fanatics, have latched onto the illustration and attributed sinister personality traits to the character, creating videos, stories, and photos featuring him. Some say he abducts and murders children or murders their families. Weier and Geyser believed in his existence and were determined to become one if his "proxies" to save themselves and their families from his wrath.
This reason for the attack will likely be a key part of the trial, since both Geyser and Weier have plead not guilty by reason of mental disease. It will be very interesting to how all of this affects the trial when it begins later this year.