9 First Date Ideas For Valentine's Day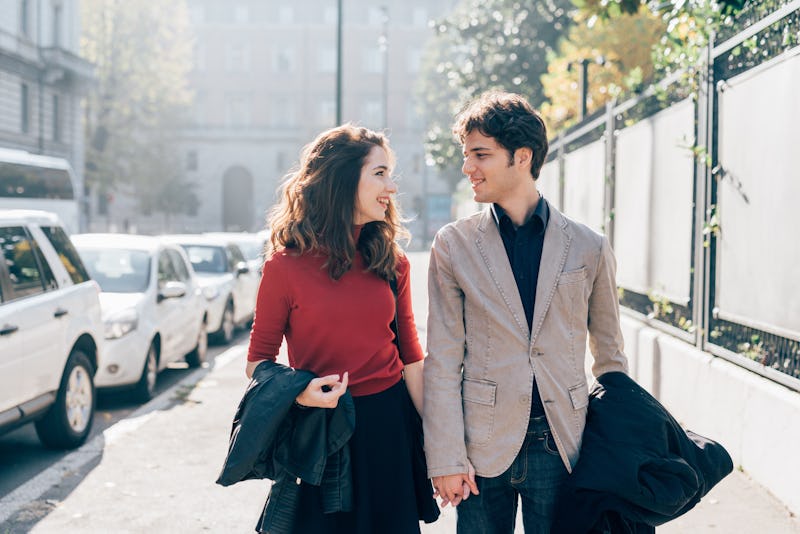 Fotolia
With February 14 coming up, you may be looking for first date ideas for Valentine's Day. Yep, first dates do happen on Valentine's Day! I'm actually living proof. A Hinge/Tinder guy and I had been postponing our first date for months (read: bad sign), then neither of us were single anymore. But, low and behold, the week before Valentine's Day, we were — and the only day we both had free was Valentine's Day. Talk about pressure! However, we'd decided in advance it would be NBD. After all, it's just another day, right? We also decided we'd go someplace where there weren't Valentine's Day prix fixe menus or heart-shaped decorations — so the bar would just look like the bar it usually looked like, not one dressed up in a red décor. Plus, the romantic in us (OK, in me) thought it would be a great story to tell if he and I did click.
"Don't put too much stress on yourself or your date to make it the best first date ever," Claudia Cox of Text Weapon tells Bustle. "It doesn't have to be an over-the-top experience. Don't allow the venue or the activity take priority on Valentine's Day or any other day. Prepare yourself mentally, physically (go for a run, take a bath, listen to some good music), and then have fun getting to know your date!"
Our date started out relaxed and fun. The lounge-type bar was super empty, so it's as though we had the place to ourselves. We seemed to have a lot in common, but then he started talking about other dates he'd been going on. No thank you. He even mentioned one girl who had just texted him that day saying she didn't want to see him again, did I want to see the text? No thank you. Then, he started talking about Bumble, which I hadn't used yet. He opens the app and shows me the ins and outs of it, but I can tell he's also reading his new messages.
The end result: I did not see him again (surprise, surprise!), but I did download Bumble the next day and met my future boyfriend on it a week later! (He and I always said we'd have to thank the Valentine's Day date guy!) So, yes, I'm a fan of going on a Valentine's Day date. Because the holiday wasn't the reason the guy above and I didn't click, you know? If you're feeling game to try it for yourself, here are some first date Valentine's Day date ideas.