This Type Of First Date Helps Reduce Anxiety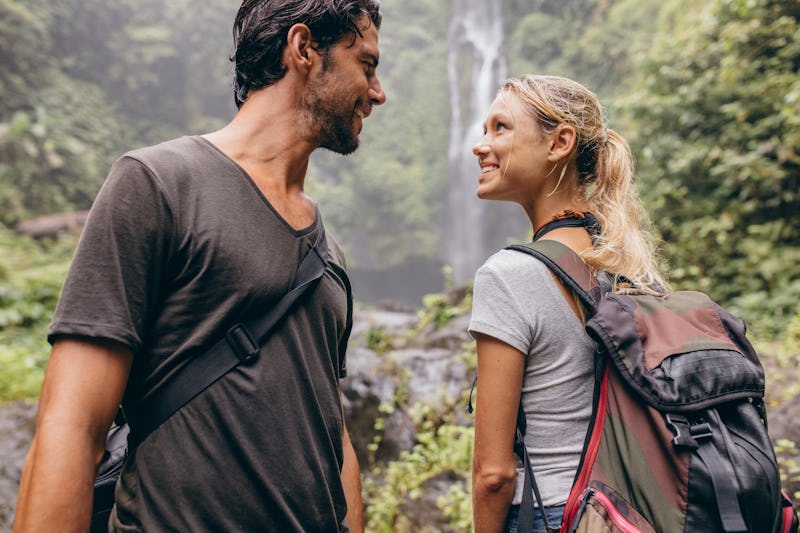 When it comes to dating, what do you do on a first date? Coffee? Drinks? Dinner? While those are legit, are activity-based dates better than the standard non-activity-based ones? "You create intimacy by doing," Rhonda Milrad, Founder and Chief Relationship Advisor, Relationup, tells Bustle. "People create connection by experiencing and engaging in a task together. The event itself creates an opportunity to interact in ways that don't occur when you are sitting politely across the table from one another. In an activity, you are negotiating, compromising, collaborating, demanding, sharing, and often working toward a common goal."
Harris Poll on behalf of Tough Mudder recently conducted a survey of over 2,000 people in the U.S. and discovered almost 40 percent of respondents said they'd rather go on an extreme fitness/outdoor recreation date versus dinner and a movie. In addition, more than half of Millennials, 54 percent, said they'd be interested in meeting new people or a potential boyfriend/girlfriend while doing a fitness activity.
Even photos showing you doing an activity may help up your dating game, too. Tough Mudder's survey found that nearly one-third or respondents, 32 percent, said they would be more likely to "like" someone on a dating site or app if they had a picture of themselves doing a fitness activity. In addition, three in five people, 60 percent, of those surveyed said they would be more attracted to someone who took them on a non-traditional first date (e.g., rock climbing, volunteering, bingo, concert).
Interested in giving it a try? Here's what dating experts think about activity-based dates:
1. They Show Respect And Thoughtfulness
"Activity dates are better than coffee dates because they show some thought and respect for the date (yes, respect!). When someone plans a date that goes beyond what's easy, it's because they want to treat you specially. Whether it's a museum, a zoo, a hike and picnic, or a farmers' market date, these show respect for the date and the invited person. Plus, you learn more about a person (and yourself) on an activity date than how they order their coffee — coffee is great, but not as the main event.
People tend to open up more when they're doing something else because they're not focused on dating pressures. It's why therapists have children do 'play therapy' — to get them talking more easily about themselves — because when playing, they're not so self-conscious. Same goes for activity dates. When you're focused on horseback riding or playing tennis, you're less self-conscious about talking to someone." — April Masini, aka "Ask April," New York–based relationship expert and author
2. They Are A Natural Icebreaker
"Activity-based dates are a wonderful icebreaker. By having an activity be the focal point of the interaction, there's less pressure on the 'question and answer' aspect of a date. The format shifts to fun and adventure. There's a sense of discovering your date, rather than hearing the press release version of who they'd like to be. An activity tends to elicit unguarded, natural responses. You'll get a better sense of your date's disposition and character traits when they're absorbed in an activity rather than trying to make a good impression." — Susan Winter, relationship expert and bestselling author of Allowing Magnificence
3. They Help Reduce Anxiety
"Doing an activity is setting expectations for a simple meetup that involves doing something you both like to do. It reduces anxiety — when you go on your first date, there's a lot of uncertainty. If the date didn't work out, as least you did something fun and active. Plus, it'll promote natural conversation. When you're stuck across the table from someone, you can feel compelled to keep the conversation going. When you're doing an activity, awkward silences are overshadowed by the activity you're doing. You can use that activity as a topic of conversation and a way to break the ice when you're just getting to know each other.
You put on your best persona when you're going on a traditional date. But when you're doing one of your favorite activities, you're in a more casual setting and can be yourself. It's a lot like hanging out with your friends, but you both know you're there because you're attracted to each other and want to get to know each other over doing something you both consider to be enjoyable and productive. That doesn't mean you have to get all sweaty and uncomfortable in front of each other. Keep it casual... or be as competitive as you want if the opportunity arises! Everyone's different, but it doesn't mean you can't be yourself!" — Gabriel Rotman, Jabo, The Activity Dating App
4. They Create Natural Conversation
"Dates early in the relationship are all about comfort as you try and get to know one another. 'Meeting for coffee' feels more like an interview and, let's face it, everyone around knows you're on a first date. Plus, there are high expectations to say the right thing or to portray yourself as interesting enough. It can be stressful and can cause some anxiety as you try and figure out what the other is thinking. Activity-based dates provide a more comfortable situation and ultimately create a more natural conversation between you both. It'll help diminish some of those nerves because you can be yourself, and the activity gives you something additional to talk about (no awkward silence between sips)." — Tyler Turk, CEO and Founder of Crated with Love
5. They Reveal If You And Your Date Have Common Interests
"Activity-based dates are great because the conversation changes from 'do I want to see this person again' to 'do I enjoy doing things with this person.' You always want to feel good knowing you can share fun experiences together, both old and new. And while the new experiences will be awesome and unique to your budding relationship, it's always the familiar activities that end up being appreciated and becoming staples in your relationship if it leads to something more long-term and exclusive." — Thomas Edwards, Founder of The Professional Wingman
6. They Show You Someone's Personality
"Activity dates are a great way to get to know a new person. You have a chance to see them either in or totally out of their element, which can be revealing. Seeing someone's competitive side can be sexy or a total turnoff, and it's great to see their true colors right off the bat (no pun intended). You can also be flirty! Playing mini golf or ping pong allows you a chance for contact through a high five for encouragement or a friendly hug to console the loser. You're sure to walk away with inside jokes and maybe even a new alliance." - Allison Gerrits, Matchmaker, Three Day Rule
After all, anyone can meet for coffee, a drink, or a meal, right?
Images: Fotolia; Giphy