9 Things To Say To Someone Who Doesn't Recycle (Yet)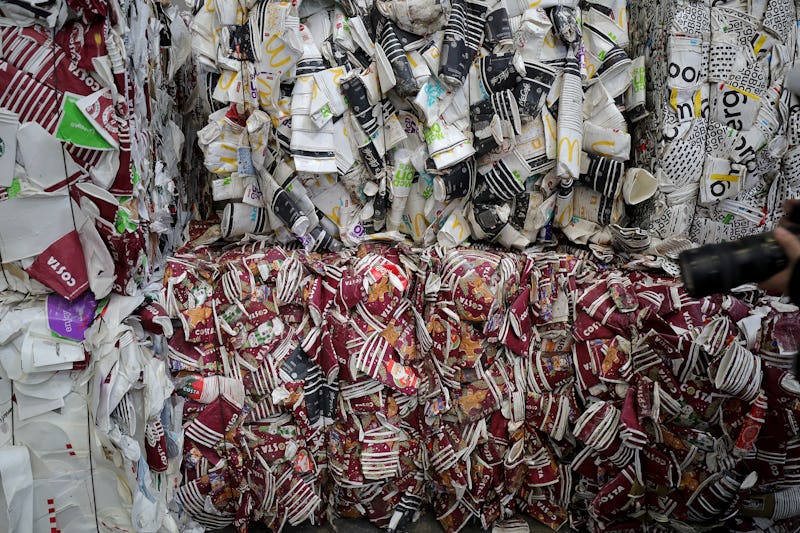 Christopher Furlong/Getty Images Entertainment/Getty Images
If you're a recycling devotee, there are few things more frustrating than going to every effort to make your household as recycling-friendly as possible, only to turn round and see your roommate throwing their plastic bottles and cans in the trash. It's totally acceptable to ask them to up their recycling game, but before you sit down for a chat with them, you should be the one to read up on good reasons to recycle that you can tell someone who doesn't do it, or maybe doesn't even want to.
First, you should consider that hitting them with the straight facts probably isn't going to do much. Today, we're surrounded by so much encouragement to recycle, information about how to do it, and knowledge of just how negative the impact on Earth can be if people continue to pile trash in landfills, especially if the "trash" is recyclable. If you've got a roommate who's managed to ignore all of this, chances are they're probably doing it willfully. Which is harsh, I know, but there's no excuse: In many places in the U.S., it's easier to recycle than ever.
In the event that you do want some backup facts, though, you should that it's estimated 91 percent of plastic isn't recycled, according to a 2017 study. According to National Geographic, "If present trends continue, by 2050, there will be 12 billion metric tons of plastic in landfills. That amount is 35,000 times as heavy as the Empire State Building." Yikes.
Knowing that, it's more important than ever that we get as many people to recycle as possible. So next time you're thinking about convincing your roommate to recycle, go in knowing what you can say.