9 Hidden iOS 12 Features That Will Help You Step Up Your iPhone Game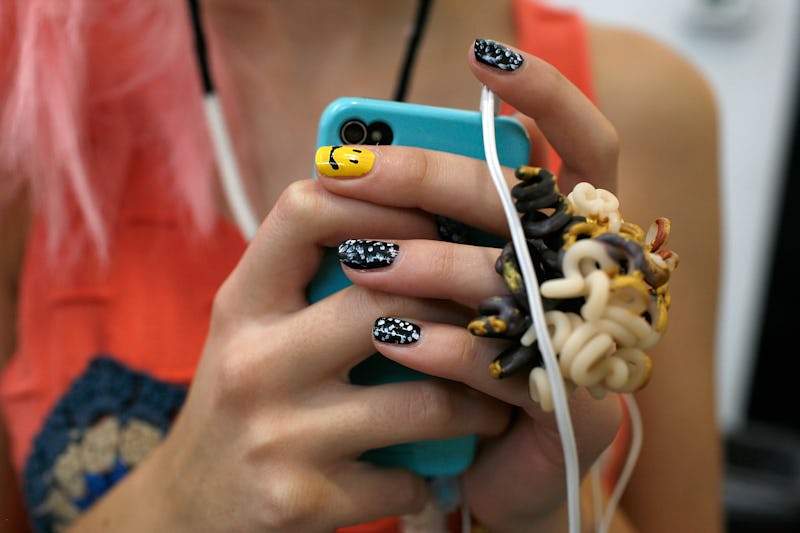 Andy Kropa/Getty Images Entertainment/Getty Images
It seems like everyone's pretty stoked about the new iOS 12 software that will be released to the public any day now. While the beta version of iOS 12 has been available since June, the public launch of the update will reportedly happen on Sep. 17 — so iPhone users, get ready. As the follow up to iOS 11, this new software brings along with it a slew of really cool new technologies, and there are some very interesting hidden iOS 12 features that you'll want to know about before they hit. Many of the new iOS 12 features actually sound incredibly helpful, and a number of them center around digital wellness — in other words, helping you maintain a healthy relationship with your all-too-addicting tech products.
What I love about iOS updates is that they sometimes make me feel like I have a shiny new iPhone (even though I definitely don't), simply because of the new features, visuals, and enhanced performance. What I don't love are the bugs and glitches that sometimes go hand-in-hand with said updates, but apparently iOS 12 software is thinking ahead and you can allegedly expect to avoid common iOS 11 bugs, plus actually launch your apps, camera, and keyboard faster. The new update will also deliver other small changes that help everything buggy from iOS 11 run more smoothly, leaving you with a faster device and sleeker interface.
Here are some fun and super useful hidden features in iOS 12 that you'll definitely want on your radar before the update hits your phone.
One Word: Memojis
OK, so a Memoji is just another version of the Animoji that's more customizable — so it's actually supposed to look like you. If you have an iPhone X or up, look out for this update. It still tracks your facial movements and should be able to mimic them in real time, except it looks like your virtual twin instead of an emoji of your choosing. Super excited to experiment with this one and blow up all my friends with Memoji rants or karaoke sessions (friends — get ready).
Search For Songs By Lyrics Instead of Artist Or Title
I'm obsessed with this feature. I find myself Googling lyrics all the time, as so often I'll find myself singing a song I love only to realize that I totally forget whose song it is or what the heck it's called. With iOS 12's update, Apple Music will allow you to search for any song using lyrics alone, bringing up songs with lyrical matches in your search results. So pumped.
Add An Extra Face To Your Face ID
If you want to allow someone else access to your phone via Face ID authentication (or if you just really like to drastically change up your appearance, have an alter-ego that's unrecognizable, etc.), now you'll be able to do it with the "set up an alternate appearance" feature. This is apparently also helpful if you notice your phone has trouble recognizing you at times (if you have your hair or make-up a certain way that tricks the technology, for example), as you can simply add an alternate photo of yourself for more accuracy.
Track How Much Time You Spend On Your Phone With Screen Time
I'm simultaneous grateful of and terrified by this feature. It feels like every time I have a free moment, I habitually check my phone and open my usual apps, even if I'm not expecting anything in particular (or literally just checked them two minutes prior). Phone and social media addictions are very real, as are other unhealthy behaviors that center around our tech dependency. That's part of what's useful about the new Screen Time feature, which lives under "settings" and helps you check yourself when it comes to your phone usage. You can easily set time limits for particular apps, and when you're about to reach your daily limit, you'll receive a notification to make you aware. You can also check to see how much time you spend on your device in general, as well as how many times you get on your phone.
Easily AirDrop Your Account Passwords Between Devices
Since we're living in the age of cyber security, I'm guessing we're all very good, responsible internet users who have difficult, crazy-long, impossible-to-crack passwords for all of our accounts. Right? Either way, this new iOS feature makes it super-easy to pass your passwords along from your iPhone to your iPad or Macbook via AirDrop, so no more having to constantly reset your password each time you accidentally log out of your Netflix account. This is also helpful if you're being a pal and sharing an an account password with a friend.
Streamline Your Notifications
We've all been trapped in the group chat that blows up while you're in a meeting, leaving you to discover a barrage of messages 30 minutes later that clog up your lock screen notifications and leaving you unable to find anything you're actually looking for. Now you'll be able to streamline things by grouping your notifications for each app or notification type — meaning that can choose to get only one notification for a particular message thread or app, even if you receive multiple.
Get Way More Use Out Of 'Do Not Disturb'
The "Do Not Disturb" setting on your iPhone is about to get way more functional with iOS 12. You can now set a simple hour-long timer for DND mode (rather than having to pre-set recurring times or manually toggle it on and off). And even better? You'll be able to sync your DND mode to turn off after you leave a specific location (say, for example, the movies or an appointment) or to line up with an event in your calendar and automatically go off once the event ends.
Party On... FaceTime?
FaceTime will bring in a new Group FaceTime function that allows for up to 32 participants in a FaceTime chat at once. Whoa? I have to say, I'm super stoked to easily have wine night via FaceTime with my besties all over the country, but not sure how the heck anyone functions with 32 people in a single chat. In any case, it's an option with iOS 12, and a very interesting and potentially useful one at that.
Strengthen Your Bond With Good Ol' Siri (And Get A Lot More Help From Her, Too)
Our favorite artifically intelligent pal has got some updates coming with iOS 12, too. Firstly, you'll have more options when it comes to personalizing Siri's voice, as the update will offer an additional Irish accent and South African accent. Secondly, Siri's apparently going to be a lot "smarter" and able to answer way more of your questions. Thirdly, and perhaps most excitingly, you'll now also be able to set shortcuts with multiple steps via third party apps using Siri commands. For example, as described by Mac Rumors, "you can create a shortcut to do something like turn on the thermostat at home using the Nest app, text your roommate that you're on the way with Messages, and open up the Maps app with directions home all with a single "I'm going home" Siri command." Pretty cool.