9 Last-Minute Halloween Costumes For Your Dog You Still Have Time To Buy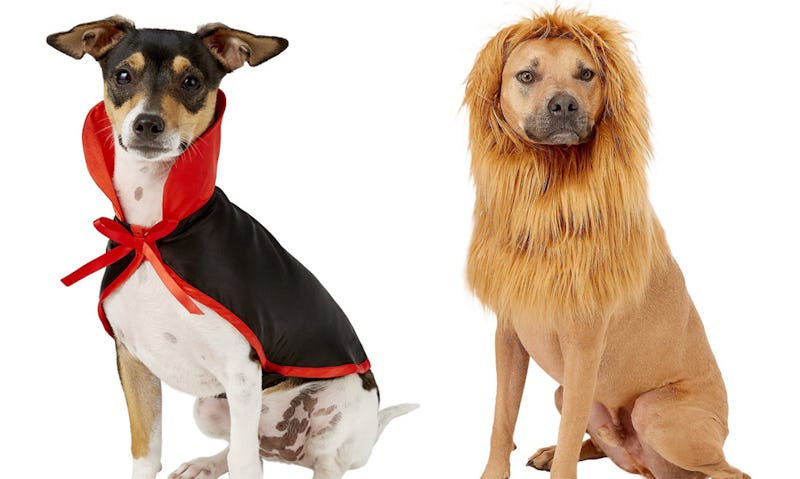 Chewy
If you spent the last month stressing about your own Halloween costume, only to realize that you completely forgot about your pup, you're probably on the hunt for some easy last-minute costumes for your dog, and you're probably feeling pretty frantic. Luckily, I've gone ahead and put together a list of options for you because I've been there, too. You tell yourself that you're not the kind of person who dresses their dog up, but then you wake up on Halloween and see all the neighborhood dogs out and about, dressed up as clever cowboys or fast food items, and you remember that you actually are that kind of person. We all are.
So here are some dog costumes that are super simple to put together. They only involve one or two pieces and they're low-key, so your dog won't mind wearing them — which is important. And if your dog typically wears a coat this time of year, some of these costumes will actually be pretty cozy for your pup. You might not think that a your dog could find comfort in a felt taco costume, but in reality, all of that fabric around their chest helps them to keep their body heat and they don't mind it at all. Here are some great last-minute options for your pup:
Stuffed Animal
If you have five minutes to spare, you can make this costume work. All you have to do is find some paper, draw a big red heart with "ty" lettering in the middle. Attach the paper heart tag to your dog's collar or tie it around their neck with a loose string and you're ready to go.
Pina Colada
Pineapple Dog Hoodie, $17.49, Petco
This hoodie will provide warmth for your pup, and laughs for everyone else. It's cozy and soft, comes in a variety of sizes and looks pretty realistic!
Puptini
If your pup is currently in a cone collar, or if your pup had a cone collar lying around and doesn't totally hate it, you can easily craft some "olives" out of painted balloons other round, lightweight objects you have lying around your craft closet. Or, you can simply draw the olives on the cone with permanent markers.
Skull Sweater
Skull & Crossbone Sweater, $13.99, Petco
If you're not big about costumes, but wouldn't mind swapping your pup's jacket out with something a bit more festive, this sweater is the perfect compromise. And if your dog is badass, they can wear this sweater all winter.
Flower Pup
Got construction paper? got a dog cone? Got tape? You can make this costume work!
Santa Pup
Frisco Holiday Santa Hat Pet Costume, $1.99, Chewy
Get Christmas started early this year and dress your pup up as Santa! Not only is this costume a major last-minute steal but it will be wearable for the next few months.
Vampire Pooch
Frisco Vampire Cape, $7.99, Chewy
Help your pup stay warm this Halloween with this vampire cape. It's super easy to take on and off and will act as a wind blocker so your pup stays comfortable while you're trick or treating.
Lion Dog
Big Lion Mane, $13.99, Chewy
I'm pretty sure this is the easiest costume out there. Just slip this mane around your pup's neck and go. It's kind of surprising actually just how much this silly neck piece makes your dog look lion-like.
Taco Pup
Taco Bout It Costume, $17.49, Petco
This costume might look ridiculous, but it's actually just as comfortable as a harness and very warm. I got this taco costume for my dog and was really shocked by how little it seemed to bother him.