9 Lingering Conspiracy Theories About The Kardashian Christmas Card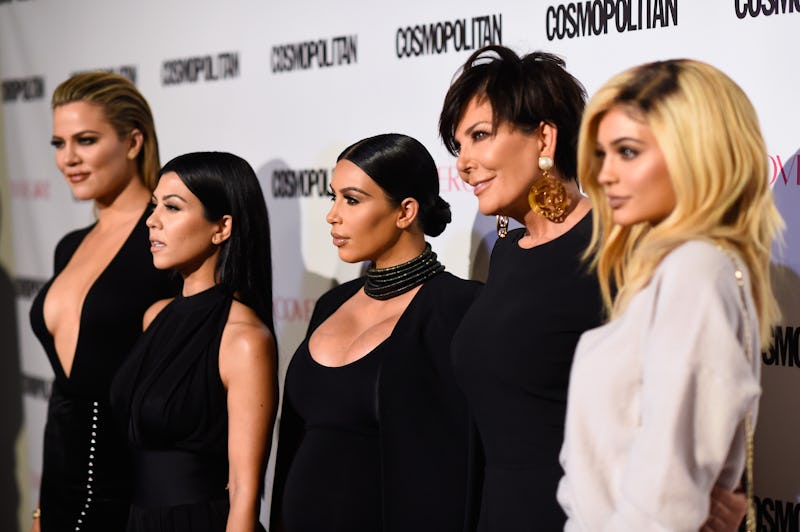 Frazer Harrison/Getty Images Entertainment/Getty Images
The disappointment was palpable on Christmas Day when fans weren't gifted with a Kardashian Christmas card confirming Kylie Jenner's pregnancy. It was a conspiracy theory that carried a lot of momentum during December, and as such there are a lot of lingering conspiracy theories about the Kardashian Christmas card that remain — even though Christmas is over.
It's interesting to note that, while Kylie is missing from the Kardashian Christmas card, she isn't the only family member who is; both Rob Kardashian and Caitlin Jenner are conspicuously absent from the holiday greeting, too. Regardless, there aren't many theories as to why any other family member is missing from the card, and, to be fair, Rob has been absent from the annual festive card in the past. There are, however, many involving Kylie, her rumored pregnancy, and why such a major player within the family wasn't featured.
We all thought we were so smart in the lead up to the card's release, as we speculated wildly about how Kylie's baby bump would be the festive centerpiece of the card. But, now, we know better. Not only was Kylie not on the card, but her rumored pregnancy wasn't confirmed either. And people had some very strong theories upon why that may have been the case, ranging from the believable to ludicrous.