Fans Have Some Intriguing Theories About The Kardashian 2017 Christmas Card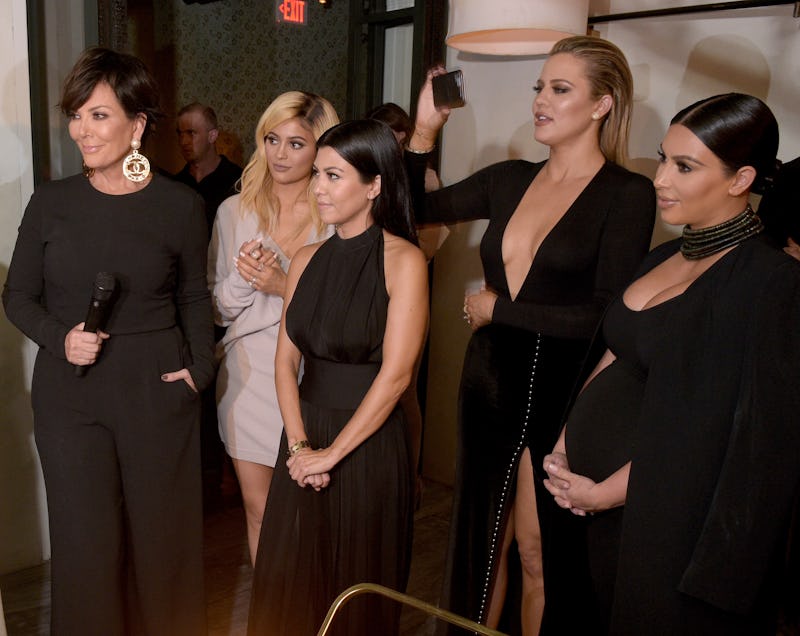 Jason Kempin/Getty Images Entertainment/Getty Images
It's that time of year again: the Kardashian-Jenner family will soon release their 2017 holiday card. You know what that means? Fans are coming up with Kardashian 2017 Christmas Card theories, because they just can't wait to see it. For Keeping Up With the Kardashians fans, this card is big, especially this year thanks to all of the Khloé Kardashian and Kylie Jenner pregnancy rumors. Seeing as usually every family member is featured on the card, both Khloé and Kylie should be too — and they might also even be pregnant this time.
Parts of the holiday card have been revealed already on social media by Kim Kardashian, some of her other family members, and the photographer, Eli Russell Linnetz, who's responsible for capturing the images. On Dec. 1, Kim tweeted, "25 DAYS OF CHRISTMAS BY @ELIRUSSELLLINNETZ STARTING TODAY..." Then, soon after on that same day, she tweeted the first image, which featured Saint West surrounded by a bunch of gifts. This is actually the first time Saint will be featured on the famous Kardashian family Christmas card.
Each day since, Kim has been sharing a new Chirstmas image. So far, only the Selfish author, Saint, North West, Kourtney Kardashian, and her three kids, Mason, Penelope, and Reign Disick, have been showcased. They are also all in similar attire: jeans and white tops. It seems that a new photo teasing the card will be released every day leading up to Christmas on Dec. 25, which presumably will be when the card will officially be unveiled in its entirety.
At the beginning of November, Kris Jenner revealed to People that they were doing another Christmas card this year. She said, "There's a different CEO of my family every day. This week Kim is CEO because she's organizing the Christmas-card shoot." After People asked for more information, Kris would only say, "We're thinking about it. [Kim is] getting a family poll — a family vote." Obviously, a majority (if not all) voted in favor of the tradition, hence the card countdown.
Their Christmas card has been something fans have always looked forward to. They've been doing one since back in the late '80s and early '90s, so it's a major tradition. The cards are known for being over-the-top and somewhat ridiculous at times, but they're so entertaining. However, the E! family doesn't always release one, like they chose not to do in 2016. It was a difficult year for the Kardashian-Jenners, mainly due to Kim's robbery in Paris, in addition to Kanye West's hospitalization. It's totally understandable why they took a year off.
However, they are singing a different tune in 2017 — and it has fans overjoyed. Not many other details are known about this festive event, which is probably why there are so many theories going around. Here's what many are assuming or hoping the Kardashian Christmas card will include.
Khloé & Kylie's Pregnancies
This is how they'll announce they're both expecting, right? Funnily enough, in October, a source told HollywoodLife.com that Kylie and Khloé's pregnancies reportedly would be unveiled on the card. "The Kardashian Christmas card is something that is very important for Kris Jenner," the source claimed. "Kris wants to take everyone's excitement and use this year's card to be the reveal of all the pregnancies in the family."
Neither Kylie nor Khloé has responded to the baby rumors yet. At the time of their pregnancy reports, Bustle reached out to both of their reps for comment, but didn't receive an immediate response.
The Final Day Will Just Be Kylie
There are some who seem to be more convinced that it will only be Kylie who will display her baby bump on the card. Maybe they don't believe Khloé is actually pregnant?
Kris Jenner Will Make The Final Reveal
Based on these fan tweets, it appears that Kris will be the one posting the full Kardashian Christmas card for the world to see. It's unclear why this is believed, but maybe it has to do with the fact that she is top dog and manages her entire family?
When The Pregnancies Reveal Could Happen
Wouldn't it be exciting if Kylie and Khloé's rumored pregnancies were revealed before Dec. 25? Everyone deserves an early Christmas present — and this is the perfect way to deliver just that.
It's Probably A Gap Ad
Or, you know, it isn't a Christmas card at all, but an ad for Gap instead.
Who knows how all of these teaser photos will fit together or what the final product will look like, but fans definitely can't get the Kardashian Christmas card off of their minds.