9 National Beer Lover's Day Deals & Freebies That Will Make Happy Hour So Lit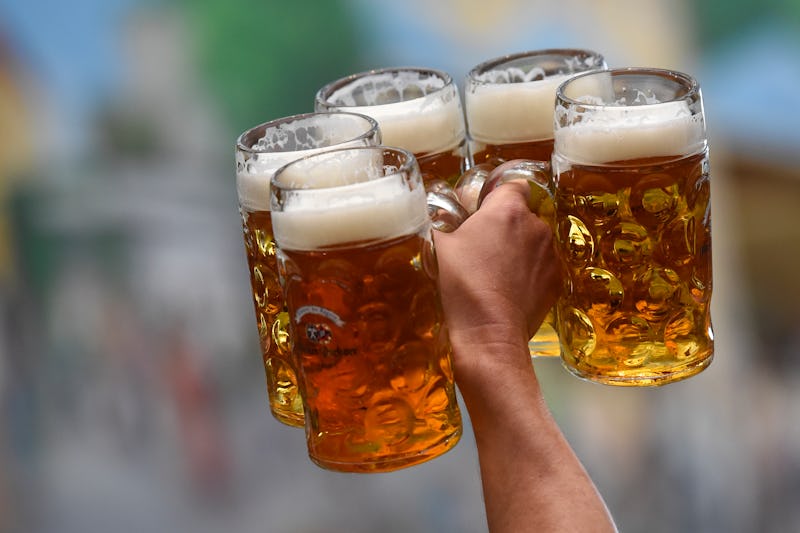 Philipp Guelland/Getty Images News/Getty Images
For many of us, the second we clock out of work is an unofficial beer lover's holiday — but on the official calendar, National Beer Lover's Day falls on Sept. 7, specifically. Yes, there's Beer Can Appreciation Day (Jan. 24), National Beer Day (Apr. 7), International Beer Day (Aug. 3), National Drink Beer Day (Sep. 28), and National Beer Lover's Day. What can I say? Humans really like beer. To properly celebrate, you'll want to cash in on some National Beer Lover's Day 2018 deals and freebies, because nothing tastes better than a free beer, amirite?
We've all weathered through many-a happy hours that turn into not-so-happy-hours when the check comes. Loving beer can be an expensive passion, so to sweeten the deal, I've rounded up the a few bars and breweries that are offering discounts and buy-one-get-one deals all day. In my personal opinion, part of drinking responsibly is getting a good deal on said drinks. So be smart, be safe, and save a little too while you're at it.
Here are the best places to celebrate National Beer Lover's Day. Though if you prefer to drink at home in front of the TV while watching Click, which will start streaming on Netflix that very day, I don't blame you.