9 Outrageous LUSH Hauls That'll Turn You Into A Lushie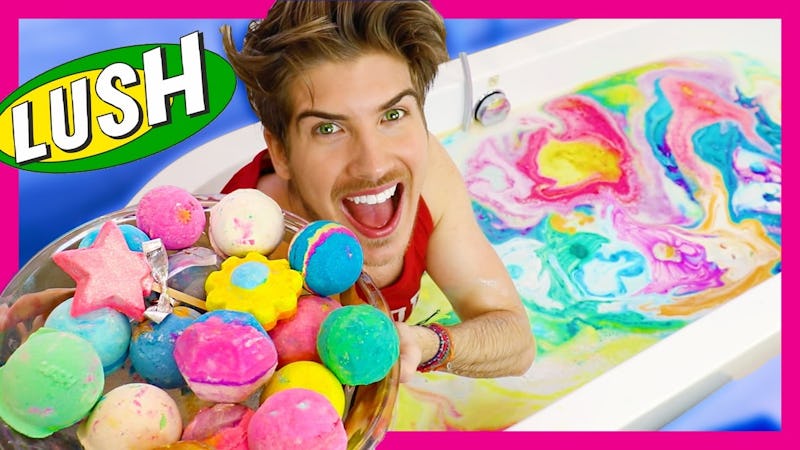 Joey Graceffa on YouTube
When it comes to handmade, environmentally-friendly beauty, LUSH Cosmetics can't be beat. From ethical sourcing to a commitment to fight animal testing, the company makes it hard not to love and support them. However, if you're not quite a "Lushie," which is the term mega fans call themselves, these outrageous LUSH hauls will likely convince you to become one. The brand has something for everyone, whether you want a shower gel to use every day or you're looking for something for an at-home spa night.
The Lushie community's passion for the brand is arguably unrivaled. A quick Instagram search of the hashtag #lushie yields over 600,000 results. If you click on the term, you'll find photos and videos of fans showing their love for all things LUSH. Whether they're dropping an Intergalactic bath bomb into a tub or rocking a Cup o' Coffee face mask, Lushies love nothing more than proclaiming their appreciation for the brand.
While the Instagrammable products themselves are the biggest draw, as mentioned earlier, LUSH has long been a paragon of cruelty-free, environmentally-friendly beauty. Currently, LUSH is running their GO NAKED campaign which encourages Lushies to shop goods that come with "naked" packaging, which means no packaging at all.
Lushies aren't just taking to Instagram and Snapchat to spread the word about how much they love LUSH. If you want to witness real LUSH fandom, look no further than YouTube.
These nine LUSH hauls are proof that when it comes to the brand, you can never have enough. If you're thinking about shopping LUSH for the first time or searching for new products to discover, these videos from the ultimate Lushies are just what you need.
1. Grav3yard Girl
Fans of Grav3yard Girl knows she loves LUSH, and this haul perfectly articulates it.
2. Joey Graceffa
Love bath bombs? Just wait until you see this haul from lushie Joey Graceffa.
3. Jaclyn Forbes
Fun fact: Forbes used to work for the brand, which means her LUSH knowledge is next level.
4. Zoella
This is the most watched LUSH haul ever. Prepare to drool with envy!
5. Klara Elvira
Want to know what it's like to haul as an employee? Klara Elvira has you covered.
6. Tanya Burr
Check out some of Burr's favorite LUSH products in this insane video.
7. Kristina Wilde
LUSH isn't all bath bombs. Check out this skin care haul.
8. Melody Collis
This might be the biggest LUSH haul on the internet.
9. Still GlamorUS
Skin care? Check. Bath bombs? Check. Body scrub? Check. This haul has it all.
If LUSH wasn't already calling your name, it probably will be after watching all of these hauls.