Yes, Photos Of Kim Jong Un's Mysterious Sister Do Exist — Here They Are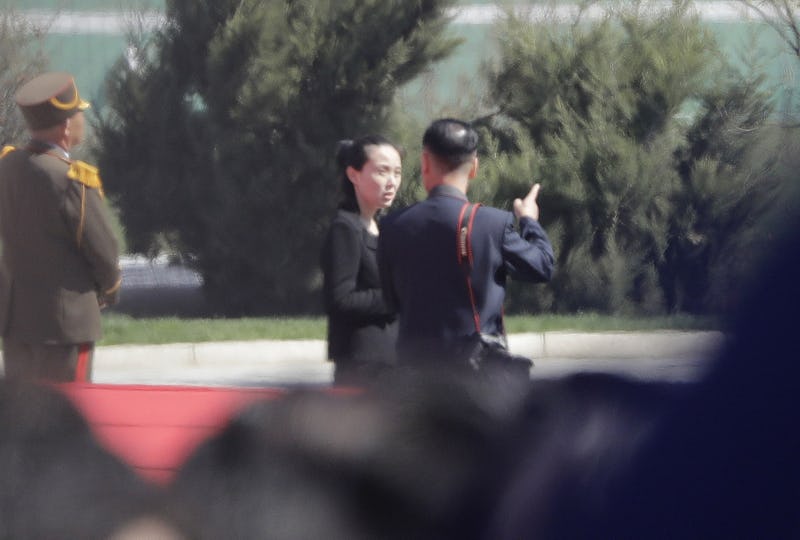 Wong Maye-E/AP/REX/Shutterstock
North Korea's decision to send a delegation of athletes and performers to the 2018 Winter Olympics in PyeongChang, South Korea, already signaled a potential warming of relations between the two Koreas. But now the games are setting up to be even more of a symbolic rapport: Kim Yo Jong be there. Not much is known about her, and there are very few photos of Kim Jong Un's sister, but she's said to already be one of the Supreme Leader's top advisors and has been called "Kim Jong Un's Ivanka" by South Korean media.
"By including his sister in the delegation, Kim Jong Un may want to show his interest in improving ties with South Korea," South Korean analyst Cheong Seong-chang told The New York Times.
Kim Yo Jong had barely been seen in public until 2010, when she was spotted near her brother at a conference for the Korean Workers' Party. When the previous Supreme Leader died in 2011, Kim Jong Un took his place, setting up his sister's ascent to power as well.
Kim Yo Jong is arguably the most powerful woman in the Democratic People's Republic of Korea (DPRK). But lately, she's been seen in public a little more frequently. Here's a few of the photos that do exist of the Supreme Leader's youngest sister.
A Ceremony In Pyongyang's Ryomyong Neighborhood
Kim Yo Jong attended an opening for a series of apartment buildings in the Ryomyong area of North Korea's capital on April 13, 2017.
The Ryomyong Ceremony, Continued
The event was part of a weeklong celebration of the 105th birthday of Kim Il Sung, the DPRK's founder and its first Supreme Leader. Independent journalists were allowed to attend the ceremony and snapped these rare photos of Kim Yo Jong.
More From The Ryomyong Ceremony
The event was also a propaganda opportunity for the government. Pak Pong Ju, the country's premier and the main speaker at the ceremony, called the opening of the apartments "a brilliant victory based on self-reliance and self-development against maneuvers by the U.S. and vassal forces."
At the ceremony's close, Kim Yo Jong bowed to her brother as he drove away in a car.
On South Korean TV
As "Kim Jong-un's Ivanka," Kim Yo Jong is often seen just behind the Supreme Leader, smiling approvingly as he performs duties or makes speeches. This week, South Koreans watched her do just that on a Yonhap Television News broadcast.
Visiting Military Sites
Independent journalists are not often permitted to attend state functions and events. This photograph of the Supreme Leader and his sister visiting a military unit in 2015 was provided by DPRK state media.
At The Funeral Of Kim Jong Il
Kim Yo Jong and Kim Jong Un have the same mother, a former dancer who was born in Japan. They also have another full brother, Kim Jong Chul, who is the oldest of the trio, but he fell out of favor with his father, who removed him from the line of succession to Supreme Leadership.
Here's Kim Jong Un mourning his father's death with his sister at the funeral on Dec. 28, 2011.
At A Workers' Party Congress Meeting
Most of the leadership in North Korea is male. Kim Yo Jong is considered to have effectively replaced her aunt, Kim Kyong Hui, who advised the last Supreme Leader while he was alive. The aunt has become more reclusive since Kim Jong-un solidified his power by executing her husband, Jang Sung Taek, supposedly for corruption and treason.
Now, Kim Yo Jong has succeeded Kim Kyong Hui in prestige and power.
A Propagandist
Kim Yo Jong is said to be the mastermind behind her brother's recent propaganda efforts, including trips that appear to show him connecting with everyday North Koreans in their homes and schools.
A Place On The "Specially Designated Nationals List"
Kim Yo Jong is on a U.S. blacklist for "severe human rights abuses." In a statement that placed her and other DPRK officials on the list in January 2017, a U.S. spokesperson said that North Korea "continues to commit extrajudicial killings, enforced disappearances, arbitrary arrest and detention, forced labor, and torture," and that it "implements rigid censorship policies and conceals its inhumane and oppressive behavior."
The United States hopes that its own Olympics delegation, led by Vice President Mike Pence, will act as a foil to the DPRK delegation. "We're traveling to the Olympics to make sure that North Korea doesn't use the powerful symbolism and the backdrop of the Winter Olympics to paper over the truth about their regime," Pence said.