9 Places To Buy Prom Dresses Online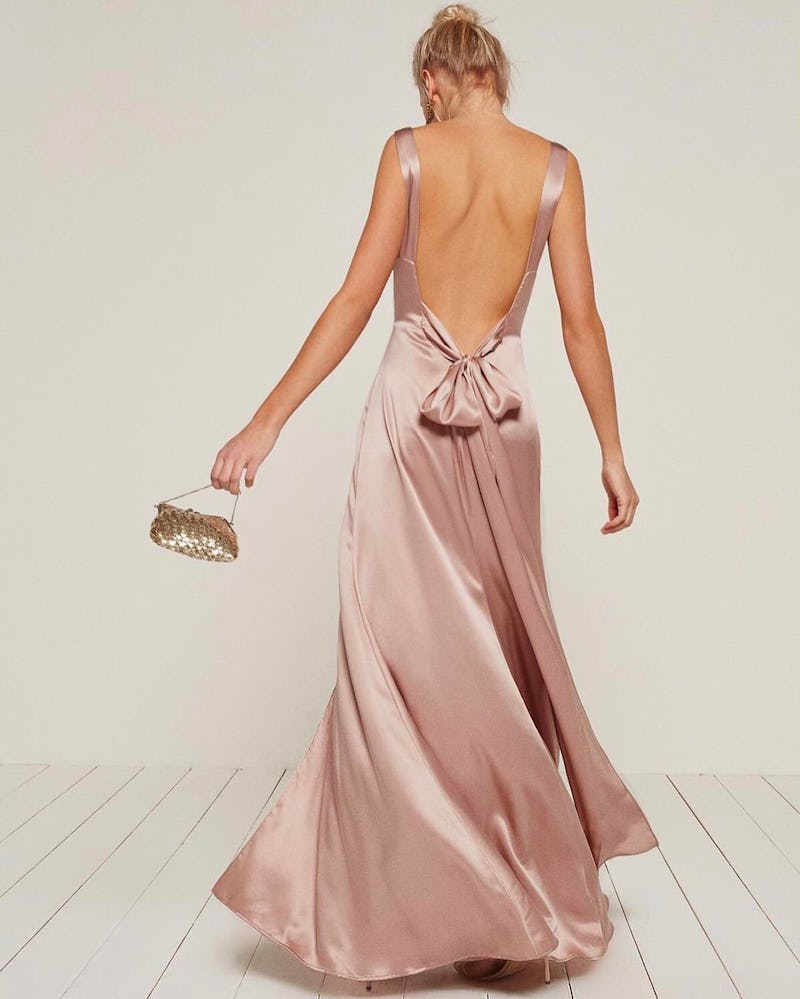 Reformation
There's a lot that goes into planning your perfect prom night — dates, group dinners, tickets, limos and party busses, photos... the list goes on. But aside from how much fun you have with your crew, the detail you'll probably remember the most is the prom dress you choose. Prom is an amazing opportunity to get all glammed up, and the right dress can make you feel confident, beautiful, and most importantly, uniquely you.
But while it'll be one of the most memorable things you'll wear as a young adult, it's a lot of pressure to put on choosing a dress for one night. That can make in-store shopping stressful when stores don't have what you're looking for.
The solution? Planning ahead and shopping online. There's an art to deciding where to buy a dress online — it's important to build in enough time to ship the dress, and return it and choose another one if it's not what you want. And with that said, make sure you know the shipping and return policies of where you're shopping (free, ideally). If you can, try to order a couple of dresses in different sizes (again, make sure to check that return policy).
Once you're ready to start looking for your dream prom look, here are nine amazing stores to find a dress online for a night to remember. And remember — it should be fun!
Queen Of The Night Dress, $399, Fame & Partners
Fame & Partner's dresses are made-to-order, so you can customize your perfect look, including options for the neckline, length, sleeves, and color. Every dress goes up to a size 22, and $5 from every purchase goes to a women's empowerment charity. (Plus, on Equal Pay Day on April 4, the dresses on the site will be 21 percent off to reflect the 21 percent on-average gender pay gap.)
Madi Green Maxi Dress, $35, Tobi
There are a ton of formalwear options on this budget-friendly fast-fashion site. While the pieces may not last as long, that's OK — chances are, you're only wearing it for one night.
XSCAPE Embellished Two-Piece Gown, $328, Nordstrom
Nordstrom has prom dresses for a wide range of budgets, sizes, and styles, and I'm personally a big fan of their simple return process — it's super easy to return in-store or in the mail if the dress isn't what you're looking for.
Eliana Dress, $428, Reformation
They're not specifically prom dresses, but Reformation's Weddings/Parties section is a gold mine for sophisticated, stylish dresses that no one else will be wearing. They're a bit pricier, but these are dresses you really can wear again.
Chi Chi London High Neck Lace Midi Dress, $106, ASOS
Think up any dress you can imagine, and it's probably on ASOS (or at least something like it). They've got a huge selection for any prom style.
Jill Stuart Buttercup Satin Gown, $70 (four-day rental), Rent The Runway
I'll be honest — if I had to go back and do prom again, I'd definitely go the rental route. Rent The Runway has some stunning designer options for a fraction of the full price.
Black Lace Long Sleeve Cross Dress, $72, Missguided
If you're not about the traditional prom dress, Missguided has some modern, chic options.
Slink And Wink Matte Rose Gold Dress, $78, Lulu's
Lulu's has a ton of stylish, low-cost prom dresses (and you can snag your shoes and accessories while you're at it).
Square-Neck Long Formal Dress with Side Ruffle, $74, Simply Dresses
And if you're after a classic, traditional prom look, Simply Dresses has you covered.
Did you know that you can find Nordstrom coupons at the Bustle Coupons page? Bustle Coupons is a service provided by Groupon in collaboration with BDG Media, Inc. Each time you use a coupon or promo code from Bustle Coupons to make a purchase, Groupon and BDG Media, Inc. earn a small commission. This article was created independently from Bustle's sales department.