9 Punny '90s Snack Halloween Costumes For You & Your Squad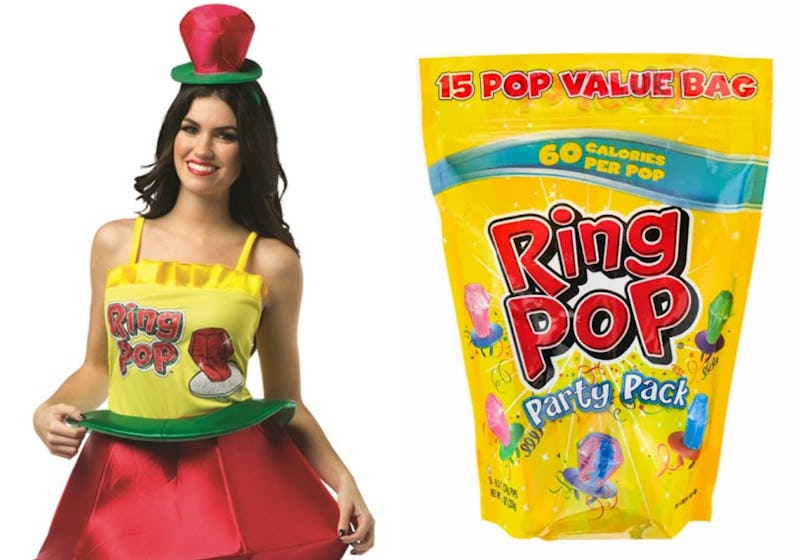 Trendy Halloween; Smart & Final
Halloween is all about costumes, yes, but it's also kind of all about candy. And no one did candy and snack foods better than the '90s. Since the nostalgic '90s costume trend is definitely raging on, why not get your squad together and theme your group costumes to the decade in the form of its most enjoyable cultural contributions: snack foods. Yep, there are tons of punny '90s snack food Halloween costumes that you and your BFFs can get super creative with. Some are more straightforward, while others get a little more high-concept — but they're all based on our sweet n' salty childhood faves. Overly-packaged junk food reigned supreme in the 90s, and it was lowkey amazing. You'll all be singing those annoying kid snack commercial jingles in no time, I guarantee it.
Your squad can each go as a separate snack, or go as a whole pack of the same thing. It'll be cute, funny, and highly nostalgia-inducing either way. And don't forget to stock up on packs of whatever snack you choose to dress up as so you can hand them out to your friends!
Whether you grew up in the 90s or are just an appreciator of the decade and all the snacktastic foods it had to offer, I'm sure you'll find some snacks on this list that are costume-worthy for you and your crew.
Ring Pops
Topps Ring Pop Dress Adult Womens Costume, $44.99, Trendy Halloween | Ring Pop Candy Party Pack, $5.99, Smart & Final
Not gonna lie: Ring Pops are still one of my all-time favorite candies. Get yourself this legit Ring Pop costume, then stack your fingers with actual Ring Pops (and buy a party pack to share with your friends).
Capri Suns
Capri Sun Tee, $25, RageOn | Metallic Legging, $38, American Apparel | Unicorn Horn Yellow Headband, $16, Etsy | Capri Sun Pacific Cooler Juice Pack, $2.39, Target
Ah, the refreshing and classic lunchtime staple, Capri Sun. Dress as the famous silver juice pack this Halloween with a themed tee, silver leggings, and a yellow horn that can serve as the drink's iconic yellow straw.
Lunchables
Lunchables Tank Top, $35, RageOn | Adult's Ham & Swiss Couples Costume, $44.99, Oriental Trading | Adult Cheese & Crackers Couples Costume, $39.99, Party City
The thought of eating a Lunchable in my adulthood might not compute, but as a kid, this was literally the only food I wanted to ingest. Pay homage to this childhood boxed meal with a group costume! Someone needs to be slice of ham, someone else the slice of cheese, and someone the cracker. But if you're dressing up solo, a fun Lunchables tee will do the trick.
Otter Pops
Otter Felt Mask, $14, Etsy | Otter Pops Assorted Tropical Flavor Ice Bars, $10, Tal Depot | Cotton Spandex Halter Catsuit, $38, American Apparel | Cotton Spandex Short Sleeve Scoop Back Bodysuit, $28, American Apparel
You definitely remember these oddly-beloved shelf-stable popsicles that came in colorful liquid form in a plastic sealed pouch. Grab your own box of Otter Pops, and then dress as one. Grab a pal, select your flavors in the form of colorful bodysuits (we've got lemon and strawberry potentials pictured above), and don't forget an otter mask to seal the punchline.
Hi-C
Hi-C Juice Torrential Tropical Punch, $1.98, Walmart | Hi-C Crew Neck, $65, RageOn | Footless Spirit Tights - Orange, $6.99, Game Day School Spirit
This brightly-colored beverage was likely the main source of most 90s kids' vitamin C. Embody this orange drink by grabbing a case of the infamous juice boxes for your crew and pairing clasically-orange leggings with a Hi-C-themed top.
Bagel Bites
Bagel Bites Frozen Pizza Snacks T-Shirt, $15.99, eBay | Pepperoni Pizza Leggings, $39, Brave New Look | Inflatable Everything Bagel Swimming Pool Float, $23.09, Walmart | Miniature Pepperoni Pizza Bagel Polymer Clay Earrings, $25, Etsy
The 90s didn't hold back when it came to the catchy snack commercial jingles, did they? I still catch myself singing "When pizza's on a bagel, you can eat pizza anytime," and honestly, pizza bagels still rule. Dress in full-body Bagel Bites-themed gear, throw a bagel pool floatie around your waist, and you're good to go.
Fruit Stripe Gum
Fruit Stripe Gum - 1 Pack, $1.99, Old Time Candy | Women's Rainbow Jumpsuit, $79, Tipsy Elves | Rainbow Pony Ears, $3.99, Party Supplied Delivered
This gum was THE BEST, even if it did lose it's flavor entirely within a minute of chewing. Dress as Fruit Stripe gum's famous mascot, the rainbow zebra. Add rainbow stripe face paint, too!
Fruit By The Foot
Fruit By The Foot Fruit Flavored Snacks, $13.99, Boxed | Ultimate T-Shirt Maxi Dress In Rainbow Stripe, $35, ASOS | Deluxe Fruit Headband, $12.20, Ziggos Party
Because who doesn't want to be able to roll up their fruit snacks like a roll of ribbons? Put together a Fruit By The Foot costume with a striped, colorful dress, a fruity headband, and some actual Fruit By The Foot packs in-hand for all the trick or treaters.
Those Paper Cups
Jazz Solo Paper Cup Crop Top, $35, Etsy | Jazz Wave Design Pencil Skirt, $28, Etsy
So it's not a snack, exactly, but it's certainly an essential part of snack time, given that every sugary beverage ever consumed in the 90s was done so out of one of these cups. They're actually Solo disposable cups in the famous "jazz design," if you want some. Either way, it's easy to dress as one. Have your friends dress as 90s drinks for the perfect nostalgic combination.