9 Actually Punny Halloween Group Costume Ideas That Are Simple To Put Together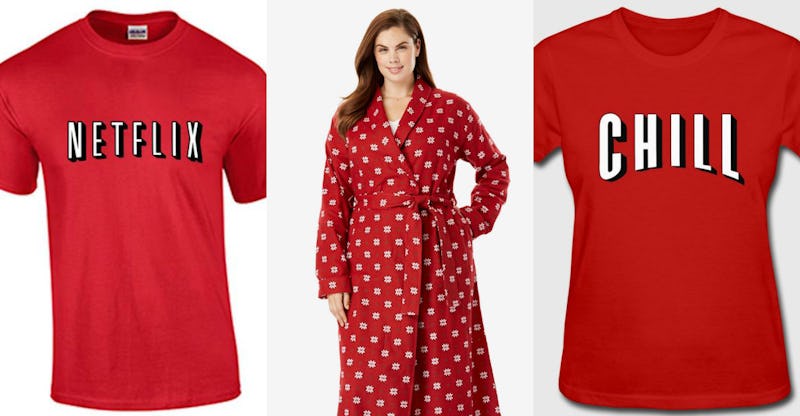 Etsy; Woman Within; Spreadshirt.
There aren't many universal truths in this world, but here's one: Things are always more fun if there's a pun. OK, fine, I'm not sure that counts as a universal truth — I know all you pun-haters are out there somewhere — but I think we can agree that it definitely applies to Halloween costumes. Funny costumes are cool and all, but punny Halloween costume ideas have the potential to be so much more clever. And while there are plenty of pun-tastic costumes you can throw together as a solo look, why not recruit a little help from your pun-loving friends? After all, some puns are best delivered via a group, so if you and your crew are still looking for a creative Halloween idea then consider coming together and sporting a punny group costume for Halloween 2018 for the sake of some good laughs
Yes, some puns are pretty cheesy, but that's all part of the pun — I mean, fun. And what's even better is that most of these costumes are super-simple and versatile, so you can totally get creative and add your squad's personal flair to each look.
Check out these simple and hilariously punny group Halloween costume ideas that easily come together with just a few items, plus your good sense of humor.
Netflix And Chill, Literally
Netflix Movie Night T-Shirt, $13.99, Etsy | Netflix & Chill Women's T-Shirt, $14.49, Spreadshirt | Women's Plus Size Long Flannel Robe by Dreams & Co, $34.99, Woman Within | Patterned Flannel Sleep Pants For Women, $19.99, Old Navy
Netflix and Chill is definitely more fun when you're not alone — so grab a pal or two, get cozy in your chillest robes and PJ pants, and sport matching t-shirts so everyone gets the joke.
Spice Girls
Spice Pots Graphic T-Shirt, $29.94, Redbubble | Cooking Spices On Silver Spoons Graphic T-Shirt, $29.94, Redbubble | Adult High Waist Metallic Dance Shorts, $19.45, Walmart | Glowin' Space Invaders Platform Sneakers, $55, Dollskill
Epic group costume choice? Spice Girls, forever and always. Epic and punny group costume? Spice Girls again — but this time, make it actually spicy. Sport some spice-themed shirts (or even make your own, DIY-style, by labeling plain tees with the names of your favorite culinary herbs) along with some classic Spice Girls-esque accessories like mini shorts and platform sneakers.
Cat Burglars
Faux Fur Cat Ear Headband, $4.90, Forever 21 | Bank Robber Accessory Kit, $19.99, Party City | Cotton Spandex Turtleneck Catsuit, $40, American Apparel
Meow! Dress up as a litter of feline thieves for a punny twist on "cat burglars." All you need is a slick all-black outfit, some burglar accessories, and cat ears on top. Purr-fect.
French Kiss
Contrast Striped Tee, $6.99, Romwe | Sur La Tete Cotton Beret, $17.74, Filene's Basement | Fantasy Makers Black Paint Pot, $2.99, wet n wild | Fantasy Makers White Paint Pot, $2.99, wet n wild
This punny twist on the classic rock n' roll band KISS is a lot more fun than going for their iconic glam rock look alone. Grab the crew, find some KISS makeup tutorials on YouTube, and then French yourselves out with a classic red beret and black and white striped top. Carry around a baguette for an added touch.
Cereal Killers
Froot Loops A-Line Dress, $45.99, Redbubble | Fruity Cereal Graphic T-Shirt Dress, $40, Redbubble | Fake Blood, $1.99, Party City | Nightmare Bleeding Knife, $5.99, Party City
What's scarier than a pack of serial killers? Um, probably nothing. But I'll tell you what's punnier: A pack of cereal killers! Get your inspiration in the grocery store's breakfast aisle instead of Netflix's steady rotation of true crime docs for a punny twist on a classic Halloween look.
Bee-Yonce And Blue Ivy
Bumble Bee Striped Dress, $37.99, Fashion Nova | Bumble Bee Wing And Headband Set, $9.99, Spirit | Lannu Artificial Ivy Flowers, $9.99, Amazon | Crushed Velvet Cami Dress, $12.90, Forever 21
Are you a cute bumble bee buzzing happily around some flowers? Or are you the Queen Bee herself alongside her princess daughter Blue Ivy? You could say either, but for puns' sake, let's go with the latter. This is the perfect BFF costume for any dedicated Bey-hive members who want a costume that's a little more tongue-in-cheek.
Deer In The Headlights
Women's Cozy Fawn Costume, $44.99, Halloween Costumes | Deer Antler Flower Crown Headband, $7.79, Claire's | LED Head Lamp, $4, Walmart | Deer Crossing Distressed T-Shirt, $20, Tee Public
Your crew's literal take on a "deer in the headlights" costume is sure to light up the night. Split your group into both deer and headlights — just be careful with the head lamps. Those things are bright.
Party Animals
Black Cat Costume Onesie, $34.99, Forever Lazy | Koala Costume Onesie, $29.99, Forever Lazy | Rainbow Birthday Party Cone Hats, $7.99, Amazon | Creative Balloons 12" Latex Balloons, $14.99, Amazon
If you're taking on this punny costume idea, then going big on Halloween is a must! Go wild at the function of your choosing as a pack of party animals. What's more fun is that your crew can get creative and each can be any animal under the sun.
Dunkin' Donuts
Satin New York Graphic Jersey, $8, Forever 21 | Big Mouth Inc. Giant Donut Pool Float, $16, Kohl's | Head Sweatband, $2.99, Suddora | Arm Sweatbands, $2.74, Suddora
Step 1: Go to Dunkin' Donuts and fuel up on coffee for some Halloween hype. Step 2: Dress up as actual basketball-dunkin' donuts and be the punniest team around. If you and your friends are legit basketball fans, throw some variety in there are sport your fave team's jersey.