Trump's Liberty Speech Reveals Religion's Role In His Politics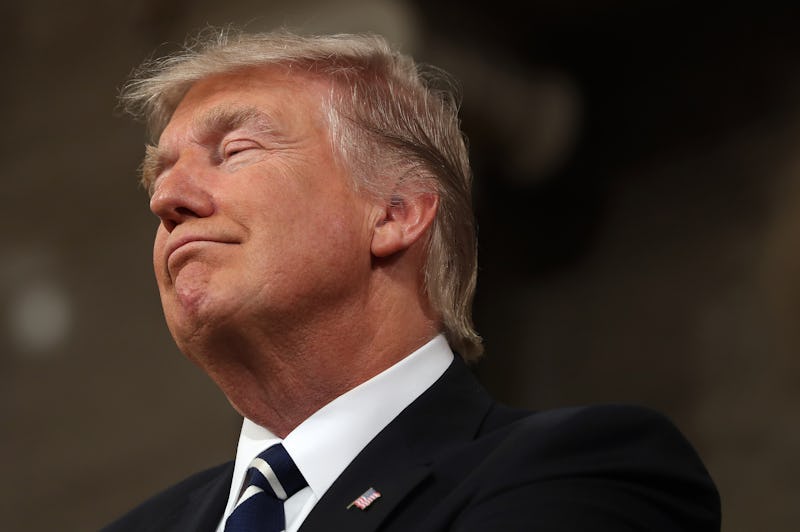 Pool/Getty Images News/Getty Images
Donald Trump gave his first commencement speech today, at Liberty University. Given the religious nature of the school, it's no surprise that there are a number of quotes from Trump's Liberty commencement speech speaking to faith, and what kind of position he believes that religion should have in America.
Trump is not the first high-ranking Republican politician who has spoken at Liberty University, although he is the first president to have done so since George H.W. Bush in 1990. Jeb Bush, Bobby Jindal, and Mitt Romney have also all given commencement addresses at Liberty University, likely in an effort to court Rev. Jerry Falwell Jr., who now leads the university, and the evangelical constituency who respects him.
Falwell was an ardent supporter of Trump's throughout the campaign, even through the scandal surrounding Trump's Access Hollywood tapes. This probably came as a surprise to some of Trump's Republican opponents, as Trump hasn't exactly had the best religious credentials. No matter how much he tried to appeal to evangelicals with his words, many have noted how un-Christian Trump's actions are. His statement that he doesn't like to ask for forgiveness was particularly curious, but none of it hurt his position in the eyes of notable evangelical leaders. But Falwell's support appears to have paid off — Trump scored 80 percent of the white evangelical vote. He's since begun to repay that support through things like his religious freedom executive order and his multiple attacks on reproductive rights.
In this speech, then, he did find a bit of time to take a break from thinking about work and instead focus on faith, religion, and what he believes its position should be in American society. Here are some of the quotes on that subject.