9 Shocking Things Trump Did This Week Alone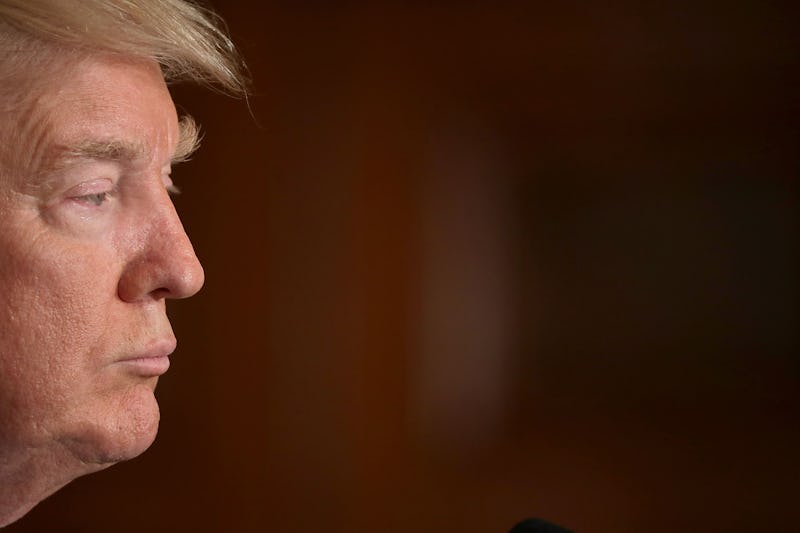 Chip Somodevilla/Getty Images News/Getty Images
What a week it's been for President Donald Trump. Between former acting Attorney General Sally Yates' testimony on Michael Flynn, the dismissal of FBI Director James Comey, a meeting with the Russian foreign minister and the Russian ambassador, and threats to cancel all future daily press briefings, this week of Trump's presidency has been a wild and tumultuous ride. There were highs, there were lows, there were, to put it simply, a lot of jaw-dropping, totally baffling moments. Over the course of just seven days, President Trump managed to pull off more than a handful of shocking moments, making the week a clear frontrunner in the race to being crowned the weirdest in Trump's presidency yet.
If you've found it hard to keep focus on what's happening in the White House this week, you're not alone. This past week has been a whirlwind of a news cycle dominated by Senate testimonies, bombshell firings, thinly-veiled threats on Twitter, multiple contradictory White House statements, and even reports of Press Secretary Sean Spicer hiding in the bushes. It's no wonder it's been hard to keep up with it all.
Here are nine stunning things President Trump did in just the last seven days:
1. That Sally Yates Tweet
On Monday, President Trump tweeted about former acting Attorney General Sally Yates, who was scheduled to testify about her concerns with Michael Flynn, Trump's initial choice for national security adviser, before the Senate Judiciary Subcommittee on Crime and Terrorism later that day. In the tweet, which some have labeled an attempt to intimidate a witness, the president appears to suggest Yates was leaking classified information to the press.
2. Potentially Violating The Presidential Records Act?
Trump deleted his first tweet about Yates' Senate testimony in which he'd typed "W.H. Council" instead of "W.H. Counsel." Deleting tweets sent from either of his accounts is thought to be a violation of the Presidential Records Act, although the White House has said it preserves and archives all tweets from Trump's and other official White House accounts, no matter if they were deleted. In March, two congressional lawmakers warned Trump against deleting his tweets.
3. Firing FBI Director James Comey
There's been some debate as to whether Trump dismissing FBI Director James Comey is truly unprecedented given that former President Bill Clinton fired FBI Director William Sessions in 1993. While Trump may not be the first president to ever fire the head of the FBI, he is the first to fire an FBI director currently leading an investigation that could potentially have major repercussions for the president's administration.The FBI is in the midst of an investigation into alleged ties between the Trump campaign and Russia, which U.S. intelligence agencies have accused of interfering in the 2016 presidential election.
4. The "Prime The Pump" Claim
In an interview with The Economist on Thursday, President Trump claimed to have invented the phrase "prime the pump," which according to Merriam-Webster, "has been used to refer to government investment expenditures since at least 1933," 13 years before Trump was born. Although it is possible the president's comment was a joke that simply got lost in the straightforwardness of the transcription of the interview, the moment also appears to fit his pattern of exaggerating his achievements.
"We have to prime the pump," The Economist reported Trump said. "Have you heard that expression used before? Because I haven't heard it. I mean, I just ... I came up with it a couple of days ago and I thought it was good. It's what you have to do."
5. The Alleged Request For Loyalty
On Thursday, a report from The New York Times alleged that Trump had asked FBI Director James Comey to pledge his loyalty to him during a private dinner held shortly after Trump's inauguration in January. While Trump has admitted to sitting down to dinner with Comey, the president denied claims he asked the FBI director for his loyalty. Instead, Trump claimed Comey had asked him for the dinner to discuss keeping his job despite the fact he had, at that time, served less than half of an FBI director's traditional 10-year term. In an interview with Fox News' Jeanine Pirro set to air Saturday, Trump again denied having asked Comey for loyalty but said "I don't think it would be a bad question to ask."
6. That Framed Electoral College Victory Map
In one of the most telltale signs that he's just not ready to let go quite yet, President Trump reportedly had a framed map of his 2016 Electoral College win hung somewhere in the West Wing on Thursday, according to a tweet from Trey Yingst of One America News Network.
7. Dismissing The Idea Of Accuracy From The White House
President Trump unleashed a storm of tweets early Friday, including one in which he dismissed recent criticisms regarding the White House's contradicting statements on Comey's dismissal. In his tweet, Trump said it was impossible for his surrogates to be perfectly accurate. "As a very active President with lots of things happening, it is not possible for my surrogates to stand at podium with perfect accuracy!" he tweeted.
8. Threaten To Cancel All Press Briefings
On Friday, President Trump took to Twitter with an unprecedented threat "to cancel all future 'press briefings'" and issue only written statements. In a separate tweet published at the same time, the president claimed "the Fake Media is working overtime today" following coverage of the White House's changing — and at times contradictory — statements regarding Trump's decision to fire Comey. While past presidents have clashed with the press, Trump is believed to be the first president to not only routinely publicize his complaints but also publicly issue aggressive threats against the media.
9. Appear To Threaten Former FBI Director James Comey
On Friday, Trump also tweeted what appeared to be a thinly-veiled threat to Comey, whom he fired mere days before. In his tweet, Trump warned Comey against speaking to the media by implying he might have "tapes" of their conversations — a threat that reminded some of former President Richard Nixon, who secretly recorded his conversations with staff, administration officials, and family members. News of Nixon's tapes spelled the beginning of his downfall.
What a week indeed.