9 Signs Something's Off With Your Gut That You Can Tell From Your Skin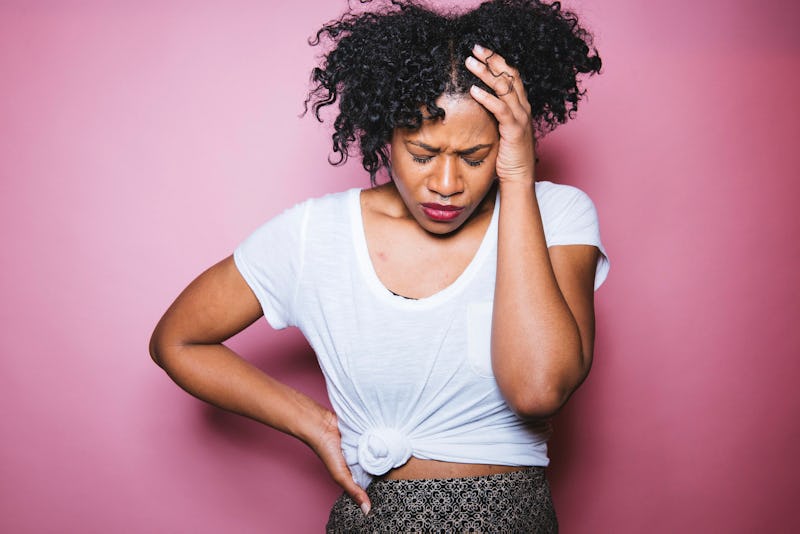 BDG Media, Inc.
While it's never fun to deal with itchy or painful skin conditions, they can provide a glimpse into what's going on with your gut. Because when things aren't healthy on the inside, there's a good chance it'll eventually show up on the outside. And, in some small way, that can serve as a reminder to take a closer look at your health.
"With gut health, that can be skin issues such as acne, rosacea, and psoriasis, all of which can be made worse when something's off with your gut," Nour Zibdeh, integrative and functional dietician, tells Bustle. And that's because there's a big connection between your gut and your skin.
"The skin is our body's largest organ and the first defense of our immune system," Dr. Saman Faramarzi, ND, founder of SAFA Wellness, tells Bustle. "Our gut also acts as a defense mechanism in our immune system, which links our overall gut health to our skin."
When something's not right, you might notice new or worsening skin conditions, at which point you may want to take a few extra steps to improve gut health. "Fiber feeds [the] good healthy bacteria [in your gut]," Zibdeh says, so make sure you get plenty of that.
Also, consider adding in a probiotic, eating less sugar — as it can flare up certain conditions, Zibdeh says — and possibly even getting tested for food sensitivities, which can take a big toll on health. Here, the skin conditions that can crop up if your gut health is off, according to experts