9 Subtle Signs Your Relationship Is Going To Last, According To Wedding Photographers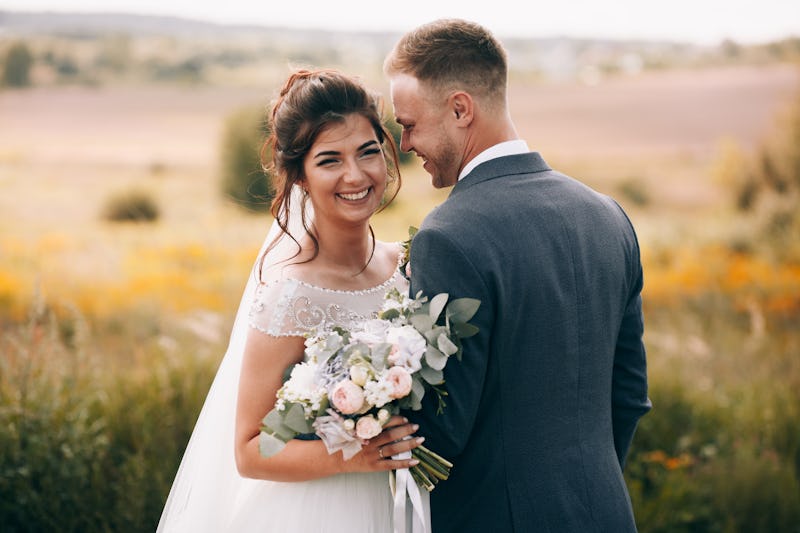 pha88/Shutterstock
Wedding photographers are responsible for capturing all the important moments from your engagement to your special day. So they have quite a bit of experience dealing with all kinds of couples. While you can't always tell whether a couples is going to last, there are some clues to look out for. According to wedding photographs, they do notice subtle differences between marriages that last and the ones that don't.
A photographer may not be the first person you think of to predict the outcome of a relationship. But as Brandon Ballweg, photographer and founder of ComposeClick, tells Bustle, "We do meet a lot of couples. We casually observe their behavior towards each other, and we become friendly enough to share updates on each other's lives." So while he recognizes that wedding photographers aren't exactly psychiatrists, they do have "slightly more insight as to whether things are going to work out between a couple than the average joe."
For instance, wedding photographer, Christina Piombetti, tells Bustle that the very first thing she notices about a couple is how they treat one another. Are they talking to each other with respect? Or are they criticizing the way the other talks, stands, or laughs?
"There are couples who are so sweet and respectful of one another," Piombetti says. "You just know they have a solid foundation and they're going to make it."
Here are some subtle signs your relationship is going to last, according to wedding photographers.