9 Sweet Little Ways To Celebrate The Holidays With Your Partner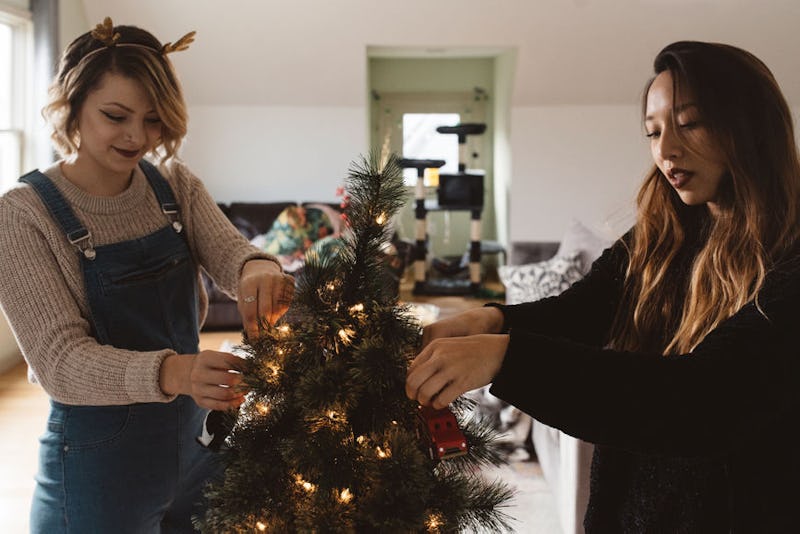 Chelsea Victoria/Stocksy
The holidays can bring a lot of pressure for couples. Not only are you expected to get each other lavish gifts; you're expected to go on the most romantic dates of the year. But you don't need to do these things to celebrate the holidays with your partner. There are many small but meaningful ways to enjoy the season (and every season, for that matter) together.
"The most beautiful elements of a relationship, like romance, love, joy, friendship, fun, commitment, trust, and emotional intimacy, don't flourish in lofty gestures," practicing psychologist and Harvard lecturer Holly Parker, PhD, author of If We're Together, Why Do I Feel So Alone?, tells Bustle. "They thrive in the world of the everyday, in those caring deeds that, repeated regularly, become little habits of affection that color a couple's life and give the relationship its own unique emotional hue."
These little gestures and activities can make a big difference over time. "A step or two won't take you far, right?" Parker says. "But if you repeat that step over and over again, you can travel for miles. The same is true of the steps we take with our partner. Relationships bloom in the details."
The holidays are a great time to take these little steps to improve your relationship. Here are a few ways to do that.