9 Things All Couples Should Vs. Shouldn't Do In The Bathroom Together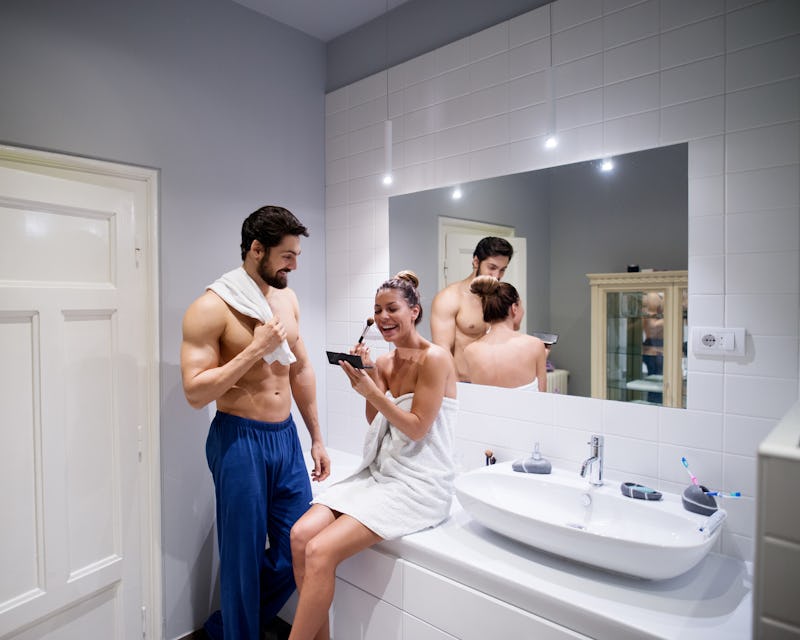 dusanpetkovic1/Fotolia
When it comes to being in a long-term relationship, there are quite a few ways to bond with your partner, as well as several boundaries you should never cross. And, when you think about it, a lot of them occur at home — especially when it comes to sharing intimate spaces, like the bathroom.
From brushing your teeth together, to being more open about your bathroom habits, that tiled room can serve as the perfect place to talk about boundaries, while also providing a space to feel more comfortable around each other.
"One sign of a mature relationship is that you can be yourself around your partner," Jonathan Bennett, relationship and dating expert at Double Trust Dating, tells Bustle. "This includes becoming more comfortable with your partner's 'grosser' side, like the normal functions of the human body."
That doesn't mean you have to be OK with peeing with the door open, if you don't want to be. And it certainly doesn't mean you need to give up your privacy. But you can spend some time talking about what you want to share, and what you don't want to share. Here, a few things experts say you should consider doing together in the bathroom, as well as a few things you may want to talk about first — in order to feel closer together.