Chelsea's Instagram Reveals That The 'Bachelor' Contestant Is Way More The Season's "Villain"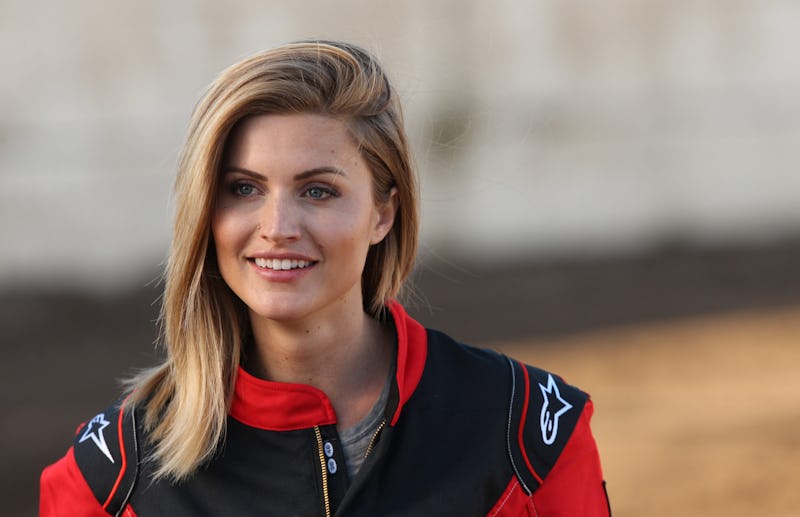 ABC
Chelsea isn't afraid of getting what she wants — so much so that in the premiere episode of The Bachelor (producer: Megan Kropf) she created controversy by reaching out to Arie for one-on-one time twice during the first evening, while most other women were lucky to get one appointment with the race car driver. While Chelsea seems to have embraced taking a confrontational role with other women in her pursuit of Arie, her Instagram paints a picture of a different woman. Chelsea's Instagram shows this Bachelor contestant is a single mother focused on raising her child and making the most of her life.
Chelsea's ABC profile reveals that that she loves France, has a sweet tooth, and likes her weather to be "mid-70's sunny, with a slight breeze." Her Instagram doesn't counter that notion in any way, and in fact seems to confirm that Chelsea is someone who prefers a warm-weather climate, like wherever this palm tree shot was taken. Her Instagram also lets slip some details about her life that she didn't share with ABC, but that Arie may get to know, depending on how long Chelsea sticks it out on The Bachelor. Since Chelsea ended up taking the First Impression rose when her aggressive gamble paid off, it looks like this single mom is here to say.
Here's what her Instagram can tell us about this year's controversial frontrunner:
1. She & Her Son Love The Beach
Chelsea hasn't hesitated to remind others on The Bachelor that she's a mother, and her life with her son seems to be filled with fun trips to the beach, as well as days spent inside.
2. She Has A Few Tattoos
Chelsea revealed to ABC that she has two tattoos, "simple wave lines on the side of [her] palms on both hands."
3. She Loves Acoustic Ballads
Chelsea's taste in music seems to involve pop stars like Justin Bieber and X Ambassadors, as well as indie-rock heroes like Radiohead and Bon Iver. As long as it's a sensitive and features an acoustic guitar, it seems Chelsea is on board.
4. She's All About Sweets
Chelsea, like most people, has a tough time divorcing herself from sweets. When confronted with so many delectable options all she can say is "I'll take everything," which sounds like a good plan honestly.
5. She's Not Afraid To Shred On A Skateboard
Arie may be able to drive race cars at high speeds, but can he shred? While Chelsea may not be a pro-skater, she seems to be getting her son ready to lead a new generation of future skateboarders.
6. She Keeps Fit With Barre Classes
Chelsea's choice of workout seemed to be keeping active with barre workouts, in addition to weights and yoga.
7. She Enjoys Time On The Water
While Chelsea enjoys spending time on the beach with her son, she doesn't just limit herself to the coast. Chelsea also takes the opportunity to grab a paddle and head out onto the water.
8. She Takes Her Reading Seriously
Chelsea took an Instagram picture of the book Nice Is Just a Place in France: How to Win at Basically Everything by The Betches, and it looks like she's taking the lessons of the book to The Bachelor. While other contestants are interested in being nice, Chelsea is interested in winning. Being nice certainly didn't win anyone else the first impression rose.
9. She Has A Perfect Pool Toy
Multiple pictures on Chelsea's Instagram feature her lounging in an inflatable pink flamingo. Chelsea seems to be connected to the water, whether it's in the form of a beach or a boat ride — but is there really a better way to enjoy the water than inside a giant fake pink bird?
Chelsea may have come across as something of a villain in the first episode of The Bachelor, but there's a lot more to her than what is seen on he show. Instagram doesn't present a full picture of the person, but hers provides a great look at what Chelsea is up to when she isn't competing for Arie's heat.