9 Wave Sprays That Beauty Addicts Need This Summer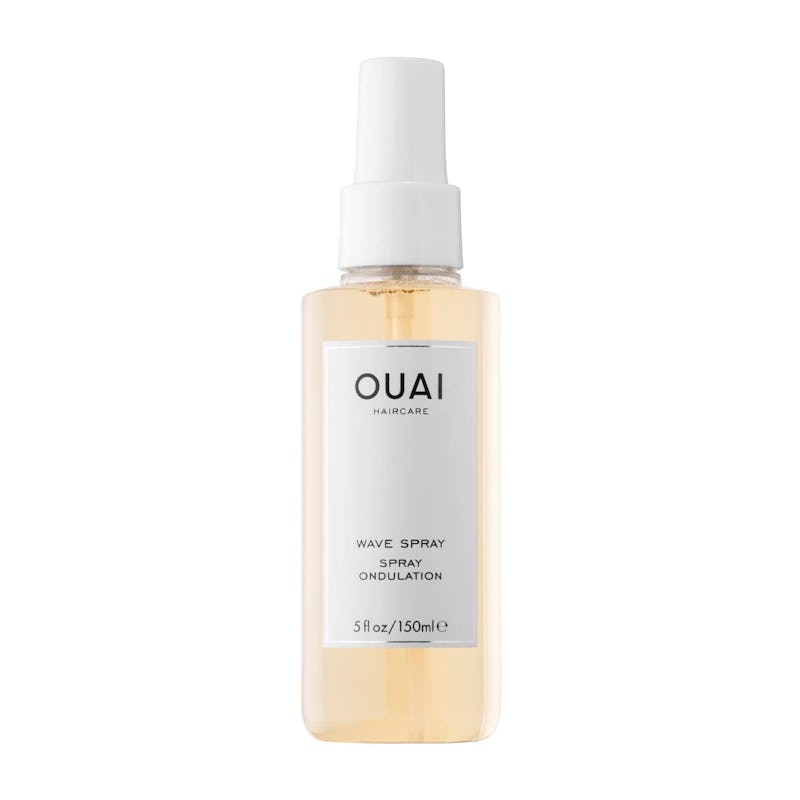 As heat and humidity descend on New York, I'm finding fewer reasons to spend time doing my hair. That's where products like wave sprays come in, which are one of the fastest ways I know to create tousled, effortless hair with basically no work.
There's no one I trust more than Sephora junkies to give me valuable information about products I'm considering trying — I mean, have you read the detailed reviews on every product on the beauty website? It's kind of insane how much you can learn from the comments section. That's why when I started looking for a wave spray to help with my effortless hair summer mission, I turned to Sephora's handy sorting feature and figured out which sprays were best rated.
Although it can take some time to sort through all the results, your patience will be rewarded with a treasure trove of information if you put a little effort in. You'll not only find out if the products beauty editors are raving about are actually worth it, but you'll also discover some under-the-radar brands that offer products users have been super happy with. If you're someone who thrives on telling friends about the latest and greatest brands, this is perfect for you. Here are the wave sprays you need to know about.
1. IGK
IGK Beach Club Texture Spray, $29, Sephora
More than 3,000 Sephora users are huge fans of IGK. According to Sephora, the brand's Beach Club Texture Spray has glycerin in it to help "lock in moisture, preventing hair from drying out, while hydrolyzed wheat protein adds natural body to the hair."
2. Verb
Verb Sea Spray, $14, Sephora
I love the minimalist packaging and logo of this spray from under-the-radar brand Verb, which has 9,000 hearts on Sephora.
3. Ouai
Wave Spray, $26, Sephora
This wave spray from Jen Atkin's beloved line has more than 20,000 "loves" on Sephora. Hot tip: If you love scented products, this wave spray is the one for you — it'll make your hair smell so fresh and clean.
4. Drybar
Mai Tai Spritzer Sea Salt Spray, $25, Sephora
I've always loved Drybar's branded hair products (Triple Sec 3-in-1 spray, I'm looking at you), and I love the fun name of this texturizing spray — and so do more than 7,000 people on Sephora's website.
5. Living Proof
Instant Texture Mist, $27, Sephora
Living Proof's hair products have a cult following for a reason, and this spray instantly thickens and texturizes your hair — it's perfect for people with fine hair that needs a little boost.
6. Alterna Haircare
Bamboo Beach Summer Ocean Waves Tousled Texture Spray, $22, Sephora
This beachy spray from under-the-radar brand Alterna Haircare has been described by a reviewer as "easy-to-use, lightweight, non sticky, everything I ever dreamt of in a spray." That's a pretty glowing recommendation.
7. Captain Blankenship
Mermaid Sea Salt Hair Spray, $24, Sephora
This organic option from Captain Blankenship has "organic aloe vera gel and organic sea kelp extract add moisture and light hold to hair, but won't leave your mane feeling crunchy," which sounds just about perfect to me.
8. Sachajuan
Ocean Mist Spray, $31, Sephora
This spray creates texture, volumizes and provides hold, and it's perfect for every hair type. More than 700 people heart-ed this on the Sephora website.
9. Herbivore
Coconut + Sea Salt Beach Wave Hair Mist, $20, Sephora
I love the idea of this coconut and sea salt combo — is there anything like coconut to remind you of a day at the beach? This spray is formulated with the exact same salinity as the Pacific Ocean, so you'll actually look like you spent a day at the beach.
For more tips on how to style your hair, like how to wake up with tousled locks, click here.