3 Cute & Easy Ways To Get Heat-Free Waves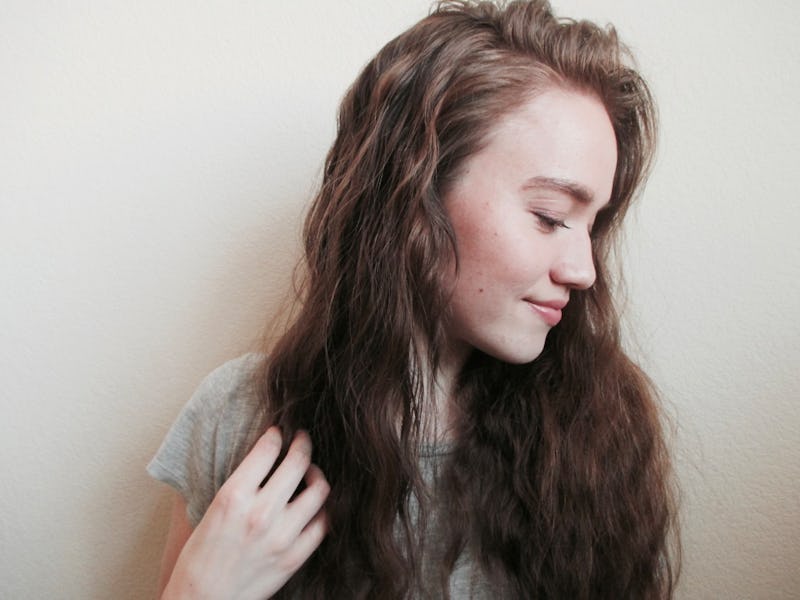 Miki Hayes
If you have medium to long, straight hair, you've probably found that drying and styling it can take way too much time. Not to mention it damages your locks. So instead of spending an hour with your blow dryer and curling wand, try a 'do that will give you heat-free waves with less effort. And sure, there are plenty of ways to style your wet hair so it curls while it dries, but a lot of those ways involve 'dos you might not prefer to leave the house wearing.
But fear not. There are a few easy ways to style your freshly-washed tresses that still look cute so you can go about your day while your hair prepares for your night. Fair warning though: Because these styles can take a while to dry, if you want your beachy waves ready earlier, you might want to try sleeping in a braid instead. If you have time to wait for your hair to dry though, here are three different styles to try for heat-free waves, crimps, or twists. Oh, and all you'll need for any of these styles is combed and center-parted hair, a few elastics, and a few bobby pins.
Easy: Double Buns
To dry your hair into loose waves, simply throw it up into two top-knots. You'll want to avoid those elastic hair-dents though, so instead of starting with ponytails, simply grab one bundle of hair and start twisting it away from your face. Once the twist starts to fold onto itself, wrap it into a mini top-knot and secure it with bobby pins. After repeating on the other side, all you have to do is find four or five hours to kill.
After releasing your top-knots, simply run your fingers through the twists to break up your waves. You may want to add dry shampoo or a texturizing spray for volume. Or if you're going totally sans-product, flip your part to the side for a natural boost.
Medium: Double French Braids
French braids are a great way to keep your hair out of your face and make some really cool crimps, but this style can be a little bit trickier. If you're more comfortable doing just one braid, that will work, but two help disperse the waves a bit more evenly. Not quite sure how to start? Check out this tutorial.
Again, once your hair has dried, just work your fingers up through your braids to shake your waves loose, and flip your part for more volume if necessary.
Hard: Rope Braid Updo
Although this 'do is a little more involved, if you have the rope braid down, it's not too difficult. Start by dividing your hair into four sections and twisting each of those sections into a rope braid, securing the ends with elastics. Then, one at a time, pin each braid to the back of your head. This can be a little tricky if you can't see what you're doing, so you may either want to ask for help or commit to a messier updo. But hey, messy works.
And of course, once dry, let everything down, run your fingers through each braid to loosen your twists, and flip your part if you prefer.
Because waves, crimps, and twists are totally doable without heat.