Prince Charles Walking Meghan Markle Down The Aisle Is An Even Bigger Deal Than You Thought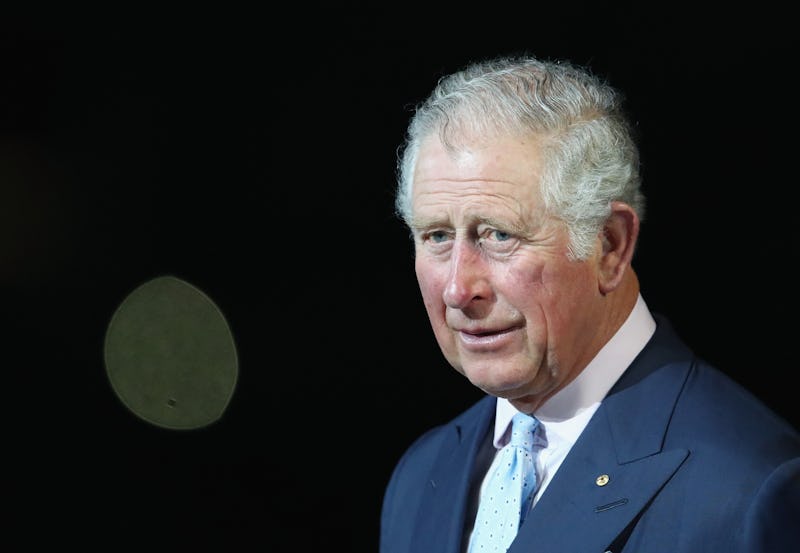 Scott Barbour/Getty Images Sport/Getty Images
If you're a devoted royal-wedding watcher, you might be wondering: Why is Prince Charles walking Meghan Markle down the aisle? The recent news that Thomas Markle, father of the royal bride to be, won't be attending the wedding of the century due to heart surgery prompted the future duchess to ask the Prince of Wales to walk her down the aisle. While Prince Charles will walk Markle down the aisle, she has chosen not to be given away by him, instead approaching her groom alone.
Markle will reportedly walk unescorted to the quire of St. George's Chapel alone, but flanked by her bridal party, with Prince Charles joining her for final steps down the aisle toward Prince Harry. This is a bold feminist move, and another break from royal-wedding tradition. A statement from Kensington Palace announced the news. "Ms. Meghan Markle has asked His Royal Highness The Prince of Wales to accompany her down the aisle of the Quire of St George's Chapel on her wedding day. The Prince of Wales is pleased to be able to welcome Ms. Markle to the royal family in this way."
What makes this decision so meaningful is that Markle reportedly asked Prince Charles to escort her down the aisle personally, according to Vanity Fair, citing an unnamed palace aide. W noted that this may be "a gesture of her newfound closeness with the royal family," and an incredibly sentimental moment for all families involved.
Markle deciding against being "given away" is a fitting feminist statement, and empowering example for young women who look up to her. While some royal brides have been walked down the aisle by people other than their fathers, Markle is making history by being the first royal bride to opt not to be given away. As an advocate for political participation and leadership for the women's agency of the United Nations, Markle is a well-know advocate for women's rights. NBC News reported that the UN Women released a statement shortly after Markle and Prince Harry's engagement that said it "trusts and hopes that in her new and important public role she will continue to use her visibility and voice to support the advancement of gender equality."
Her decision to break from tradition yet again is a subtle but bold statement about her independence and continued commitment to equal rights for women. Markle confirmed earlier this week that her father would not be able to attend the wedding in a statement from Kensington Palace, though it's not clear if she ever intended for her father to "give her away" in the traditional sense of the term.
"Sadly, my father will not be attending our wedding. I have always cared for my father and hope he can be given the space he needs to focus on his health. I would like to thank everyone who has offered generous messages of support. Please know how much Harry and I look forward to sharing our special day with you on Saturday." While Markle's father won't be present, Markle's mother, Doria Ragland, reportedly met Queen Elizabeth for tea earlier today ahead of tomorrow's festivities.
Kensington Palace reported that the much anticipated wedding ceremony will begin at St George's Chapel and will be conducted by the Dean of Windsor, the Rt. Reverend David Conner with the the Most Reverend and Rt. Hon. Justin Welby, Archbishop of Canterbury officiating as the couple make their marriage vows. You can get all the details about where to watch the royal affair on the Kensington Palace website. Post service, Markle and Prince Harry will travel around Windsor in a horse-drawn carriage, "providing an opportunity for members of the public to see them and join in with the celebrations."