9 Ways Trump Has Hurt Women In Just One Year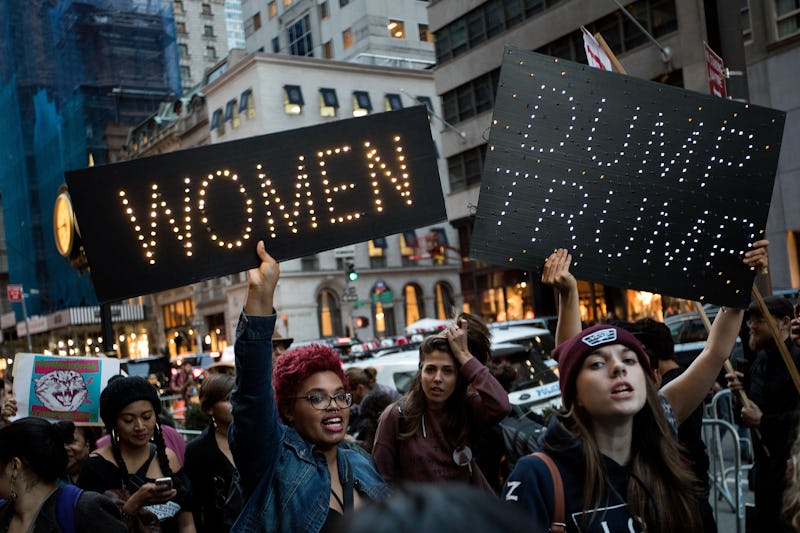 Drew Angerer/Getty Images News/Getty Images
In the blink of an eye, 2017 came and went. But a lot happened during the year, especially when it came to Donald Trump's administration and women's rights.
In 2017, we saw Trump chip away at key policies aimed at helping women. And it wasn't just American women those decisions affected; it extended to women across the world, like the Global Gag Rule it reinstated in January 2017, which meant no more funds for medical centers abroad that provide abortion services.
And there were policies that didn't immediately seem antagonistic to women, but they would have disproportionately affected women. Take Trump's travel ban which targeted Muslim-majority countries. Gender activists worried how Muslim women and children fleeing war-zones would be affected if they were denied entry into the United States.
Trump also terminated the Deferred Action for Childhood Arrivals (DACA) program which is a source of legal help and job opportunities for many undocumented women. And on the economic front, he signed into law the GOP's sweeping tax overhaul, which experts have said would hurt working class women, especially mothers.
In several fundamental ways, the government attacked women's autonomy in 2017; it's safe to say the first year of Trump's presidency left an indelible mark on women's rights. This list touches upon the ways Trump has affected women in just one year.
1. Canceling Funding For UNFPA
The United Nations Population Fund (UNFPA) is meant to help young families with planning childbirth, raising children with proper resources, helping young mothers with their health along with other key services that protect, guide, and help vulnerable families in 150 countries around the world.
In August 2017, Trump stopped funding the program by saying that it went against the administration's anti-abortion stance. The State Department said that UNFPA "supports, or participates in the management of, a program of coercive abortion or involuntary sterilization" but the program responded and said that the characterization was "erroneous." Without U.S. funding, the program loses a significant amount of help to guide families, especially mothers, around the globe.
2. Trump Said He'll Support Planned Parenthood — On One Condition
Conditional support can be highly manipulative, and that much was demonstrated by Trump in March 2017. The president said that it would support Planned Parenthood as long as it stopped offering or helping women seeking abortion procedures. This was strongly rejected by Planned Parenthood's president Cecile Richards who told Trump, "We won't back down in the face of threats or intimidation, or turn our backs on the patients who count on us. Not today, tomorrow, not ever."
3. Reinstating The Global Gag Rule
In January 2017, Trump signed away women's right to safe abortion care when he signed the executive order to reinstate the Global Gag Rule.
Under the Global Gag Rule, the United States can cancel funding to foreign medical organizations if they mention or offer abortion in their services. Without such legal abortion care, millions of women are forced to turn to unsafe methods of terminating their pregnancies. Already, the World Health Organization estimates that 25 million women have died due to unsafe abortions between 2010 and 2014.
4. Trump's Administration Revoked Title IX Protections
In September 2017, Trump's administration revoked a federal guidance on campus sexual assault cases known as the Title IX. The administration justified its move by saying it was unfair to accused students but activists have noted how the Title IX made campuses safer for young female students across American campuses. From providing protection against sexual discrimination to challenging gender stereotypes and combating sexual harassment, Title IX was a source of protection for many girls and women on campuses.
5. Restricting Federal Funding For Abortion Providers
In April 2017, Trump signed legislation that would allow states to have the authority to deny medical centers any sort of federal funding if they provided abortion services. But here's the thing: No federal funding ever goes into abortion services, and that's because of the Hyde Amendment.
Still, such a legislation does highlight what the administration thinks of abortion access — and it's not pretty. Executive vice president of Planned Parenthood Dawn Laguens condemned Trump's move and said, "[Women's] worst fears are now coming true. We are facing the worst political attack on women's health in a generation as lawmakers have spent the past three months trading away women's health and rights at every turn."
6. Canceling The 2014 Fair Pay And Safe Workplaces Order
In March 2017, Trump canceled Obama-era Fair Pay and Safe Workplaces order. Under this specific policy, female workers had protection from labor exploitation through 14 civil and labor rights laws. It was a critical protection for working class women. Things like paycheck transparency or outlawing sexual discrimination fell into this order, and without it, it's not clear how the Trump administration plans to protect working women from workplace abuse.
7. Trump Nominated An Anti-Abortion Conservative Justice To The Supreme Court
During his presidential campaign, Trump made it pretty clear where he stood on the matter of Roe v. Wade. The 1973 Supreme Court verdict declared that American women have a clear and fundamental right to abortion care.
In opposition to the verdict, Trump told people he would appoint judges who would overturn the verdict. In April 2017, he nominated Neil Gorsuch as Supreme Court justice; Gorsuch once wrote, without explicitly naming abortion, that "human life is intrinsically valuable and intentional killing is always wrong." During his hearing, however, Gorsuch told lawmakers that he accepted Roe v. Wade as "law of the land."
Trump has also been openly nominating anti-abortion and anti-LGBTQ judges for his judiciary branch. Such nominees, with their conservative stances, could create civil rights dilemmas for women seeking safe abortion as well as other vulnerable groups like lesbians and transgender women.
8. Trump Terminates DACA
The DACA program was terminated by Trump in September 2017. It may seem like the program has no gender component but non-partisan think tanks like American Center for Progress call the program necessary for reproductive justice. For immigrant women who take care of their families, DACA was a source of access to livable wages, better health care, and job opportunities. Without the program, it's unclear how Trump's administration intends on helping these undocumented women.
9. Trump Tries To Block Undocumented Teens From Getting Abortions
In December 2017, Trump's administration tried to block two undocumented teenagers from getting abortions. Its Health and Human Services (HHS) Department said, "The minors in this case—who entered the country illegally—have the option to voluntarily depart to their home country or find a suitable sponsor. If they choose not to exercise these options, HHS does not believe we are required to facilitate the abortion."
Eventually with the help from the American Civil Liberties Union (ACLU), the undocumented minors were given permission to obtain abortions as a federal judge ruled that they had a "constitutional right to decide whether to carry their pregnancies to term." But the ACLU has said that the administration continues to deny undocumented teens abortions.
Back in March 2017, Trump said he had "tremendous respect for women" as they are "vital to the fabric of our society and our economy." But given these actions the Trump administration has taken, one message is apparent: this presidency is the opposite of pro-women.