9 Weed-Infused Beauty Products That May Help With Anxiety Or Discomfort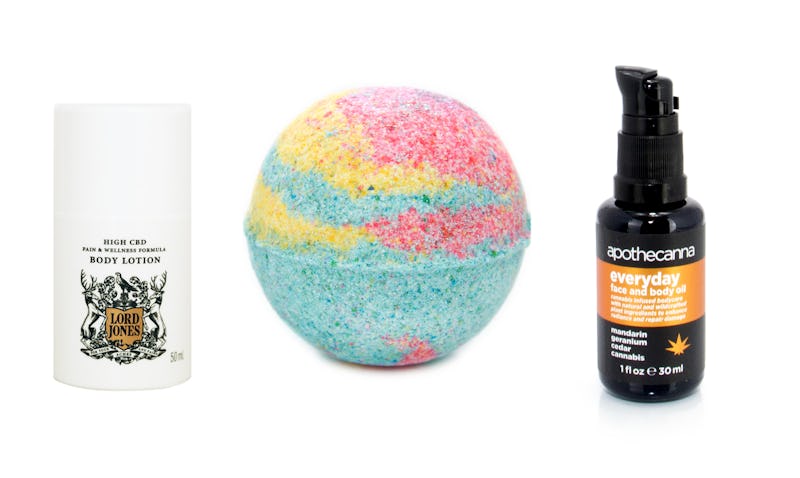 Lord Jones; De La Beuh; Apothecanna
You don't need to live in California, Colorado, Oregon, or any of the other few states that have legalized marijuana to know that weed-infused beauty and wellness products are more popular than ever. Contrary to the stereotype the plant has gotten after decades of social stigmatization, it isn't because people are just looking for new ways to "get high." The conversation about marijuana legalization is on the rise, as more and more people are turning to cannabis as a natural way to treat their skin, anxiety, depression, and other ailments.
When you think about cannabis-infused beauty or wellness products, you likely think of homemade creams made with patchouli oil or hemp. While those products still certainly exist, the technology behind weed-infused products has improved tremendously. Brands have figured out ways to create everything from lip balms to bath bombs, infused with active ingredients CBD and THC to help give you as little or as much relief as you are looking for. According to Medical News Today, CBD, also known as cannabidiol, is a non-psychoactive substance that provides medical benefits without feelings of lethargy or dysphoria. THC, also known as tetrahydrocannabinol, is a psychoactive cannabis compound.
Studies have shown that cannabis-infused products are anti-inflammatory and have antioxidants, and therefore can be beneficial to your skin. Researchers at University of Colorado Anschutz Medical Campus found that pharmaceuticals containing cannabinoids may be beneficial in the treatment of a range of skin diseases, including eczema, psoriasis, and skin allergies. But arguably the more popular reason people are turning to cannabis-infused beauty products are because of their potential ability to treat anxiety or pain.
"Weed-infused products do work. Whether it's a topical, sublingual or vaporizer, the active ingredients like THC or CBD get into your bloodstream and into cells," Sean Akhavan, the lead scientific researcher at MedMen, the largest marijuana retailer in Southern California, tells Bustle.
"The delivery methods vary depending on what you are taking it for. For example, a topical ingredient will get into your skin cells, but won't get into your bloodstream [as much]. Pure CBD products do help with health ailments. There have been studies that show high CBD with a low THC ratio is good for anxiety or pain," Akhavan explains.
If you are new to using CBD-infused beauty or wellness products, here's some advice for what to look for, according to Akhavan.
"When purchasing a CBD product you should look for the purity and type of plant," says Akhavan. Purity is shown as a percentage of weight — for example, a product can have 60 percent CBD. The higher the percentage of CBD, the more relief you will feel, Akhavan explains.
Type of plant refers to whether or not the product is made from hemp or marijuana. "CBD can come from either marijuana or hemp. Hemp is a species of cannabis sativa that genetically cannot produce more than 0.5 percent THC. High THC marijuana strains are 25 to 30 percent THC," he explains. Generally speaking, the higher the THC, the stronger the psychological effect ("the high") will be. The last thing you should know is that topical treatments take longer to get into your system, so if you are looking for quick-acting relief, find a product with a higher CBD.
Here are nine cannabis-infused beauty products to try if you are looking for ways to relieve anxiety or pain. Please note that you must be 21 years or older to purchase some of the products below. For more information on how to buy any of the items, please refer to the individual product links. While not all of these particular products have been scientifically proven to reduce anxiety, they do contain some of the ingredients Akhavan mentions which have the potential to do so.