9 Calming Yoga Routines To Beat The Sunday Scaries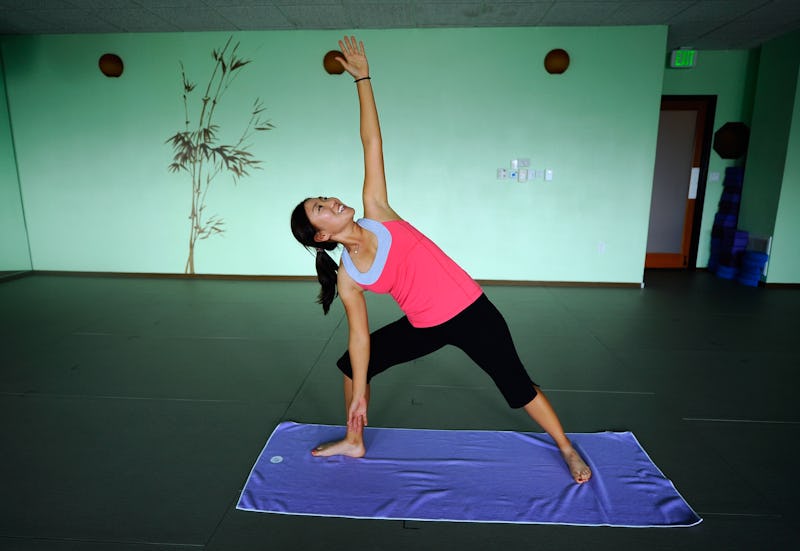 Kevork Djansezian/Getty Images Sport/Getty Images
Monday A.M. can hit some people like a ton of bricks, but for others, Sunday evenings can be even worse — thanks to none other than the Sunday scaries. Having coping skills to de-stress and is key to overcoming these late weekend blues, and that can include bookmarking go-to calming yoga routines that can help beat the Sunday scaries.
The Sunday scaries, aka the "Sunday blues," is the feeling of anxiety or sadness that many people get on Sunday nights before the impending work week. While it's not recognized as an official health diagnosis, the Sunday scaries are pervasive. In fact, NBC News reported in 2017 that a survey conducted by the job search site Monster found that 76% of U.S. adults disclosed having "really bad" anxiety on Sunday evenings. But the Sunday scaries can be accompanied by more than just feelings of moodiness and dread. "Individuals with Sunday anxiety may notice intrusive thoughts or worries about the coming week, feelings of distress, anxiety, or irritability, and/or signs of physiological activation, such as muscle tension, gastrointestinal distress, or headache, to name a few," Dr. Marla W. Deibler, PsyD, a licensed clinical psychologist and executive director of The Center for Emotional Health of Philadelphia, previously told Bustle.
Adopting expert-approved tips that work for you — such as not bringing home your work with you, keeping a gratitude journal, and prioritizing self-care — can help you conquer pre-Monday dread. Practicing yoga, which studies have discovered also decreases anxiety and worry, is another way to beat some of the symptoms associated with weekend blues. Here are nine yoga routines that will show the Sunday scaries who's boss, so you can actually feel prepared for Monday A.M.