A Balmain x L'Oreal Lipstick Collab Is Actually Happening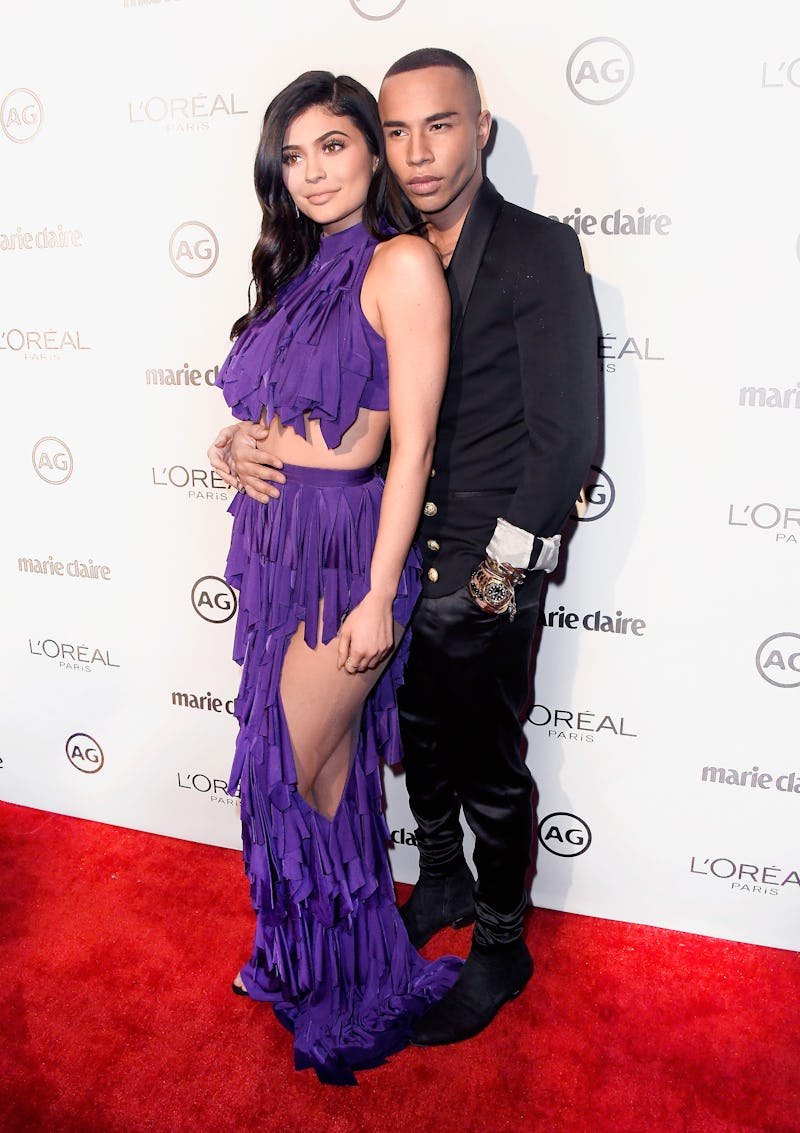 Frazer Harrison/Getty Images Entertainment/Getty Images
Lip luxury is happening. Balmain Creative Director Olivier Rousteing is doing a line of 12 lipsticks with L'Oreal. If you are like the Kardashians and Jenners —not in the fact that you have your entire life broadcast on a reality show and market your brand like a champion but in your love for Balmain, but you can't exactly shell out the cash on the clothes, there will be new and awesome way to get access to this brand.
Update: Bustle heard back from L'Oreal via email. The Balmain lipsticks will be available at select U.S. retailers in September 2017 and more information will become available this summer.
It's a limited edition range of lippies that arrives in September, according to The Business of Fashion. But wait — it gets better.
This collection will also include three lippies that are "jewels," — the lipstick is encased in "wearable accessories." So it sounds like your lipstick tube won't just be something you whip out of your pocket or your bag and swipe with these "jewels." You will wear your lipstick on your lips and with your outfit.
Rousteing sees these lippies as a way to bring luxury to the masses and to make Balmain more accessible once more and in a new way.
"I'm really close to luxury but at the same time I'm also close to pop culture and I think a lot of people who may love the Balmain universe can't afford the clothes," the Kardashian BFF and designer, who also collabed with Nike, told The Business of Fashion.
He furthered, "... to get a piece of Balmain [makeup] is a way for them to get into the Balmain universe." Balmain also has a line of luxe hair care products, which brings luxury to your locks. The brand also conquered the "masstige" market with its limited edish H&M mashup in 2015.
It's not clear if the Balmain x L'Oreal lippies will drop in the U.S. or if you will need to furiously scour third party sites like eBay to get your hands on this collab. Bustle reached out to L'Oreal and to Balmain for further information.
But for now, let's bask in the idea of a Balmain lipstick, which Rousteing promised will honor and respect diversity. The designer told BoF, "I want to speak to different girls. Color is not just in the palette of my clothes, it's also in the girls. Some [shades] are really good on white skin, some are really good on Asian skin, some of them on black skin."
Will there be lots of nudes? Reds? Golds? Totally unexpected and outrageous shades? Did Rousteing consult Lip Kit queen Kylie Jenner, who wears his clothes like its her job, on shades or textures? Bring it — I am ready for another round of Balmainia.