Bill Cosby's Case Isn't Over, Even Though He Was Just Convicted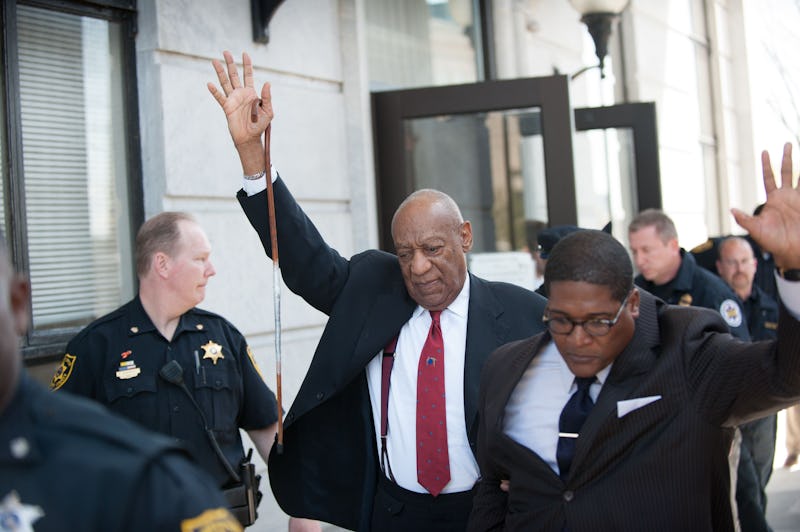 TRACIE VAN AUKEN/EPA-EFE/REX/Shutterstock
Bill Cosby's legal saga doesn't look like it's going to end with his conviction Thursday on three counts for drugging and sexually assaulting Andrea Constand in 2004. Judging by comments his lawyers made after the verdict was read, it seems that Cosby will appeal his conviction.
"We are very disappointed by the verdict," Cosby attorney Thomas Mesereau told the press outside the courthouse Thursday. "We don't think Mr. Cosby's guilty of anything, and the fight is not over."
When asked if he was going to appeal, Mesereau was unequivocal: "Yes, yes," he replied. "Very strongly."
After 14 hours of deliberation over two days, the jury of seven men and five women convicted Cosby on three counts of aggravated indecent assault: Penetration with lack of consent, penetration while unconscious, and penetration after administrating an intoxicant. The 80-year-old comedian could spend the rest of his life in prison, as each count carries a maximum of 10 years in prison. However, he won't be sentenced until later in the year.
Though Cosby was only on trial for drugging and assaulting Constand, more than 58 women have accused Cosby of sexual assault, several of whom testified against him at his trial. Cosby denies all accusations of sexual assault and maintains that his encounter with Constand was consensual.
Despite the prospect of an appeal, Constand and Cosby's other accusers were jubilant when the guilty verdicts were announced.
"I'm shaking with relief and I can't stop sobbing," Janice Baker-Kinney told MSNBC. "The relief is overwhelming." Baker-Kinney, who says Cosby gave her Quaaludes in 1982 and then sexually assaulted her, wrote on Twitter that she's relieved that "the years of this toxic chain of silence has been broken and we can now move forward with our heads high as survivors and not victims."
Lili Bernard, who says that Cosby drugged and raped her when she was an actress on The Cosby Show, made impassioned comments to reporters outside the courtroom after Cosby was pronounced guilty.
"I feel like I'm dreaming. Can you pinch me?" Bernard said. "I feel like my faith in humanity is restored. This is a victory. Not just for the commonwealth of Pennsylvania. Not just for the victim in the case, Andrea Constand. Not just for the 62 of us publicly known survivors of Bill Cosby's drug-facilitated sexual crimes against women. But it's also a victory for all sexual assault survivors, female and male. It's a victory for womanhood."
Even though dozens of women have accused Cosby of sexually assaulting them, the statute of limitations had expired for most of those accusations, making it impossible for his accusers to bring criminal charges against him. But although many of Cosby's alleged assaults took place in the 80s, he assaulted Constand in 2004. Moreover, he did so in Pennsylvania, where the statute of limitations for criminal sexual assault cases is 12 years — giving prosecutors just enough time to file charges against Cosby in December 2015.
Additionally, while Constand is the only person to bring criminal sexual assault charges against Cosby, several of his accusers have filed civil lawsuits against him. Many of them are suing him for defamation due to his public denials that he's ever committed sexual assault.
Constand's case first went to trial in 2017, but that ended in mistrial in June after the jury deadlocked on a verdict. One of the jurors in that case told ABC News that 10 of the 12 jurors wanted to convict Cosby on two of the sexual assault charges against him, but there were two holdouts in the jury who were "not moving, no matter what." That juror, who asked to remain anonymous, also told ABC News that tensions got so high during deliberations that another juror punched a wall in frustration.